It is known that Google shut down Hangouts in 2020. In other words, we are no longer able to make a video/phone call via Hangouts. But don't worry, Hangouts fans, it is still possible to make video or audio calls via the new apps: Google Meet and Google Chat.
When having a video meeting or a one-to-one call, sometimes you may need to record the video or audio calls on Google Meet to create a backup. After recording the chats and meets, your colleagues, your friends or yourselves can review the meeting later conveniently.
How to Record Meetings on Google Meet
With a versatile screen recording software, all your scruples can be eliminated. It basically can record everything in the meetings: the computer screen, your and all anticipants' faces in the webcam, audio, etc. Read on to know all the detailed process.
Can I Record Google Meet?
Yes, it is possible to record Google Meet. However, a video call shouldn't be recorded without the permission of all anticipants. Therefore, before recording a call or meeting, anticipants need to be notified that the conversation will be recorded and the recording will be for what purpose.
To record Google Hangouts or its new versions, Google Chat and Google Meet, first, using a video call recorder - FonePaw Screen Recorder. The recorder can be applied to recording video call on Google Meet. It can clearly record everything on your computer screen during the calls and both your voice and voices of other anticipants, then save the recording to MP4, MP3, MOV, AAC, etc. files. Here is how to get the recorder working.
Tip: You can use FonePaw Screen Recorder to record Skype calls, Facebook video callsas well.
Record Google Meet Video with FonePaw Screen Recorder
Step 1. Install the screen recorder on a Windows or Mac computer.
Free Download Buy with 20% off Free Download Buy with 20% off
Step 2. Start the recorder and click Video Recorder.

Step 3. Select a recording region, which should be the meeting window. You can also click Advanced Recorder > Lock and Record Window and select the meeting window. In this way, during the call, your actions on other applications, such as opening a document, checking emails won't be recorded.

Tip:
In case that you may adjust the meeting window during the call, click Settings > Recordings and tick Allow to move the recording region when recording.

You can also select the Hide float bar when recording if you don't want to have the recorder recorded in your video.
Step 4. Turn on the buttons for System Sound and Microphone to record your voice and voices from others in the meetings. At the same time, please enable Microphone noise cancellation and Microphone enhancement so that the external voice will be clearer.

Step 5. Click REC after sound checking when the meeting gets started. And the recorder will record everything in the meeting. Also, you can use its Task Schedule feature to start or stop recording meetings automatically.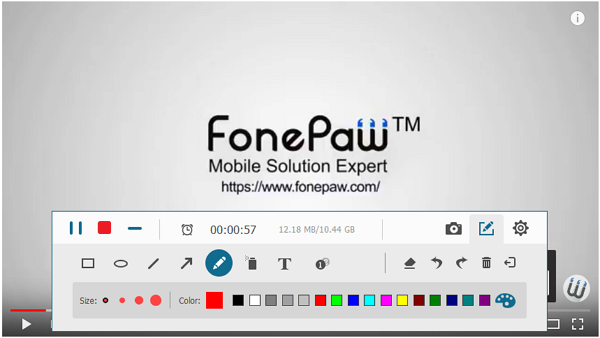 After the meeting is over, you can review the recorded video and save it in formats like MP4, MOV, WMA.
Record Google Meet with the Built-in Recorder
If you use the recording tool of Google Meet, you have to be the organizer of the meeting. Here's how it works.
Step 1. During a video meeting, click More > Record Meeting.
Step 2. The recording will start and other participants will get the notification that the meeting is being recorded.
Step 3. To end the recording, click More > Stop Recording. The recording file will be saved to your Google Drive account as .svg file. Access it via My Drive > Meet Recordings folder.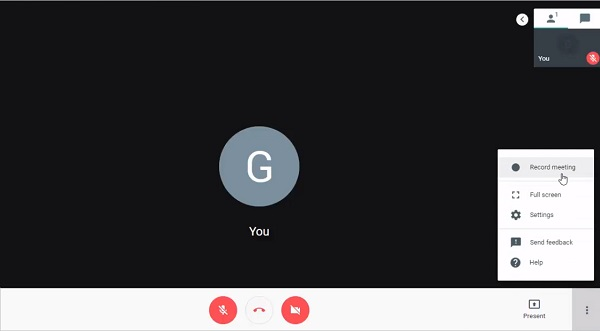 However, with a meeting recorder like FonePaw Screen Recorder, you can record a Google meeting as long as you are in the meeting, be you the organizer or not. What's more, the FonePaw Screen Recorder won't send any bothering notification to the other participants, which can save you from awkwardness.
Tips on Recording Google Meet in High Quality
Sometimes, you may get interrupted during your meetings. To record a high-quality video, you should check the following things.
Have your external or built-in camera, microphone tested before the call.
Start your meetings in a quiet environment so that external noise won't be recorded.
Turn off unneeded applications on your computer so that the call will go on more smoothly.
Have a test recording with the FonePaw recorder before your actual meeting to make sure you are familiar with the operation of the recorder.
How to Record Video/Audio Call on Google Chat
To record a video or audio call on Google Chat can be easy with FonePaw Screen Recorder. And the process is also similar.
Step 1**.** Download FonePaw Screen Recorder for Windows or Mac.
Free Download Buy with 20% off Free Download Buy with 20% off
Step 2. Open the program. Choose Video Recorder if you want to record video call or Audio Recorder if record audio call.

Step 3. Customize your setting. Click REC to start record.

Step 4**.** Simply click on the edit icon, then you can add shapes, arrows, or text messages when recording a Google chat. Click the red square to finish recording.

Step 5. After choosing the output path, click Next > Save to save the video or audio.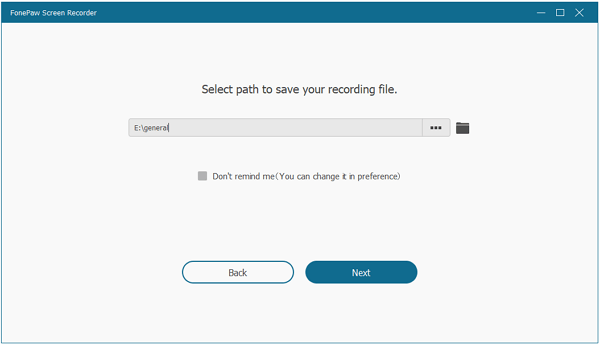 Final Thoughts
Even though Google is about to end its support for Hangouts, you can still use Google Meet and Google Chat to make your work more efficient. If you want to record audio on Google Hangouts, FonePaw Screen Recorder is the exact tool that you can rely on.