Clash of Clans is one of the most popular mobile strategy game around the world. As players are enjoying the game, they want to capture their gamplay sometimes. Here we will show you two ways to record Clash of Clans on Android. You can choose one of them to easily record Clash of Clans attack replays, live war attack, base layouts, game strategies on Android.
People Also Read:
How to Capture Your Gameplay on iPad Pro/Air/Mini (opens new window)
Easy Ways to Capture Gameplay on Windows 10 (opens new window)
What is Clash of Clans and Why is it So Popular?
Released in 2012. Clash of Clans is an multiplayer strategy game in which players can build a clan, train troops, and attack other players to earn trouphies. There are many reasons why so many players get addicted to this game: the graphics, the fun of creating your own clan and destroy others, the ability totalk to other players, the excitement of growing your clan from 10 people to 50, from 200 trophies to thousands of trophies... The list goes on.
And it is necessary to record your Clash of Clans gameplay on Android/iOS sometimes. For one thing, you can see the replay and enhance your game strategies; for another, you can share your Clash of Clans tricks to the newbie. Since there is no built-in recording tool in the game, you need the following two great Android screen recorders(no root) for capturing Clash of Clans replay.
How to Record Clash of Clans on Android with PC
Android Recorder (opens new window) is a program on PC to record Android screen without rooting. It is preferable to record Clash of Clans with a PC because:
You can mirror Clash of Clans on Android to PC so you can enjoy the game on bigger monitor;
It can record both the internal audio of the gameplay and your own voice with computer microphone;
The replay video can be saved in GIF, MP4, WMV and other formats;
It allows you to take screenshots during the gameplay recording;
It helps to save your phone memory by saving the videos on computer.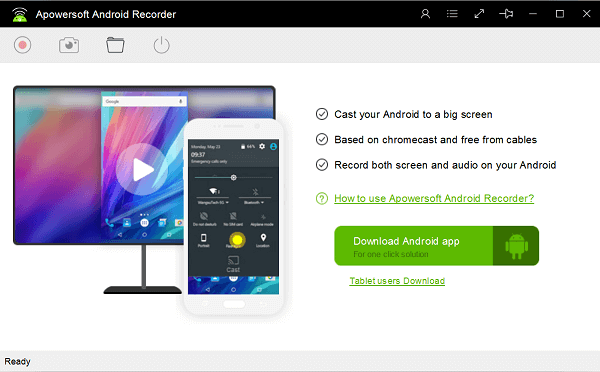 Just follow these steps to begin recording your Clash of Clans gameplay, attack replay on Android.
Step 1. Download Android Recorder
Click the Download button below to install Android Recorder on your Windows 7/8/10. Open the recorder on PC.
Step 2. Connect Android Device to PC
Put both your Android phone/tablet and PC on the same Wi-Fi network. Then you can cast your Android screen to PC with Chromecast, Google Home, or third-party app.
Chromecast: If your device (Nexus, Pixel, HTC, etc.) have casting feature by default, simply go to notification bar > tap on Cast option > choose your PC from the available device. After connecting, your Android screen will be mirrored to Android Recorder on PC.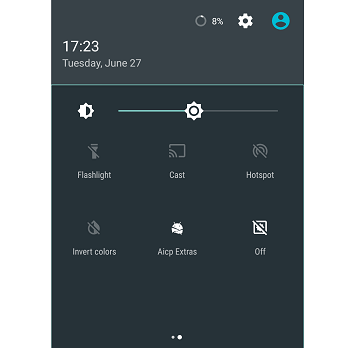 Google Home: If there is no casting feature on your device, you can use Google Home's Cast Screen/Audio feature. Download Google Home from Play Store if you don't have one yet, then open Google Home, tap Cast screen/cast and choose your PC. You Android screen will be projected to PC display.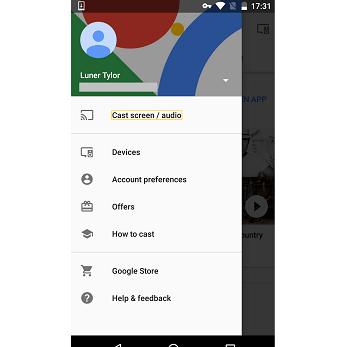 Third-party app: If your device doesn't work with Chromecast and Google Home, Android Screen also allows you to cast your Android screen to PC with its app. Download Android Recorder app from Google Play Store, launch the app and choose Cast to PC option.
Step 3. Configure Gameplay Recording Settings
Before recording Clash of Clans, click Settings > Options to configure gameplay recording settings: video format, video quality. If you need to record your commentary in the gameplay, choose both system sound and microphone as the audio input.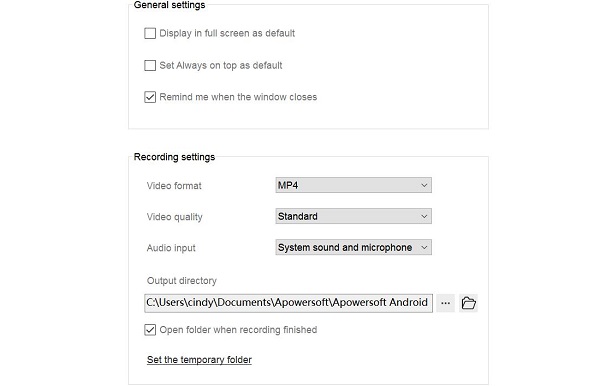 Step 4. Capture Clash of Clans Gameplay on Android
Open Clash of Clans and when you are ready, click Record button on Android Recorder to begin recording. And when you have finished playing the game, click Record button again to stop recording. If you need to take a screenshot during the gameplay, just click Screenshot button.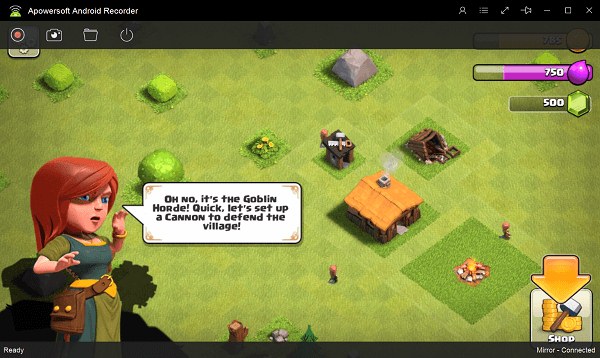 The Clash of Clans video will be saved on your computer. Just click Open folder to find the video. You can then replay the gameplay video, edit it with professional video editing tool on PC and upload it to YouTube or other websites.
How to Record Clash of Clans on Android without PC
If you don't care much about the video/audio quality of your gameplay video, you can use Android Recorder app to record Clash of Clans replay without PC. The app needs to be used on devices running on Android 5.0 and above. And it can only record your gameplay audio with microphone so the video may have some background noise but it can add webcam to record you in the gameplay video.
Step 1. Download Android Recorder from Google Play Store.
Step 2. Configure recording settings. You can change resolution, bitrate, frame rate, output folder and choose whether to enable webcam, set countdown befor recording.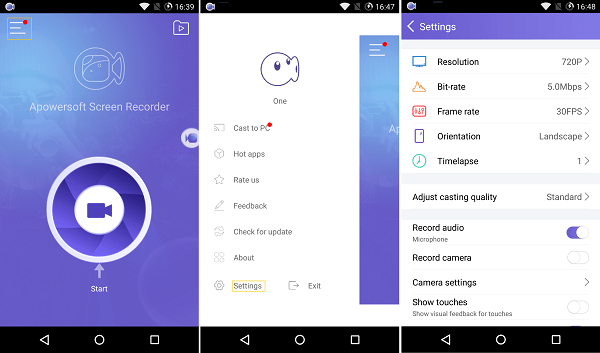 Step 3. Open Clash of Clans on your Android. And when you are ready to open, tap Android Record overlay icon and tap Record to begin recording. You can also choose to hide the overlay icon.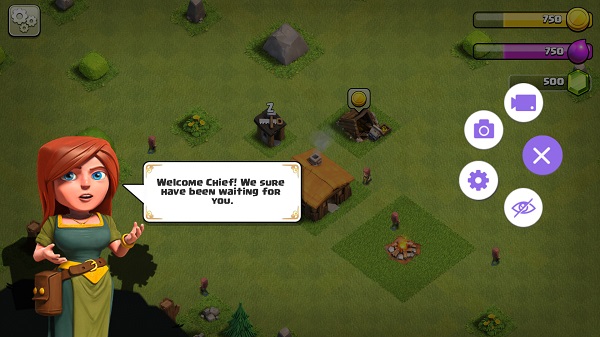 Step 4. After you have finished the game, tap the record icon to stop the recording. You can find the recorded video on the app.
Conclusion
That's the two ways to record Clash of Clans on Android. And you may prefer capturing the video with a computer because Screen Recorder on PC won't affect your gameplay experience. However, with Screen Recorder app, the phone could become very laggy as you record a video while playing the video game.