It is very frustrating when your iPod Touch, Classic, Nano, Shuffle won't sync music to iTunes. How to get your iPod sync songs to iTunes? And when the iPod won't sync with iTunes, How to fix? This ultimate guide is written to solve all these iTunes not syncing problems.
1. How to Sync Your iPod with iTunes
In many cases, iPod won't sync to iTunes because users took the wrong steps. Here is the step-to-step guide on how to use iTunes to sync songs to your iPod Touch/Classic/Nano/Shuffle.
Before syncing your iPod, there are two important things:
Firstly, if your iPod has songs that are not in iTunes library, these songs will be erased when syncing with iTunes. To avoid the 'Erase and Sync' message, please jump to Part 6 (opens new window).
Secondly, before plugging iPod to computer, please check Prevent iPods, iPhones, iPads from syncing automatically from Edit > Preference > Devices.
To sync iPod to iTunes,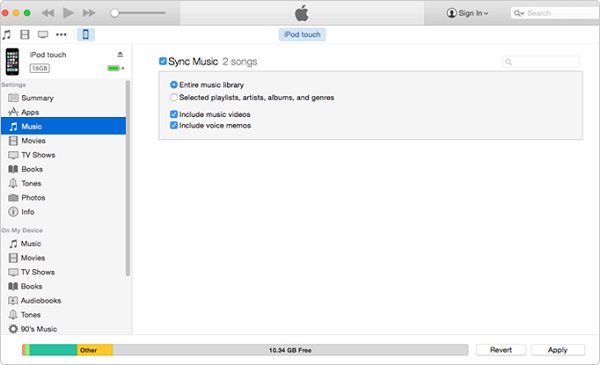 Launch iTunes on your Mac/Windows.
Connect iPod Touch to a computer and choose the iPod on iTunes.
If iTunes pops up with "iCloud Music Library is On", open your iPod Touch and turn off iCloud Music Library via Settings > Music.
Check "Sync Music" and select "Entire music library" or "Selected playlists, artists, albums and genres". Click Apply.
The iTunes music will be transferred to the connected iPod.
You can follow the same steps to sync photos, videos to iPod via iTunes. If you still have iTunes not syncing troubles with your iPod, check out the tricks below.
2. iPod Touch Won't Add Or Sync Music After Update/Restore
Question: "Recently I updated my iPod Touch 5th Gen to the latest iOS 9.3.5 and now I am not able to add or delete songs from the iPod via iTunes. "*
Some users suspect that there is something going wrong during the update or restore and making them unable to transfer songs to iPod with iTunes. Actually, the new iOS should not be the problem. Tried these tricks instead:
Update your iTunes to the latest version.
Make sure you are using a workable USB cable. If you are syncing iPod Touch with iTunes via Wi-Fi. Make sure that you have a strong Wi-Fi connection.
On iPod Touch(1st/2nd/3rd/4th/6th generation), go to Settings > Music andturn off iCloud Music Library.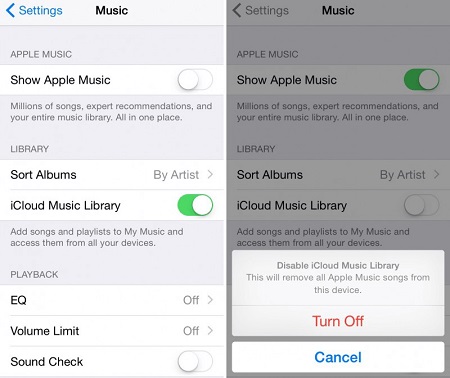 Go to Settings > Music and toggle off "Show Apple Music" on iPod Touch.
Also turn off "Show Apple Music" in iTunes on the computer. Click iTunes > Edit > Preferences > General > Turn off Show Apple Music.
Before syncing songs to iPod Touch, add songs to a playlist.
3. iPod Won't Sync With New Laptop
Question: "I just bought a new laptop and when I tried to sync my iPod to the new computer, it is connected but not sync. Can anyone help?"*
Authorize Your new computer. Launch iTunes, choose Account > Authentications > Authorize Computer. Enter your Apple ID and password to authorize the computer.

Make sure that you have enabled "Manually manage music and videos" option: choose your iPod on iTunes, click Summary > Options and check "Manually manage music and videos."
If you get a message that your device is synced with another library. You need to erase all iTunes content on your iPod first before the iPod is able to sync with the new computer.
4. iPod Sync Option Is Greyed out
Question: "I cannot sync my iPod nano to iTunes on the PC. The button is grayed out and I can't click."*
If the Sync button is not available on your iTunes, please try these three tricks. They can also be applied to fix Sync button is grayed out when syncing with iPhone, iPad.
Update your iTunes.
Sign out of all iTunes accounts on your iOS device and iTunes, then sign back in.
Authorize the computer.
5. iPod not showing up in iTunes?
Question: "My iPod is connected but it doesn't show up in iTunes source list. The computer can detect the device but not the iTunes."*
Check out these tricks to solve iTunes Won't Recognize iPhone, iPad and iPod. (opens new window)
6. Sync Music to iPod Without iTunes
If iTunes still won't sync with your iPod Touch/Classic/Nano/Shuffle, why not switch to a more strange-forward transfer tool - FonePaw iOS Transfer (opens new window). It can transfer music from computer and iTunes library to your iPod Touch without erasing any songs on your device. Books, photos, videos are also supported.
Video Guide: Transfer Music from Laptop to iOS Devices
Download the free trial version of iOS Transfer on your computer.
Free Download Buy with 20% off Free Download Buy with 20% off
Connect iPod Touch using iOS to the computer.
Choose "Music". Click "Add" > "Add File" / "Add Folder" and choose the folder that contains your iTunes music.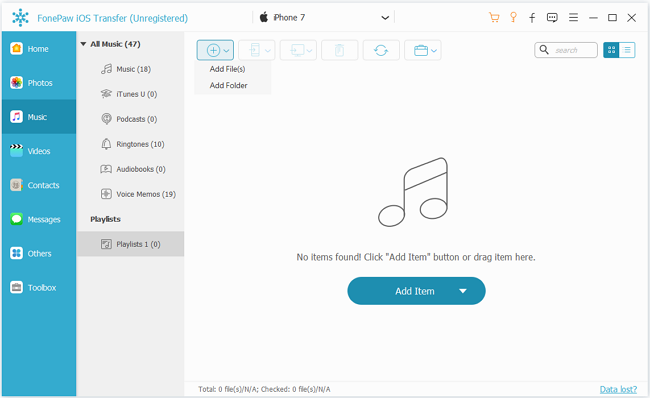 If you are using a Mac, find iTunes music folder via Finder: Go > Home > Music > iTunes to find iTunes music.

If you have a Windows PC, select songs on \Users\username\My Music\iTunes.

All the selected songs will be added to your iPod.
You can also use the FonePaw iOS Transfer to move songs, photos, books, music video, etc. from iPod Touch to iTunes/computer.