Summary: This guide is about how to add music to iPhone/iPod. If that is what you're looking for, just scroll down and you will learn the way to transfer CD to iPhone with or without iTunes.
Want to put CDs on your iPhone? If you have no idea how to put a CD on your iPhone, here's the right place to go. However, songs from CDs cannot be directly imported to your iPhone, so you have to transfer songs from CD to your Mac or Windows computer at first. Then, get CD onto your iPhone/iPod.
Don't Miss Out:
The following methods are compatible with Windows 10/8/7/Vista/XP and macOS X/Yosemite/High Sierra. To transfer music from CDs to a computer, you can use iTunes as the best CD ripper software. Then, there are two ways to put a CD on your iPhone and transfer the CD to iPod Nano/Shuffle, of course. To get further knowledge, please read on.
How to Rip A CD Using iTunes on Win/Mac?
You can either rip CDs with iTunes or rip CDs with Windows Media Player. Both of these two ways are commonly used. Considering that there is no Windows Media Player available on Mac computer, let me show you how to rip a CD with iTunes.
STEP 1. Insert an audio CD into your computer's CD or DVD drive. Then, open iTunes. Make sure that you have the latest version of iTunes.
STEP 2. Click the CD button at the top left of the iTunes window. Then, you will get a prompt saying that "Would you like to import the CD "XXX" into your iTunes library. If you want to import every song on the disc, select "Yes". iTunes starts importing the CD. If you want to import CD songs selectively, click "No" and go to step 3.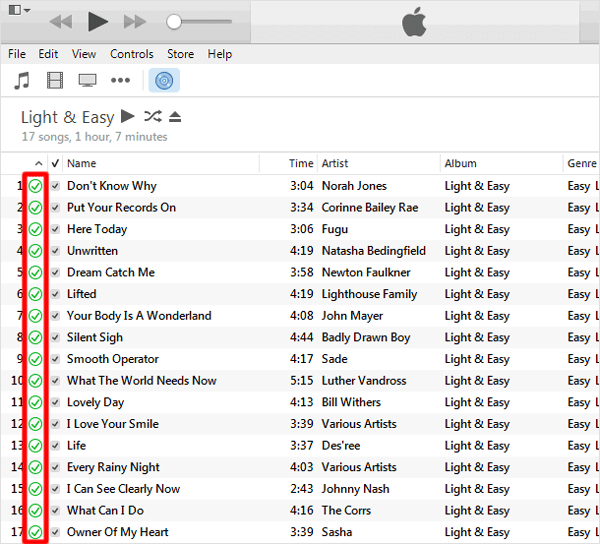 STEP 3. Select the audio CD. When the list of songs appears in the iTunes window, click to remove the checkmark next to any songs you don't want to import.
STEP 4. To add selected songs to your library, select "Import CD" near the top right of the iTunes window. Then, select your import settings and click "OK".
STEP 5. Wait while the music is ripped to your iTunes library.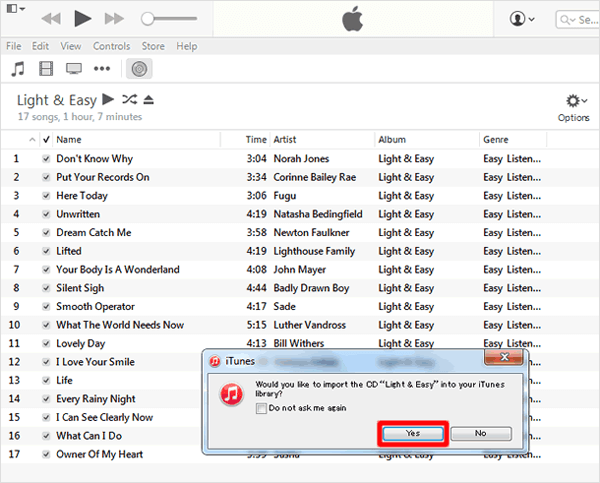 Note: If the CD is DRM protected, DRM protection has to be removed before the songs can be imported to iTunes.
Method 1: Transfer Songs From CD to iPhone/iPod with FonePaw DoTrans
After ripping and burning CDs to your iTunes library, you can put CD music to your iPhone or iPod using FonePaw DoTrans (opens new window). This program allows you to transfer CD music in iTunes library to iPhone X/8/7/6s/6, iPod touch with two simple steps. Now download and install the program and then follow the guide to put music on iPhone/iPod.
Free Download Buy with 20% off
STEP 1. Launch the program and connect iPhone/iPod to computer
After downloading, install and launch FonePaw DoTrans on your computer. Then, connect your iPhone or iPod to the computer. Before long, your device will be detected and shown on the main screen.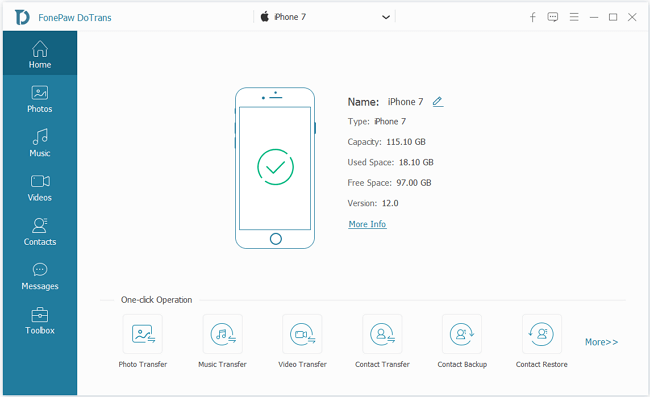 STEP 2. Add CD songs to iPhone/iPod
Click the "Music" on the left side. Now click + icon to select "Add File(s)" or "Add Folder". Then, select the CD songs on your iTunes library and add them to your device. All done! You can enjoy CD music on DoTrans program or on your iPhone/iPod Touch now.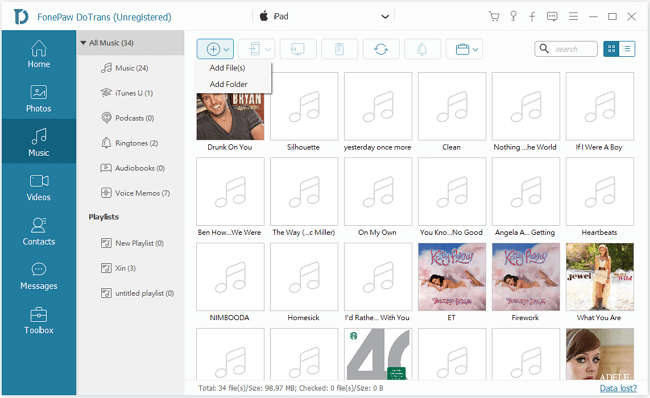 Method 2: Sync CD Music to iPhone/iPod with iTunes
If you don't like to download music from a computer to iPhone or iPod with the FonePaw DoTrans, you have other options. Now, follow the steps below to put music on iPhone/iPod from the computer.
STEP 1. Connect your iPhone/iPod to your PC and start iTunes.
STEP 2. Click your device icon at the upper left of the iTunes window. This will open the Summary screen for your iPod/iPhone.
STEP 3. Click the "Music" tab in the left sidebar. Then, you can see the sync settings.
STEP 4. Make sure the "Sync Music" box is checked and select "Selected playlists, artists, albums, and genres".
STEP 5. Check the box next to the album you just copied from CD and then click the "Sync" button to put CD songs to iPhone/iPod.
Note that all existing songs on iPhone/iPod will be removed if you sync music from iTunes Library to iPhone/iPod for the first time.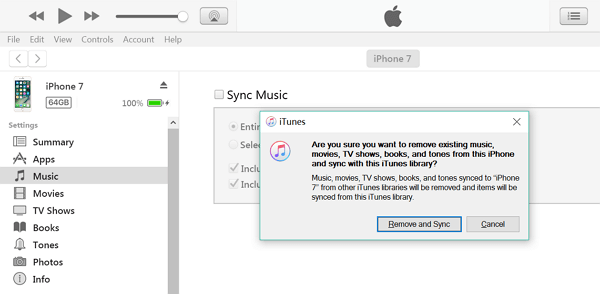 The Bottom Line:
After ripping CDs, you can easily get songs from CD to an iOS device. Even better, with FonePaw DoTrans (opens new window), you can transfer songs that you've ripped from CD, purchased from iTunes Store, or downloaded from the internet among iOS devices, computer and iTunes without limitation. Enjoy your music freely and enjoy your life.
Free Download Buy with 20% off
Above is the whole guide to transfer CD music to iPhone or iPod. If you have any problem with this page, please drop us a comment below!