Updated on April 08, 2019.
Facebook hits a large number of hours of video watched a day. Many people enjoy watching videos on Facebook but they meet some troubles, like:
Why are my videos not playing in the Facebook mobile app?
Facebook Videos keep buffering FOREVER in Chrome.
I switched to Win 10 recently, and that's when my FB video issues began.
When I click on the posted video, I just get a black screen or a loading loop. What's the problem?
It is annoying that Facebook videos won't play on Android, iPhone/iPad or Chrome, especially when you have waited for a long time but get nothing. Here, we sort out some methods for you to make the videos on Facebook played again. Solution 1: Check Network Connection
Low network speed or poor network signal will keep the video loading. So the first thing you should do is to head for a place with better network environment, make sure that your device joins the internet normally, and then refresh the page for a few times to see if the video begin to play.
Solution 2: Re-login Facebook Account
When Facebook is not playing videos on mobile or computer, you may try to log out and log in to Facebook on the app or browser. Sometimes, restarting your Android, iPhone or computer can also help to fix the problem.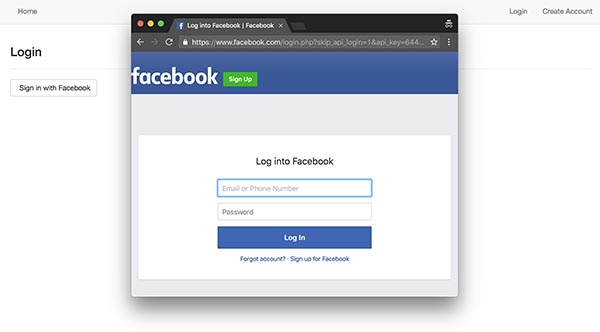 Solution 3: Force Stop and Clear Cache (Android Users)
Since cache or tracking cookies always slow down apps to run, you can force Facebook to stop and then clear cache.
Android users can pull up the menu to see recently used apps, find Facebook, swipe up the app to force the Facebook app to stop;
Or go to Settings > Apps > Facebook > Force Stop. After that, choose Facebook again, clear cache and cookies and see if the video stop loading and ready to play now.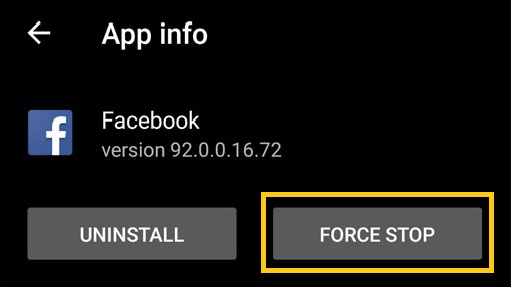 Solution 4: Re-Install or Update Facebook Apps or Browsers
Many users whose video cannot play on Facebook, say they fix the issue by updating the Facebook app (app users) or browser (webpage users), or by re-installing Facebook again.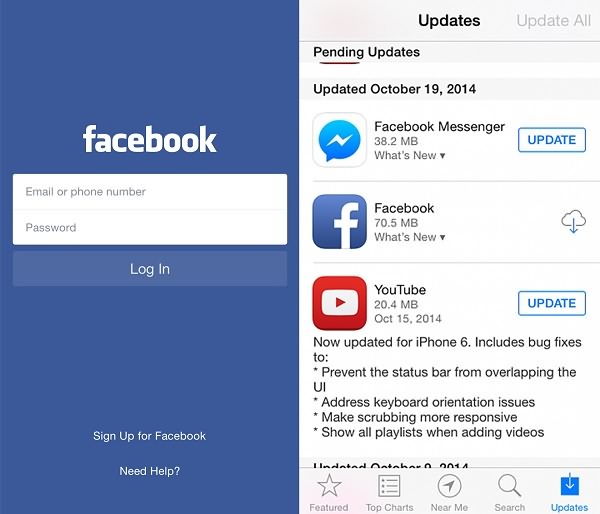 Besides, you may wonder why I didn't mention how iDevice users clear cache in Solution 3. Actually, the iOS system will clean the apps on its own. If there is still much cache on Facebook or browsers on iPhone or iPad, the best way to clean them is to uninstall Facebook and install again later.
Solution 5: Make Sure of Enough Room
Facebook videos need enough room to buffer temporarily, and insufficient room prevents videos from loading successfully.
Android users can check the room by running Settings > About;
iOS users opening Settings > General > Storage.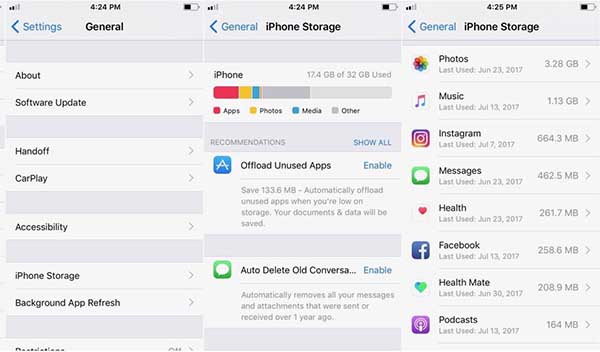 If the storage is going to run out, export some videos or pictures or other files that occupy much storage to your PC or external hard drive. Thereafter, refresh the video and hope it works normally now. If not, don't worry, since we still have some solutions. Continue to read.
Solution 6: Switch Device or Browser to Log in
Facebook videos may perform better on other devices or other browsers, you can switch the ports to log in and see if the video play again. For example:
If a video cannot play in the Facebook app in your iPhone 5/5s,6/s, 7/7 Plus, 8/8 Plus or X, you can log in the Facebook website and open the video again;
If you used to log in Facebook in Chrome, you can use Firefox, Safari, Edge or Internet Explorer as a substitute;
If you use Windows 7, you can find another computer with Window 10 or Mac and see if the video works fine.
Solution 7: Uncheck "Use Hardware Acceleration When Available"
Several bloggers said when they log in Facebook in Chrome and video cannot play, they reach Chrome Setting Page, click Advanced Settings, uncheck "Use hardware acceleration when available", reopen Chrome and then the video plays well. You can have a try.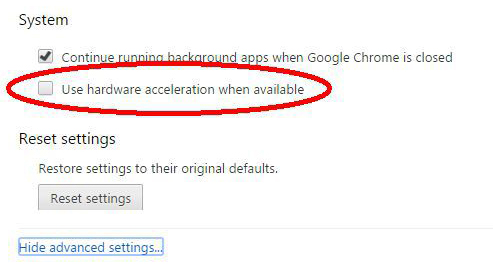 Solution 8: Issues from Flash Player
Facebook video can't play without Adobe Flash Player, and therefore Flash settings may influence video to perform. So when a Facebook video is not playing your computer, have an attempt to update Flash Player first on your browser (Chrome, IE, Firefox, etc.) Besides, you can also try to change privacy settings of Flash.
Solution 9: Download Video via Some Downloader Apps
If the above doesn't help, you can download Facebook videos to a computer via some downloading apps or websites, which can be used to download videos from YouTube, BBC, TED, etc. by simply copying the video's address to its interface. Get more details on How to Download Facebook Videos to Computer (opens new window).
Tip: If you tend to edit the downloading video, try Icecream Video Editor (opens new window) here:
It works well in customizing the video style with effect, color, filter, transition and so on. Don't miss this top video editing software.
Have you found more ways to fix Facebook not playing videos? Share with us.