Some of you might have met the strange file extension as ".opus" when you receive .opus files from somewhere. The .opus file is less common than other popular audio formats, such as MP3, WMA, WAV, and M4V so it is possible that your player can't play OPUS files. If you are wondering what exactly .opus file is and how to convert it to other audio formats(such as MP3) for normal playing, this guide will help you figure it out.
What is an .opus File?
The Internet Engineering Task Force (IETF) creates the .opus format and Xiph. Org develops it. OPUS is a lossy audio codec format, using both SILK and CELT codecs. Technically speaking, it can support a variable bit rate from 6 kb/s to 510 kb/s.
Usually, the OPUS format is used by VoIP applications through the telephone features or voice recording functions, music streaming applications, instant messaging applications. It is simply used to code audio data into a single format. For example, when you are having an audio call or a real-time video conference through the Internet, the audio data during the process will be coded and exported as an .opus file.
Due to this feature, .opus files that you received are probably created by those applications that provide audio-related functions or audio/video streaming services, for instance, the instant messaging apps with which you can make a call.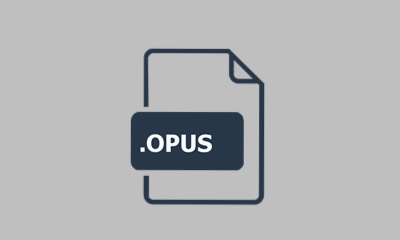 How to Open .opus Files?
Though the .opus file is unfamiliar to most people, certain media players can open it.
For Windows PC, you can open .opus file with players such as VideoLAN VLC media player, K-Lite Codec Pack, Zoom Player, Final Media Player.
For Mac, you can use the Mac version of VideoLAN VLC media player to open .opus file.
If you don't want to bother installing these media players on the computer, or if you want to play .opus files on the mobile phone or other devices, it is recommended to convert the .opus files to MP3 format with a .opus file converter.
Convert OPUS to MP3
To convert .opus to MP3, FonePaw Video Converter Ultimate (opens new window) is recommended to you. It is a powerful and easy-operational converter program that contains multiple functions. No matter your computer is running Windows or macOS, it has both versions.
With FonePaw Video Converter Ultimate, you can easily convert video or audio files to any format you want, and even edit them according to your preference. Follow the steps below to convert OPUS to MP3.
Free Download Buy with 20% off Free Download Buy with 20% off
Step 1: Launch OPUS File Converter
Download, install, and launch FonePaw Video Converter Ultimate (opens new window). In the main interface, click on the "Add Files" button at the top toolbar. Browse the folders and choose the .opus file(s) you want to convert. Or you can also drag and drop the file (s) directly to the program.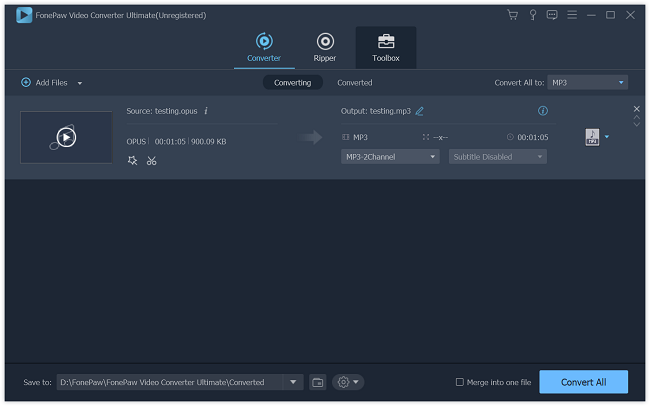 Step 2: Set the Profile as MP3 Format
Click on the "Convert All to" button at the bottom. Choose "Audio" > "MP3" if you want to convert .opus files to MP3. You can also convert .opus files to WMA, AAC, and more.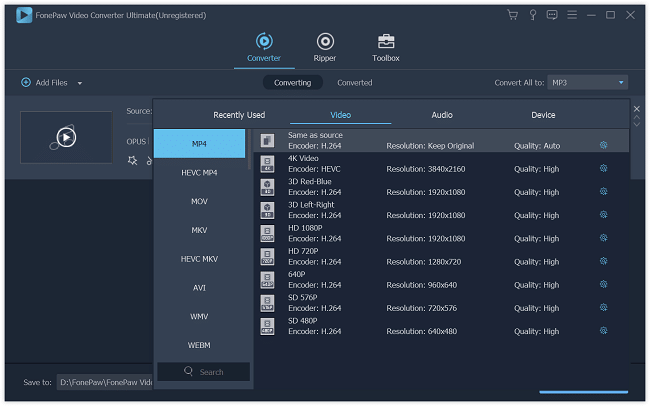 Step 3: Select the Saving Path
Click on the "Save to" option to select the folder you are going to save the converted MP3 file(s).
Step 4: Start Converting OPUS to MP3
After the settings, click the "Convert All" button at the bottom right to start converting. When the conversion finishes, you can head to the saving folder by clicking on the "Open Output folder".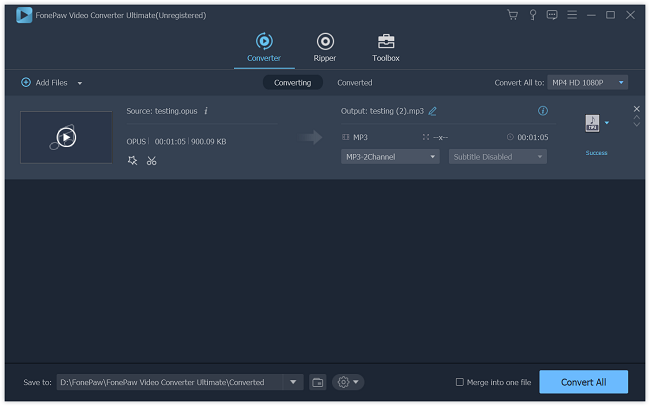 Now you find the .opus file(s) successfully converted to MP3 file(s), and you are able to play them with any media player and on any devices without trouble.
Have you learned more about .opus file after reading this post? If you think the post useful, please help share it with more people! Any question or comment is welcome.