There are many websites that only allow us to upload images less than 100KB. Or the other way round, if you are a editor for a website, you may want to compress photos on your website to 100KB or less to optimize page load time.
To compress JPEG/PNG images to 100KB, 50KB, 20KB or even less, you can use FonePaw Photo Compressor (opens new window), which can compress JPEG(JPG) images by up to 90% without significant quality loss. The online JPEG compressor is completely free to use, which means you can use this website to compress as many photos as you like.
Moreover, the photos you upload in this compressor are encrypted end-to-end so that your photos will only be saved on your devices.
Up to 25 JPEG images can be compressed at one time within a few seconds. The FonePaw Photo Compressor is free, fast, safe with high quality. That's why you should give it a try if you are looking for the best JPEG compressor of its kind.
Compressing JPEG photos on FonePaw is very simple.
Step 1 Open theonline photo compressor (opens new window) on a browser of your computer or mobile phone.
Step 2 Click Add Image to add JPEG images. You can adds no more than 25 JPEG images at a time.

Step 3 The JPEG images will be compressed immediately as soon as they are added. Most images can be compressed to 100KB within 3 seconds, however, the compression time will takes a little longer if the JPEG photos are especially large in size.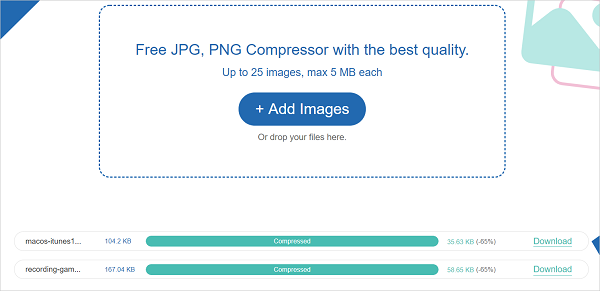 Step 4 After the JPEG photos are compressed, click Download button for each image to save the compressed version on your devices. Or you can click Download All Images to get all the compressed JPG photos in a zip file.
Compare the original photo with the one that has been compressed on FonePaw. You will find there is nearly no difference between them. FonePaw Online Compressor can actually compress JPEG images to 100KB or smaller without sacrificing the quality.