The best way to reduce PDF file size is by using an online PDF compressor. It is quick and can compress a PDF file to 100KB, 200KB or below without downloading any software on your computer.
There are so many online PDF compression tools that you may find it hard to select the best one. After testing more than 20 PDF compressors online, we have selected the Top 3. What makes these 3 PDF compressors stand out is that they can significantly reduce PDF file size without losing quality, and most importantly, they are totally safe for PDF compression.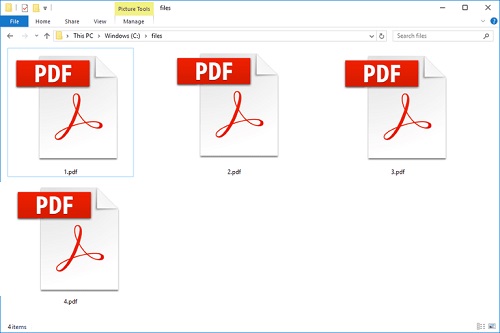 Is PDF Compressor Online Safe?
One of the biggest concerns about compressing PDF files online is that your private information in the PDF file may be accessed by others. In fact, most online PDF compressors provided by legitimate websites are safe to use. They won't store your PDF files or send them to other platforms.
However, you should be cautious about online PDF compressors that are crammed with ads, which may contain malicious links that are not safe for your computer.
FonePaw Free PDF Compressor
FonePaw Online PDF Compressor (opens new window)is completely free to use. It has no limit on how many PDF files or the file size you can compress and there is no need to sign up or log in for the compression online.
The compressor can reduce PDF file size by up to 85% without losing quality. It makes PDF files smaller for uploading to the web or sending via emails while keeping the files in good quality for printing or zooming.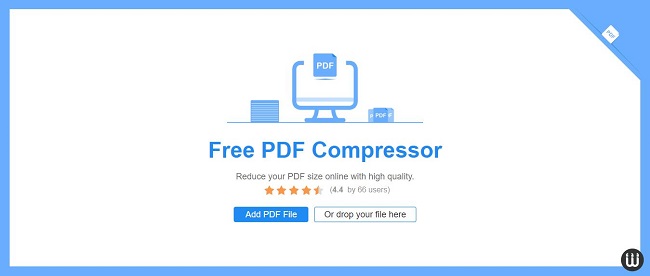 To reduce PDF file size with this online compressor, just open the PDF compressor online, click Add PDF File to select a file, or drag and drop PDF file in the compressor. The PDF will be uploaded and compressed automatically.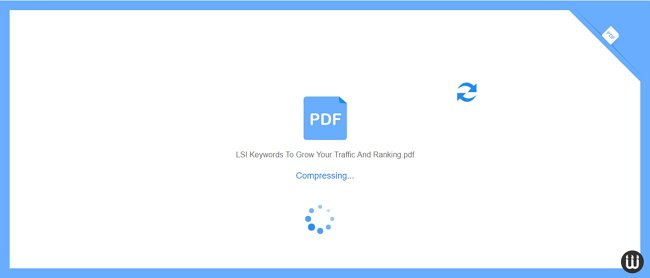 Click Download File to get the PDF in a smaller size. PDF compression can be completed in just a few seconds.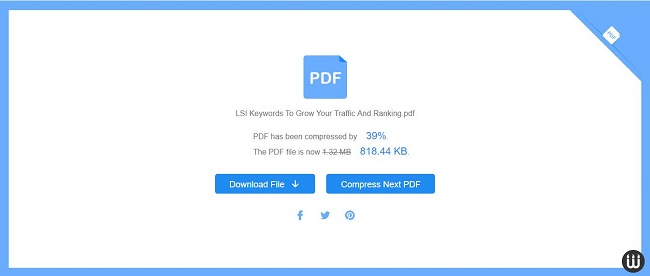 Pros
Highest compression ratio without sacrificing quality;
Totally free to use with no limit on the compression number or size;
No need to sign up or download anything;
Compatible with all browsers on Windows, Mac, iOS, or Android devices;
Safe for your PDF files.
Cons
Can't convert, merge, split PDFs.
EasePDF
EasePDF is a complete PDF compressor, converter, and editor online. It has strong 256-bit SSL encryption, which means the files uploaded to the server will be encrypted by the 256-bit SSL encryption. Besides, you can compress the PDF on EasePDF without installing any plug-in.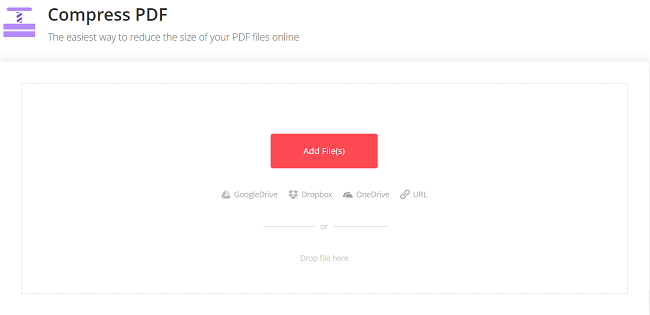 It works similarly to other online PDF compressors like FonePaw Free PDF Compressor. Just upload a PDF file to the compressor and choose the compress level of the PDF. The compress level varies from 1 to 10. A higher number brings a better compression result.

Click Compress PDF and the compressing will be started. When it is done, you can share it to GoogleDrive, Dropbox, OneDrive or send it via URL, Email, and QR code.
Pros
Comprehensive. Not only it can compress PDF online, but it also converts Word, Excel, PPT, TXT, RTF, HTML, image to PDF, and vice versa;
It allows users to edit, rotate, add page number on the PDF;
It can merge, split, and crop PDF;
It has PDF security functions like locking PDF and protecting PDF;
Compress PDF files from Google Drive or Dropbox.
Cons
Limit on the number of PDF files you can compress;
The free version doesn't support batch processing.
iLovePDF Online PDF Compressor
Similar to Smallpdf, iLovePDF is a multi-purpose online tool for PDF compression and conversion. The tool is not totally free to use for reducing PDF file size. When using the free version, the PDF files you can upload should no larger than 200MB and no more than 2 files can be compressed at each task. To bypass these limits, you need to register and upgrade to the premium version, which is $6 per month.
After uploading PDF files to the compressor, it offers 3 choices: extreme compression, recommended compression, and less compression. By extreme compression, the PDF file can be reduced to the minimum size, which will cause damage in quality. On the other hand, less compression can maintain a good quality but only achieve an extremely low compression ratio (less than 10%). Therefore, select the recommended compression to get a better result.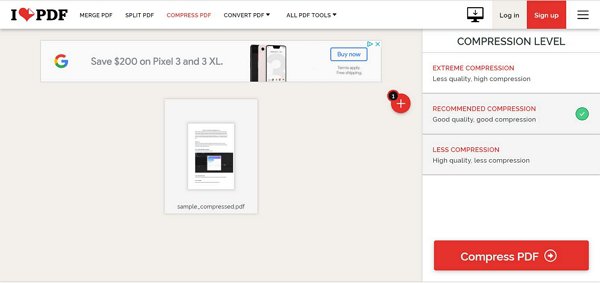 After compression, the compressor will download the compressed PDF file automatically, which is a little inconvenient when you are not satisfied with the compression result and want to cancel the download.
Pros
Offer PDF compressor software for PC and compressor app for Android & iOS;
Upload and save PDF files from/to Google Drive, Dropbox;
Compress PDF files in 3 modes.
Cons
Automatically download the compressed files;
The free version is offered with ads.
Conclusion
If you only need to compress PDF files to smaller file sizes, use FonePaw Free PDF Compressor (opens new window)which doesn't cost you a penny. Also, FonePaw offers a free compressor for PNG, JPG files (opens new window) as well. If you also need to convert PDF files, try EasePDF or iLovePDF.