How awful would it be if the power button is not working on your Android phone? If you are using devices like Samsung S7/S6/S5 with physical home button, or models such as HTC One M9 Plus, Xperia Z5/Z4, LG G6/G5 with double-tap screen wake feature available, it won't be too terrible.
If unfortunately, neither of these features available on your Android device, it is literally torture when the power button on Android is not working. You know the phone is fine, but you are unable to wake it up just because the tiny little button is broken.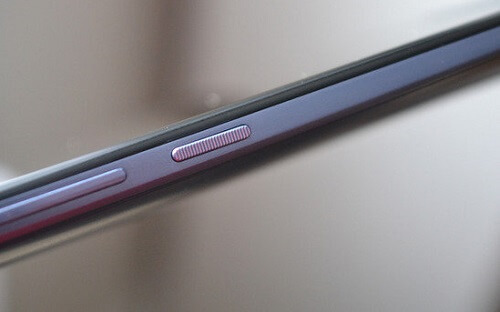 This post is to put an end to the torture. You can restart and use your Android phone without power button by following these tips.
You May Also Like:
Why My iPhone Won't Charge? Here is What To Do (opens new window)
Quick Ways to Fix Touch Screen Not Working on Android? (opens new window)
# 1. Restart Your Android Phone
The first thing you should do is to enter your Android phone again. If your phone is on, it is very simple to wake it up. Connect your phone to a charger or computer with USB cable, ask a friend to call you, press Camera button if you have one. These all can wake the phone up and let you use the phone again.
But if the phone is power off, the situation is much more tricky. For very few models, the phone will boot up when it is connected to a computer or when you long press the volume buttons. If you have enabled USB debugging before the phone is off, you can try to install ADB on your computer and use command prompt to turn on the device.
# 2. Use Apps as Alternative to Power Button
After you have entered the phone, you can download apps from Google Play Store to help you using your phone without power button.
As its name implies, the app allows you to use volume button to replace power button to wake up your phone. The only drawback is that the app needs to consume large amount of battery.
Android version: 3.0 and above.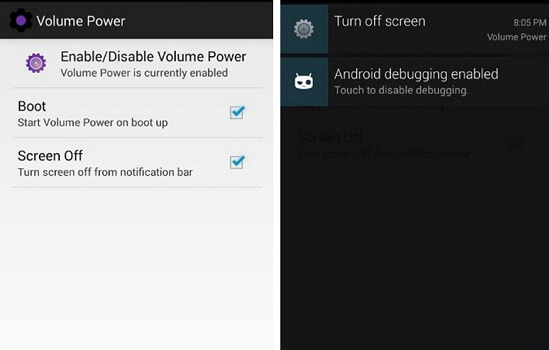 This app is pretty awesome. With the app installed on your phone, the screen will be automatically off when the phone is put into your pocket or onto a table. And when you take the phone up or out, the screen will automatically wake up. So no need to press the power button.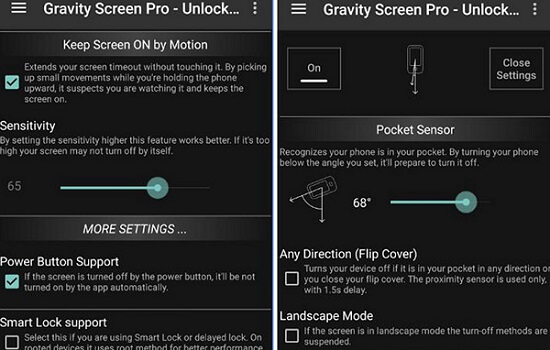 Android version: 2.3.3 and up.
The app applies proximity sensor of your device to make it possible for you to control your device with gestures.
You can wave hands over proximity sensor to lock and unlock screen. The proximity sensor is located besides your phone's earpiece. Beside lock and unlock screen, you can also wave to play or pause music and apps.
Android version: 4.2 and up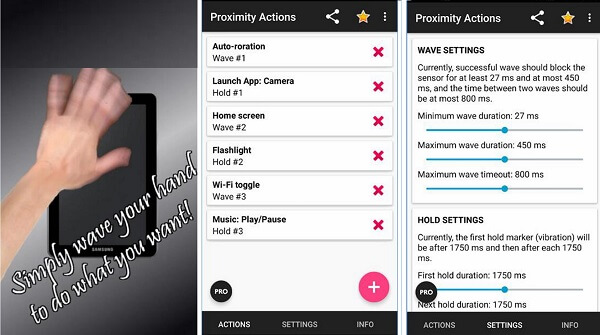 This is an app that enable you to double tap the screen to wake or lock smartphone. But some users complain that the app doesn't work on their device. Read the reviews carefully before you install the app on your phone.
Android version: 4.1 and above.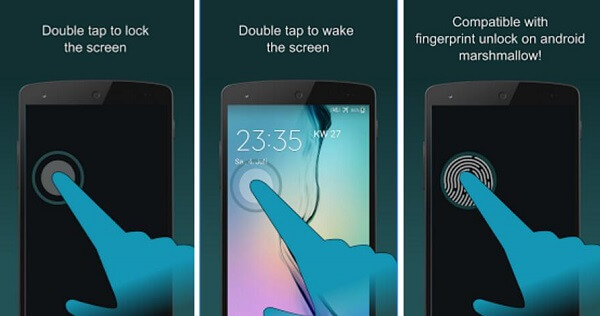 # 3. Fix Broken Power Button Permanently
Even though you can lock and unlock screen with apps, you get the power button fixed permanently so that you can normally use the power button to power on the device, take a screenshot, put device into recovery mode, etc.
You can always contact your manufacturer or go to a repair store to fix lock button broken. Also, you can buy a unit that is suitable for your model and replace the broken button by yourself. However, it is risky so don't try it unless you are really good at technical stuff.