"when I use my Windows 10 laptop, every 5-10 minutes I receive the following message: "The recycle bin on C: is corrupted. Do you want to empty the recycle bin?" Whether I press Yes or No, the message appears again."
In Microsoft community, many users complained that the recycle bin is corrupted in Windows 10/8/7 for no reason. If you meet this situation, you will not be able to completely empty the Recycle Bin or remove a file in Recycle Bin. What's more, a pop-up message will show up to alert you that recycle bin is corrupted. Fortunately, this troubleshooting post is created to help you to fix a corrupted recycle bin in Windows 10/8/7.

1. Fix Corrupted Recycle Bin in Windows 10/8/7
Since Windows XP, each drive has it separate Recycle Bin folder named as "$Recycle.bin", which is related to the corrupted Recycle Bin problem. Therefore, if your Recycle Bin is corrupted, you are able to delete "$Recycle.bin" folder to reset the Recycle Bin so as to fix the problem. If the recycle bin on c:\ is corrupted, you can:
Step 1. Open "Command Prompt" from Windows menu.
Step 2. Enter command "rd /s /q C:$Recycle.bin".
Step 3. Hit "Enter" key.
Step 4. Restart your PC, and then Recycle Bin will be fixed.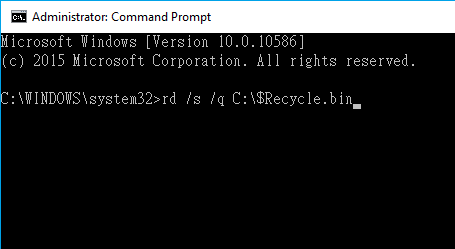 Note: To reset Recycle Bin on another drive, for example, Recycle Bin on D drive, E drive, you should replace C with another drive letter in the command.
2. Delete & Reinstall Recycle Bin
Likewise, if your Recycle Bin is corrupted on Windows 10/8/7, you are able to delete it, and then, reinstall it back. Reinstalling Recycle Bin can also achieve the same result and get the Recycle Bin working again on Windows.
Step 1. Delete Recycle Bin on Windows 10/8/7
Navigate to "Control Panel".
Choose "File Explore", and then, "View" tab.
Unhide system protected operating files.
Next, go to each drive to delete permissions and "$Recycle.bin" folders.
Restart your Windows.
Step 2. Reinstall Recycle Bin on Windows 10/8/7
Go to "Personalize" by right-clicking on Desktop.
Select "Themes">"Desktop Icon settings".
Check Recycle Bin. And then, choose "Apply".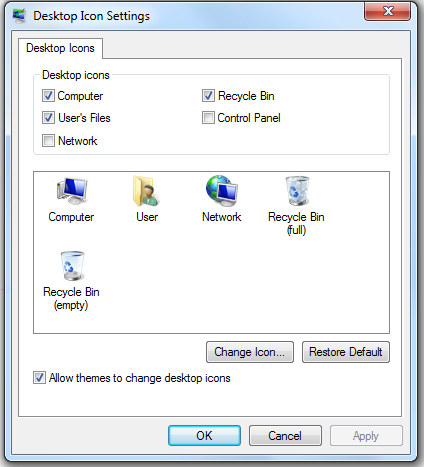 After that, a new Recycle Bin will be created on the Desktop without any problems.
3. How to Restore Deleted Data After Repairing Corrupted Recycle Bin in Windows 10/8/7
After fixing Recycle Bin, all file data in it before will completely be cleaned. If you want to get your data back, you might need a reliable and professional data recovery tool.
Here, we recommend you FonePaw Data Recovery (opens new window) which has the ability to recover your deleted image, audio, video, email and so on. It supports recovering data from Windows 10/8/7 and removable drives such as memory card, digital camera, mobile phones, etc. With FonePaw Data Recovery, recovering data from Recycle Bin just needs few steps.
Free Download Buy with 20% off
Step 1. Download FonePaw Data Recovery on your PC
To recover data from Recycle Bin on one partition, for example, from the C drive, you'd better install Data Recovery on another drive in case that the installation overwrites lost data on C drive.
Step 2. Select File Types and Hard Disk Drive
After launching it, you can choose the files types that you want to restore like image, video, audio, email, document, etc. Next, you can select the location where you want to recover data. If you only want to recover from Recycle Bin, just tick it on the bottom and go scanning.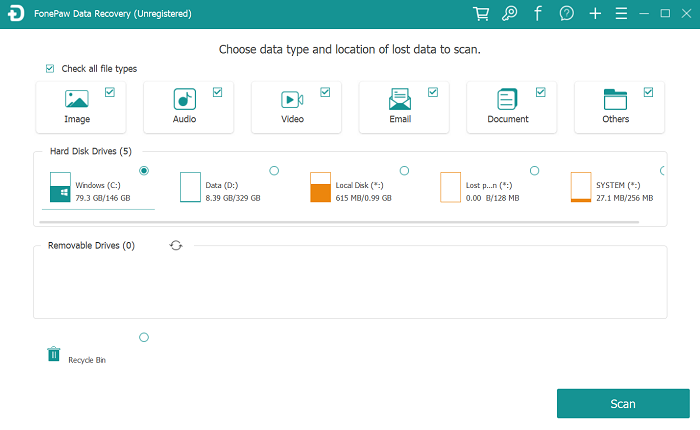 Step 3. Scan Deleted Data on Selected Drive
And then, click on "Scan" button to start scanning lost Recycle Bin data. If the quick scan fails to find the data, select Deep Scan which will find more files for you.
Step 4. Check Data
In this step, you can choose the data you want to restore by clicking on the checkbox before the file name. Click on "Recover" button to get selected data back to your PC.
Note: If you forget which drive saves the deleted data, you can check it on the Path List since the recycle bin on any drive will be displayed here.