Summary:
CHK files are fragmented files that require recovering to open. There are mainly two ways of recovering CHK files. You can apply the built-in method to convert them to a correct format on the computer, which requires heavy procedures. Or, you can just download data recovery software like FonePaw Data Recovery and let it do all the work on a Mac or a Windows computer.
Free Download Buy with 20% off Free Download Buy with 20% off
I lost pictures when transferring them from a memory card to PC. Now I have a lot of .chk files that I can't open. Is there any software that I don't have to purchase that will open and repair these files and put them back as they should be which is .jpeg files?
The above question is raised in Microsoft Community. In most cases, common Windows users will not see strange files with the .chk extension and a folder called Found.000. But sometimes, they find a lot of CHK files appearing in the Found.000 folder while files and photos disappear from their hard drive, SD card, USB drive. What are CHK files and can we recover files from Found.000 folder?
What're CHK Files and Found.000 Folder?
.Chk is the extension of fragmented files, which are produced when the process of writing files into a volume is stopped in the middle or when files are not saved before the sudden shutdown of your PC. Then the Windows built-in chkdsk (check disk) tool will automatically run and create Found.000 folder and transfer all chk files (fragmented files) into this folder.
To sum up, chk files are just corrupted data produced by check disk tool while Found.000 folder is created by Windows to contain them. And the folder is hidden by default. You need to tick off "hidden folder" in "View" on the top of File Explorer to show this folder on Windows. Once you find the CHK file, you can recover your lost data from them in several ways.

Tip:
If you've ever transferred files between a Windows computer and your USB or old hard drive and it didn't finish successfully, you can view the hidden Found.000 folder by going to the Finder > Location > Your USB drive/hard drive and pressing "Command+ Shift + (.)Period" keys to show it.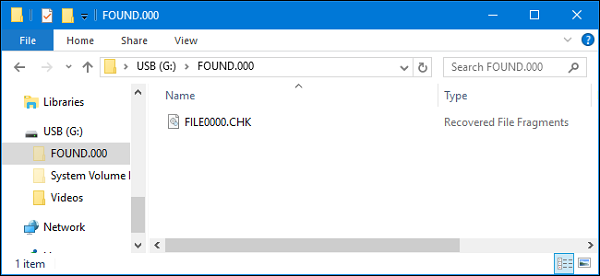 Recover CHK Files with FonePaw Data Recovery
Using data recovery software is the most convenient way to retrieve lost data from CHK files. You can use FonePaw Data Recovery (opens new window), a professional data recovery tool to recover lost or corrupted photos, videos, or files from your memory card or hard drive. Just use the program to scan your memory card, USB flash drive, hard drive with CHK files and see if it can scan out the photos or files you need. Follow the steps below to recover CHK files in Windows 10.
Video Tutorial: Easily Recover Deleted/Formatted/Corrupted Data From USB/HardDisk/PC
Step 1: Download FonePaw Data Recovery by clicking the below button, then install it on your computer.
Free Download Buy with 20% off Free Download Buy with 20% off
Step 2: Open it by clicking the icon of FonePaw Data Recovery.
Step 3: After opening, you can tick off the type of files you want to recover. If the CHK files were photos, tick Photos; if they were text files, tick Documents. Then select the drive with CHK files.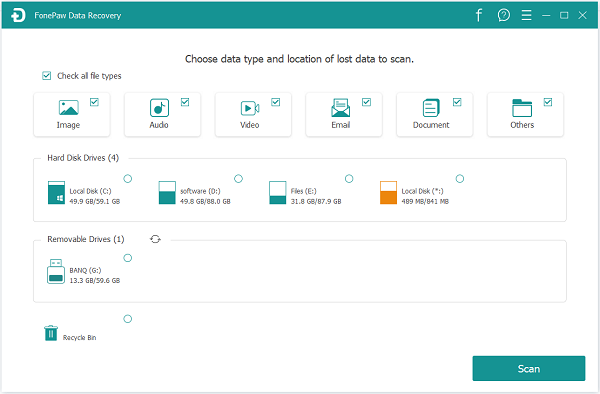 Step 4: Click "Scan" in the right bottom corner.
Step 5: After scanning, all deleted files will be presented according to their file types or their paths. You can choose to view the files by "Type List" or "Path List". You can directly go to the Found.000 folder by "Path List".
Step 6: Tick off the files you want to recover. Click the "Recover" button on the right bottom corner to get them back.
If you do not see the files you want, do not feel frustrated immediately and you can, in step 5, try to click "Deep Scan" on the right top corner to scan the files more deeply.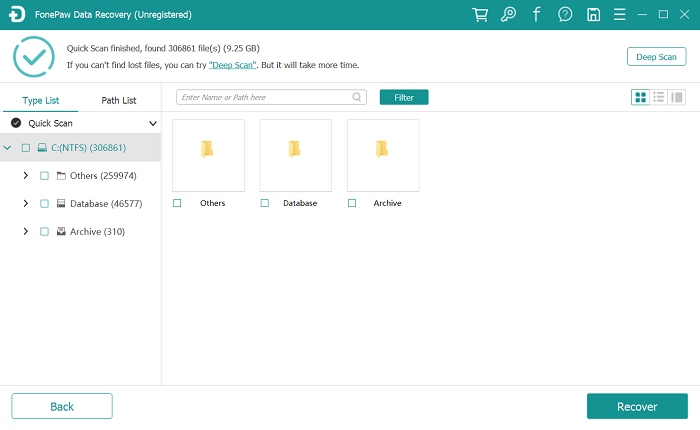 Recover CHK Files from Found.000 Folder with UnCHK
UnCHK is a free and simple tool to recover CHK files. Running it will help your PC recognize the type of chk files. If successful, it will manage to change the .chk to the right extension names. With the correct extensions, you can easily open the files with default apps. Of course, not all files can be recovered with UnCHK especially when the files are severely damaged.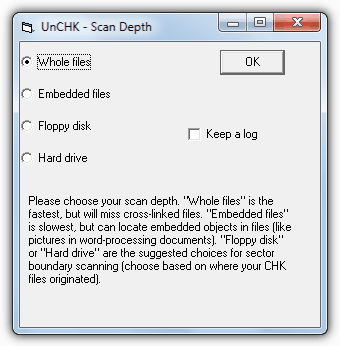 Tips:
1. You need to find a trustworthy website to download the tool or else the .exe might hurt your computer.
2. To run a .exe file on Mac, you will need the Boot Camp application or a VM.
Recover CHK Files by Changing File Extensions
Apart from using data recovery software, you can also recover CHK files by changing file extensions. You can change CHK file extensions by running CMD or just do it manually.
# Changing CHK File Extensions Using CMD
Usually when you find your files are converted to CHK files, if the files or data are not quite important and there are backups, you don't need to try this CHK file recovery method to recover the data and you can just delete the folder and CHK files contained in it to save the storage space. Of course, you'd better try this method if the files are precious and had no other way to retrieve them.
Step 1. Before operating, memorize the file path of the Found.000 folder.
Step 2. Right-click Start Menu and open the Command Prompt (Admin) or you can search in the search bar beside Start Menu.
Step 3. Input "cd/" into the black window and press [enter]. (cd is short for change directory. "/" is added to change the root directory.)
Step 4. Input the volume letter (such as d:) the Found.000 folder is in and press [enter]. (Change the working directory to the volume the chk files are in.)
Step 5. Input "cd Found.000" and hit [enter]. (Change the working directory to the folder chk files are in.)
Step 6. Input "ren .chk .mov" and tap [enter].
After finishing the above procedures, you can go back to the Found.000 folder and see whether the CHK files are restored.
# Changing CHK File Extensions Manually
If you remember the original formats of your CHK files, you can manually change their extensions to their original ones or follow the steps below to manually change CHK file extensions and restore them in batch:
Step 1. Create a text document on your computer.
Step 2. Double-click to open, type ren .chk .jpg, and save. You can replace .jpg with the desired extension, namely the original format.
Step 3. Change the .txt suffix to .bat.
Step 4. Copy the .bat file to Found.000 folder. Double-click to run the .bat file. Then, the .chk files will be converted to .jpg or other types of files. After this, you can open the Found.000 folder to check and use the restored files again.

Tips:
1. Back up the CHK files before you change their extension to avoid the situation where the files are unrecoverably damaged.
2. .bat files can't run directly on Mac; you will need a VM or run it via Bootcamp.
FAQs on CHK Files
# How Do I View CHK Files?
Generally speaking, you can't view them directly. But you can convert CHK files to their original formats or recover them via a recovery tool. Converting them may cause some risk and more troubles, the simplest and safest way to view them is using FonePaw Data Recovery (opens new window).
# Can I Delete CHK Files?
You need to make sure that you haven't lost any of your files first. If there's no doubt that they are useless to you, you can delete them. But if you can't tell, it's recommended you recover them first.
# How to Stop Creating CHK Files?
CHK files are usually created when transferring and an accident occurs. You need to keep the power stable when transferring files between two devices.
And actually, if there are some running problems with the Windows system or there are some viruses on the devices, CHK creation might happen as well. Keep your devices safe and back up your files often if possible.
Conclusion
To sum up, if you wish to recover CHK files on Windows or a Mac, you can use the built-in method which requires a lot of procedures, or you can just download a data recovery software like FonePaw Data Recovery (opens new window), which helps you recover them with just a few clicks. Let CHK file no longer be a trouble.
Free Download Buy with 20% off Free Download Buy with 20% off