A file system is a method to manage how and where data on the hard disk drive or external drive is stored, access and managed. Commonly used file systems include FAT 32, NTFS and HFS. But some users also encounter a special file system named RAW drive especially when they insert the USB drive into the computer and receive a prompt: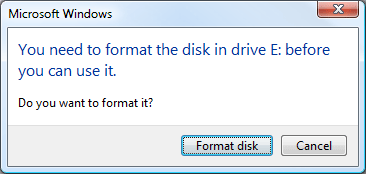 What is a RAW File System
RAW stands for a collection of unprocessed data. In short, the RAW file system is a system error and it means your operating system cannot recognize it.
You can fix the RAW file system by formatting the drive, but it will lead to data loss or no result.
Symptoms of RAW File System
When you insert your external hard disk, USB flash drive or SD card into the computer, you may receive error prompts like:
"You need to format the disk in drive E: before you use it."
"There is no disk in the drive. Insert the disk and then try again."
"Invalid media type reading drive. Abort, Retry, Fail?"
The drive cannot be read, written, recognized, accessed or detected.
The drive is not initialized or cannot be used.
The property shows 0 bytes.
Other error messages.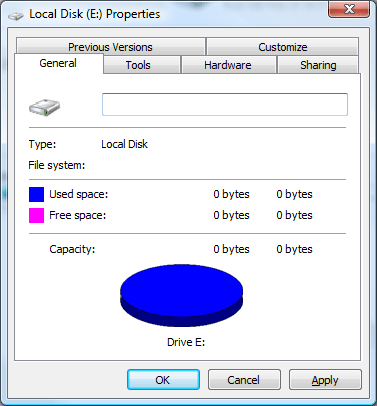 Causes of RAW File System
Why would your hard disk drive or external hard disk become RAW? Usually, there are 7 main reasons that cause RAW file system:
1. Virus Attack
Virus attacks will damage the partition table with partition information. The partition will become RAW.
2. Partition Table Corruption
When the partition table is corrupted, the drive may likely be damaged.
3. File System Structural Damage
Drive partition is surely involved with the file system. Thus if the file system suffers structural damage, the partition may become raw.
4. Improper Partition Access Permission
If the access permission to the partition is configured wrongly, the partition will become RAW too.
5. Bad Sectors
If there are bad sectors in the hard drive, the drive will work abnormally and become RAW.
6. Operating System Re-installation
If you upgrade your old operating system to the new one and the file system changes from FAT to NTFS, then the file system cannot be recognized by the operating system, which will cause RAW.
7. Unexpected power off when the drive is in use.
Raw File System Recovery
It is annoying when you cannot gain access to the external hard disk, USB flash drive or SD card which stores important files.
Though recovering raw file system seems complicated, it is easy to retrieve the Raw file as long as you choose the right methods. Here, we take FonePaw Data Recovery (opens new window) as an example. The steps are simple and with it, you can view and open the raw drive without format.
Free Download Buy with 20% off Free Download Buy with 20% off
After you download, install, and launch the software, connect your removable hard disk to the computer. Then click "Scan".
When the scanning finish, you can preview the photos and check other files in the results.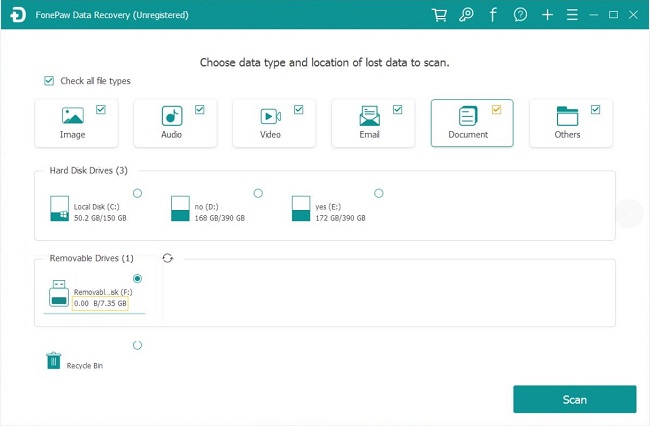 It is available to recover images, video, audio, document, and email safely. Just feel free to use it cause it only scans your devices and nothing will be changed or deleted.
Convert RAW File System to NTFS without Format
After rescuing your files from the RAW file system, your next step is to fix the RAW file system issue and make your drive workable again.
If you would like to fix the RAW drive without format, one way to do this is to convert the RAW file system to NTFS, a file system that is commonly used by the Windows for storing files on a hard disk. You can convert the RAW drive to NTFS by using Command Prompt (opens new window).
Format RAW File System
If your USB drive or hard disk can't be converted to NTFS, your last resort is formatting the drive with the RAW file system. You can format a RAW drive to NTFS, FAT32 or exFAT. Usually, you can format a RAW drive by simply right-clicking the drive and selecting "Format in File Explorer", however, some RAW drives won't be formatted in this way.
If your RAW drive won't be formatted, learn more about how to format RAW File System (opens new window).
Note:
One important thing you need to know is that DO NOT format the USB or hard disk drive before you back up the files.
All in all, the RAW file system is a system error. When your file system becomes RAW, it doesn't mean you lose the files but you are unable to access the files inside. With data recovery software like FonePaw Data Recovery (opens new window) can help you get the data back before formatting.