When switching to a new iPhone X/8 or Samsung Galaxy S8, what bedevils you most may be the files transfer. Recently, some people complain that it is annoying when they fail to find out the WeChat chat history on the new phone. Actually, this issue can be easily solved and what you need to do is to move WeChat Chat history from your phone to another. Now, please scroll down on this page to see how to do!
People Also Read:
WeChat Photos/Videos/Audios Recovery on iPhone (opens new window)
WeChat Transfer Files Between Android/iPhone And Computer (opens new window)
Solution: How to Move WeChat Chat History to New Phone
To move WeChat chat history to your new Samsung S8 or iPhone Xs/XR/8, you are advised to use its built-in Chat Log Migration or the Backup and Restore features for the WeChat data recovery. Please check how to do in details below.
Method 1: Migrate WeChat Chat History to Another Phone
For the first method to move WeChat Data to new phone, you can use its built-in feature: Chat Log Migration for the transfer.
Step 1. Run WeChat on your Android/iPhone.
Step 2. On Android, go to "Me > Settings > Chat > Backup & Migration". On iOS, go to "Me > Settings > General > Chat Log Migration".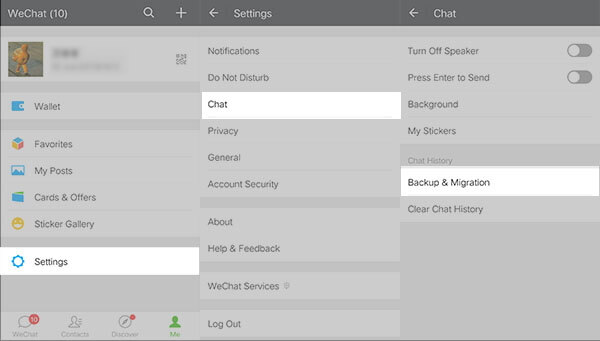 Step 3. Tap on the "Select Chat History" button on the screen. Then choose any or all WeChat chat history on the phone and tap on "Done" button on the top right corner.
Step 4. Go to your new phone and log in the same WeChat account. Then scan the QR Code which shows on your first phone.
Now, it will automatically start to migrate your WeChat chat history between the two phones.
Method 2. Restore WeChat History to New Android or iPhone
For the second method to move WeChat Chat history to another phone, you can try to use the WeChat for Windows on your computer as a transfer tool for the job. If you have backed up WeChat using its "Backup and Restore" feature, you can now easily transfer and restore WeChat Chat history to new phone with the backup copy.
Step 1. Launch WeChat for Windows (opens new window) on PC. Then sign in your WeChat account.
Step 2. Click on the Menu button at the bottom-left corner of WeChat client and choose "Backup and Restore" option.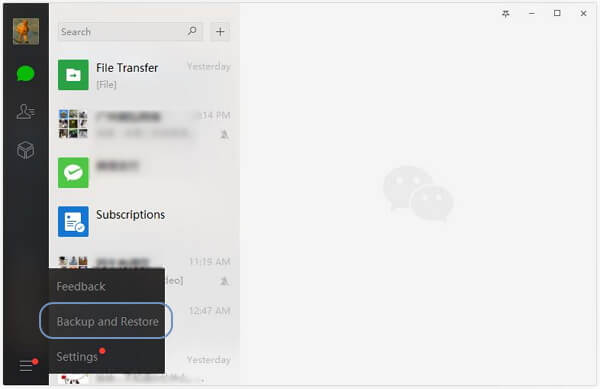 Step 3. Choose "Restore on phone".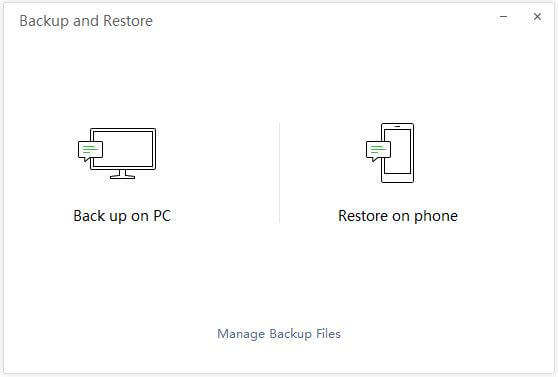 Select the conversations you want to restore. Then click on the "OK" button.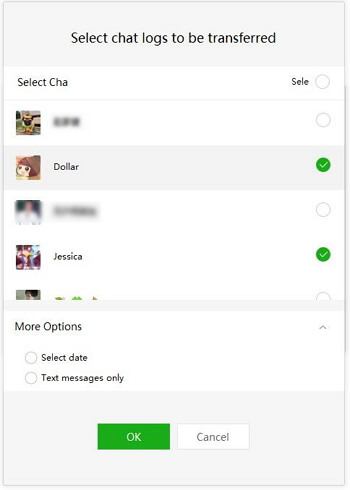 Step 4. Now, you should be prompted to confirm the operation on your new phone. Just tap on the "Restore" button on the interface. Wait for a second and the job is done!
However, if you lose the WeChat history data and it is too late to back it up, you can go to this guide to restore WeChat chat history files without backup: Get WeChat Photos/Videos/Audios on iPhone Back to PC (opens new window).
Tips: How to Move Files Between Phones?
If you want to move other files such as contacts, photos, music, videos, etc. between phones/tablets with same or different OS, you are recommended to use FonePaw DoTrans (opens new window), which aims to fast, safely and effectively transfer files from one phone to another.
The program is totally compatible with iOS devices such as iPhone X/8, as well as the Android Samsung S8/S7, HTC One series, LG G Flex 3/G6, Huawei P10/Mate 10, and so on.
Now, you can download the FonePaw DoTrans on your computer to have a try, and I am sure you will enjoy the convenience it brings.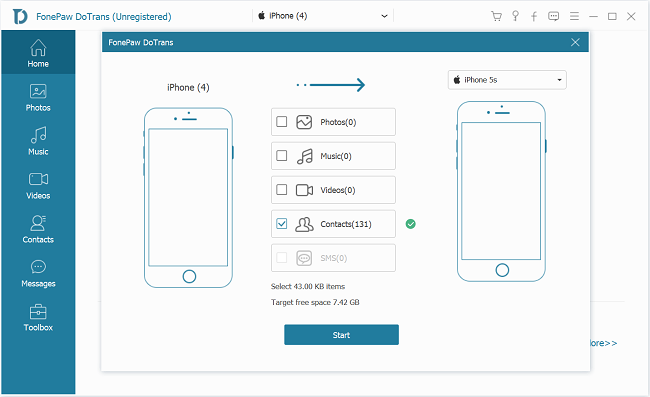 Above is the whole guide to transfer WeChat chat history to another phone. If you have any problem when following the steps, just drop us a comment to let us know!