Do you want to crop the video to square, portrait, or remove something from your video? If so, you need a video cropper. A video cropper can help you crop videos to remove unwanted parts of a video, for example, removing black bars of a video, or resize videos, e.g. turning vertical video to horizontal.
This post will cover the 6 best video croppers to crop MP4, WMV, MOV, etc. You can choose the one that is suitable for you.
# 1. Icrecream Video Editor
Icecream Video Editor (opens new window) is an easy-to-use video cropper. It not only provides the custom cropping feature for you to crop videos but also blurs the background of the video, which can bring a more special effect to the video.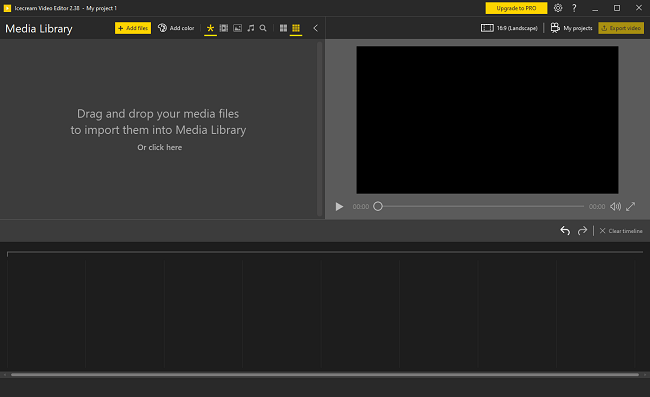 Apart from cropping videos, this application can also cut and rotate videos, add captions, background music, effects, and filters into videos. To sum up, this is a video cropper with comprehensive functions of video editing. Let's see how to use it.
Download Icecream Video Editor by the below button and install it on a PC.
Step 1 Launch Icecream Video Editor by double-clicking its icon on the desktop.
Step 2 Select a video to add to the video cropper. (You can drag into it directly or click the "+ Add files" directly).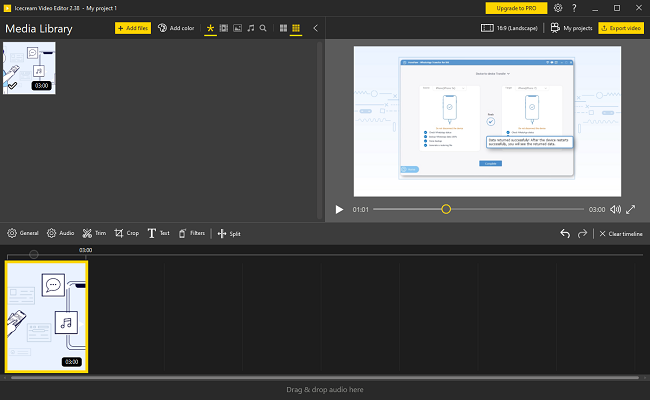 Step 3 Select the video clip and choose "Crop". In the Crop interface, you can directly drag the rectangle around the video to select the part you want to save. In the preview window, you can view that the video shows on a certain part. Click Done to finish.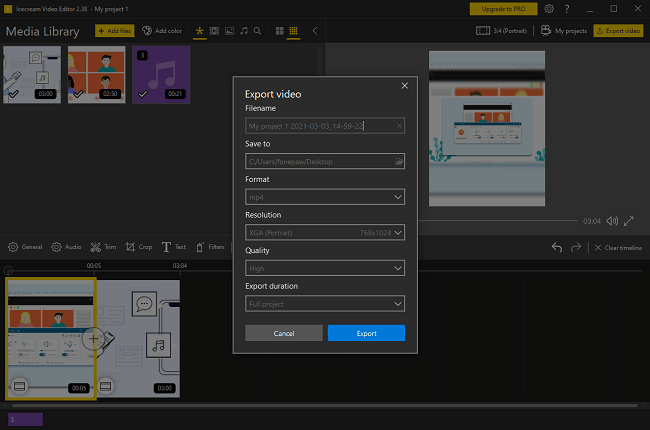 Step 4 You can choose to keep the project aspect ratio. Or, you can choose not to keep the project aspect ratio and blurred background to make a more creative video.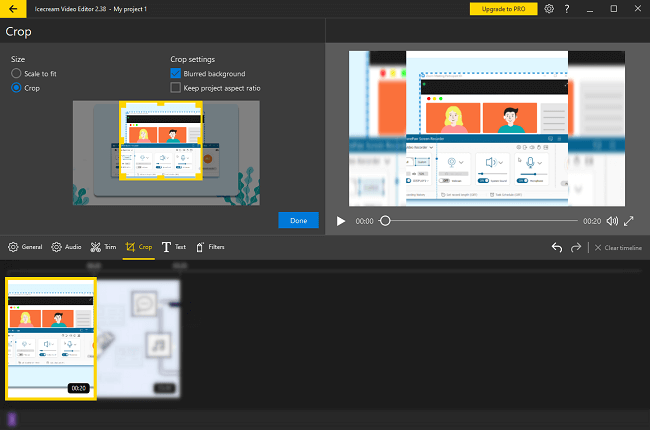 You can see that blurred background can highlight the specific part of the video.
The above steps are how to precisely crop a video with Icecream Video Editor. After that, you can export the cropped video in custom resolution, aspect ratio, format to fit the video requirements of YouTube, Twitter, Vimeo, Instagram, and more.
# 2. Adobe Premiere
Adobe Premiere is a professional video editing software that can crop and cut videos. However, the software is not for beginners or amateurs, as it is too professional for most people.
Even though you just want to crop a video, it is not very easy to do it with Adobe Premiere. You need to find the "Crop" effect and add it to the video. Then you can crop your video by four directions: the left, top, right, and bottom by adjusting the percentage next to each direction.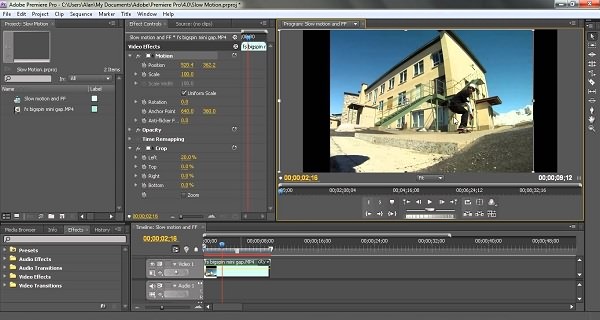 Adobe Premiere is a powerful video editor which can be your best choice if you need to make professional films, but if you simply need to crop a video, it is not worthy to download Adobe Premiere, which is huge in size and difficult to use.
It costs 20.99/month to get Adobe Premiere Pro.
# 3. Windows Movie Maker
If you use Windows 7 or 8 system, there is a built-in video cropping tool for video editing - Windows Movie Maker. It is also easy to use just like PawEditor but it is a pity that Windows 10 doesn't have the cropper and Microsoft has discontinued this app.
If you use Windows 7 or 8, you can still give it a try. It can perform basic video editing, such as cropping, cutting and rotating videos, add built-in effects.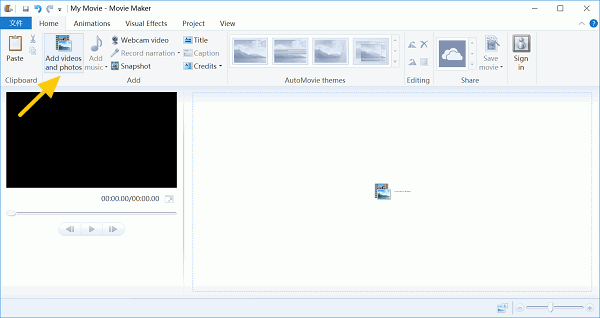 # 4. Ezgif Online Video Cropper
Ezgif Online Video Cropper is an online video cropping tool and it can be easily accessed by opening a browser so that you don't need to install standalone software on your PC. Also, you can use it to crop videos directly from your mobile phones.
The online video cropper can crop videos you upload to any size. It supports MP4, WebM, AVI, FLV, MOV, and 3GP, so it can meet your needs for most video formats. You can use it to crop unnecessary parts off and use the graphical crop tool to have what you like.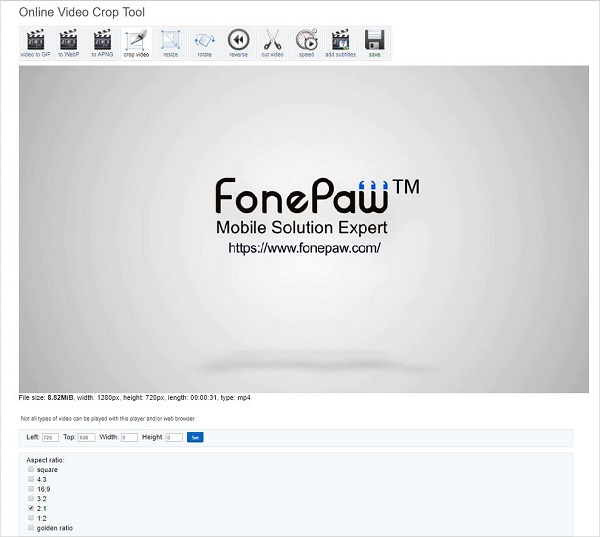 However, to use the online video cropper, you must keep your device connected to a stable Internet network, otherwise, you may fail to save the cropped videos.
# 5. Final Cut Pro
If you use a Mac, you can choose to crop videos with Final Cut Pro, the professional-level video cropping software by Apple. Apart from cropping videos on Mac, it can also adjust color, compress videos and achieve many advanced functions, such as creating effects and graphics with Motion, supporting 360° video for VR devices.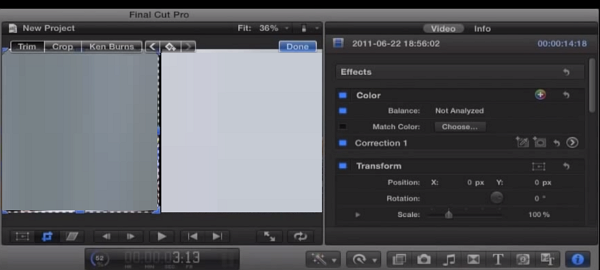 # 6. iMovie
iMovie can be a video cropping tool for iPhone, iPad, and Mac computer. It comes bundled with every Mac so it is freeware for video cropping and editing.
Using this video cropping tool on a Mac or iOS device is very simple. You can just import the media file and add it to the timeline; Click the "Crop" icon and Adjust the cropping area; then hit the checkmark to apply the cropping. Moreover, it allows a more flexible workflow - you can start cropping a video on iPhone and finish it on Mac.