Windows 10, 8, 7 all come with video editing software. You can use the built-in Windows video editor to create and edit videos on Windows. In Windows 8,7, you can edit a video with Windows Movie Maker. Although Windows 10 Movie Maker has been removed, Windows 10 Fall Creators Update is added with a hidden video editing capability in the Photos app.
If the video editing tool in the Windows 10 Photos app is too primitive for you, you can free download FawEditor, an easy-to-use video editing software with advanced features that allow even beginners to make some stunning videos.
Edit Video in Icecream Video Editor for Windows 10, 8, 7
Icecream Video Editor (opens new window) can handle basic video editing in Windows as well as apply advanced features such as keyframe, transitions, effects, animation, filters.
Compatible with: Windows 10, 8, 7.
Import Videos
Open Icecream Video Editor. Drag and drop the video into the media library and select the needed videos, music, images to import to the project.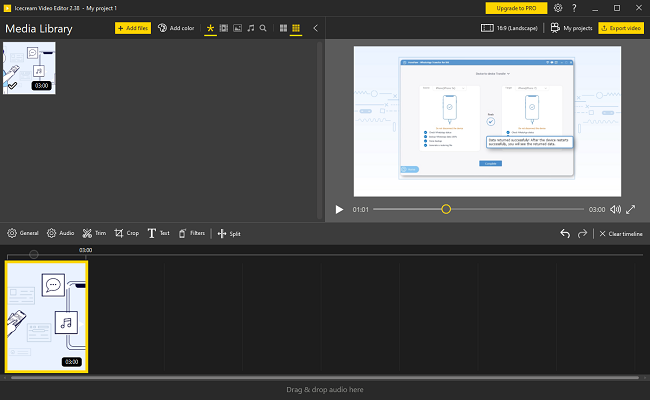 Edit Videos
After dragging a video to the video track, there are multiple tools you can edit videos with.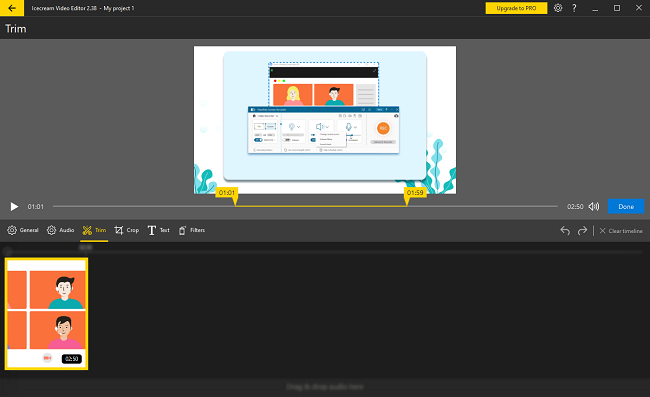 Trim: Split videos into different parts. To do that, drag the cursor on the point you want to separate the video, click the Done button.
Duplicate: Select a video/audio clip or a photo and right-click the Duplicate to get a copy of it.
Edit: Click the General icon to access the Properties panel of a video, where you can change the video speed or settings.
Resize: You can resize a video by cropping.
Rotate: Rotate a video or picture any degree.
Effects
There are effects to blur a video background, make a video play reverse, change voice to robot/alien, etc.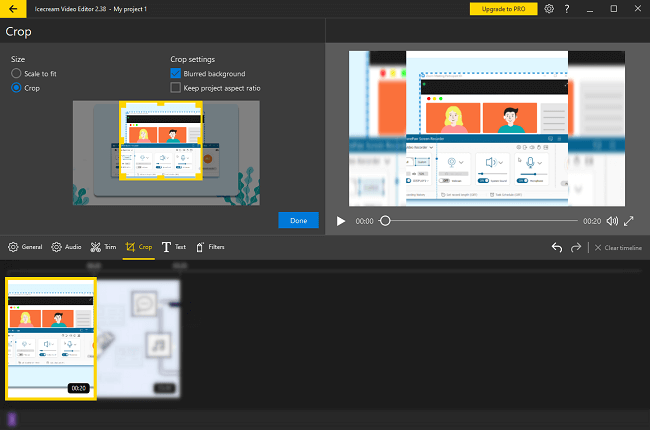 Transition
A transition can help a video to smoothly switch from a part to another. There are 22 built-in transition animations in Icecream Video Editor. You can add color to create your own transition.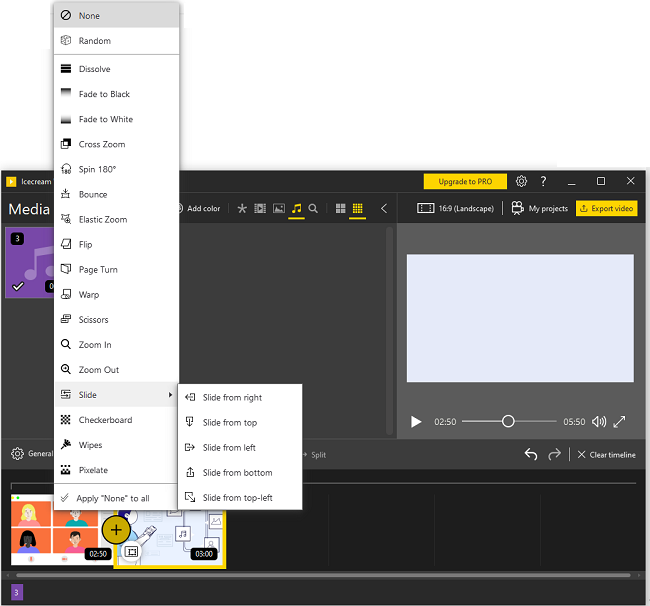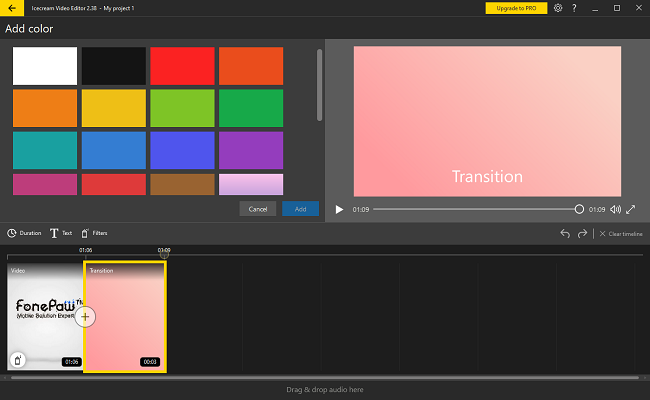 Color Filters
With the color filters, you can apply basic color correction, such as adjusting contrast, brightness, a saturation of a video, as well as choose filters from Sepia, Old Movie, Vintage, and more. Also, you can add more than one filter at a time.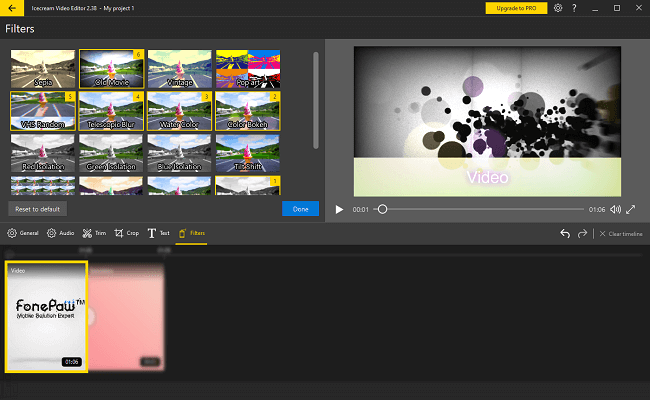 Text
You can click Text to insert the text of different styles, colors, fonts, sizes to videos to create titles and subtitles. You may drag the text to a different position you like on the video.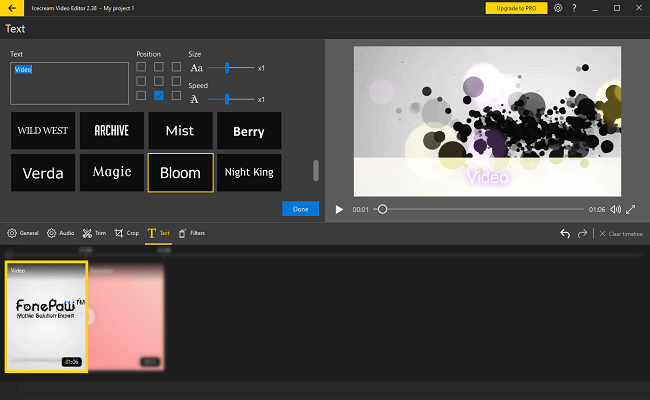 Edit Video in Windows 10 Photos App
The built-in video editing software in Windows 10 is the Photos app. Photos can not only organize the images on your Windows PC but also make simple videos and slideshows.
Compatible with: Windows 10.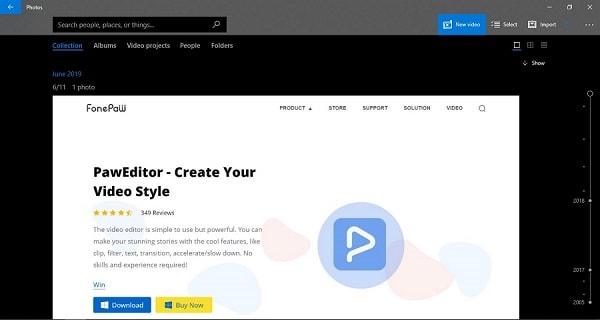 Create New Video
Run Photos on your PC. Click New video to create a new video project or an automatic video.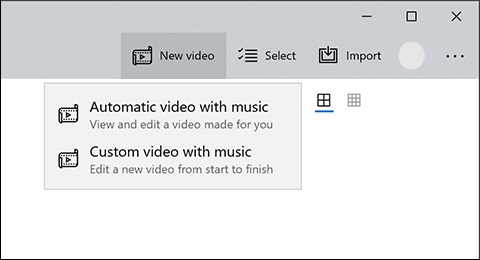 Make Automatic Video
You can select multiple items in the Photos library to create a video automatically. Click Automatic video and after ticking all videos and photos you need, click Create and name the video. Then a video will be created based on the selected videos and photos.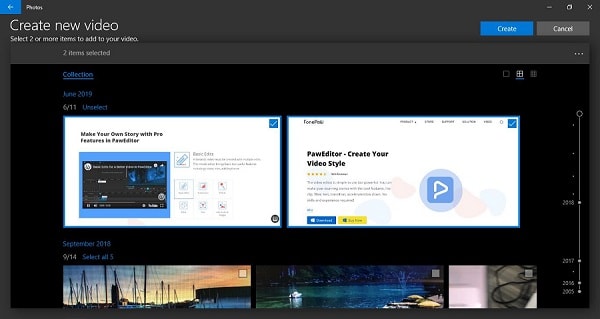 You can view the new video and if you don't like it, click the blue Remix button to change the theme, music, speed, length of the video. Click Export or Share to save the video or click Edit Video to further edit the automatic video.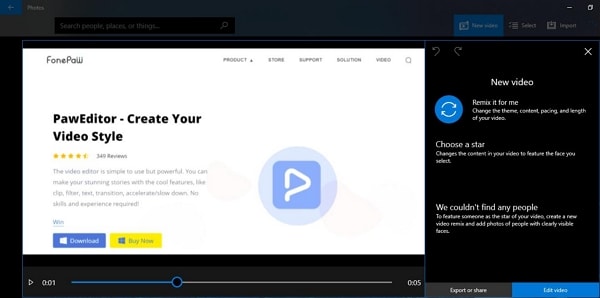 Edit Video
In a video project, there are multiple tools available for editing videos in Windows 10: Trim, Resize, Filters, Text, Motion, 3D effects, Background Music.
Trim
Click the Trim button. Then drag the blue pin icon to select the part of the video you want to keep. Click Done to trim off the unselected part.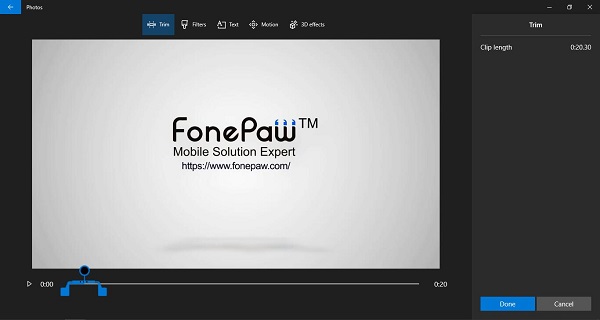 Resize
By clicking the Resize button, you get 2 options: Remove black bars, which will delete the black bars around a video; Shrink to fit, which will make a video smaller if it is too big for the project.

Filters
The Filters tool offers some Instagram-style filters that you can choose from.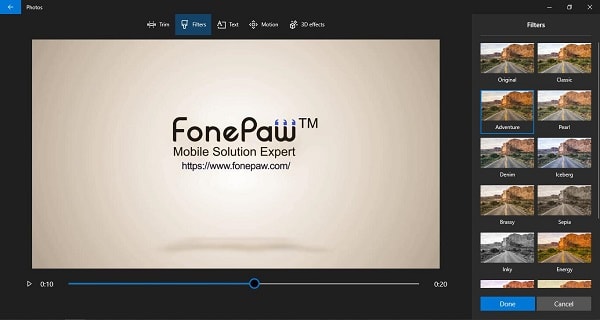 Motion
The motion library is a variety of effects for a photo or video to zoom in, zoom out or pan in, pan out. The effects are more powerful when being applied to still images.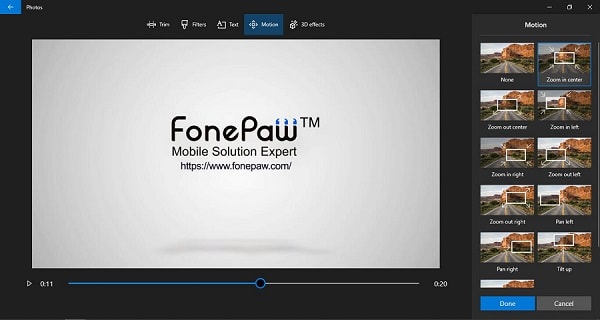 3D Effects
There are 3D effects with which you can add rain, balloons, bubble, fire, snowflakes, leaves, sparks, etc. to your video. The effects can be applied to a certain area of the video or the entire video.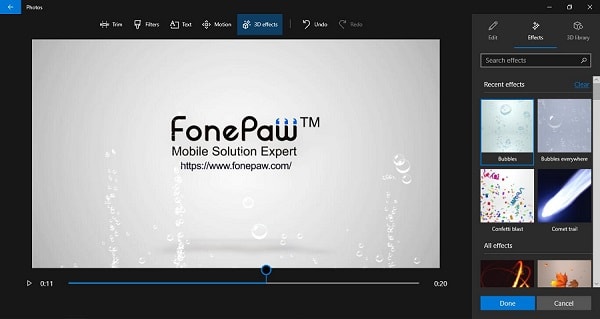 Text
You can create videos with text on Windows 10 Photos app. There are titles of different styles and layouts to choose from.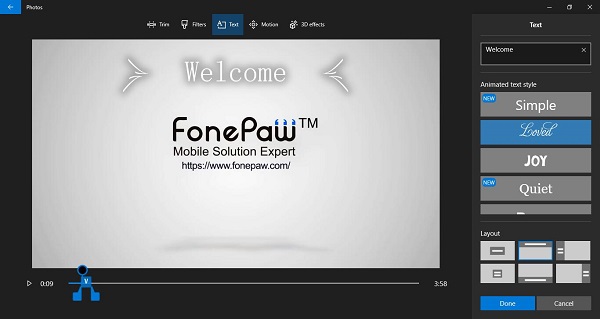 Music & Voiceover
You can add background music with Photos' default music items or an imported music clip. Also, there is a Custom audio option for you to select a recorded audio clip to add to your video.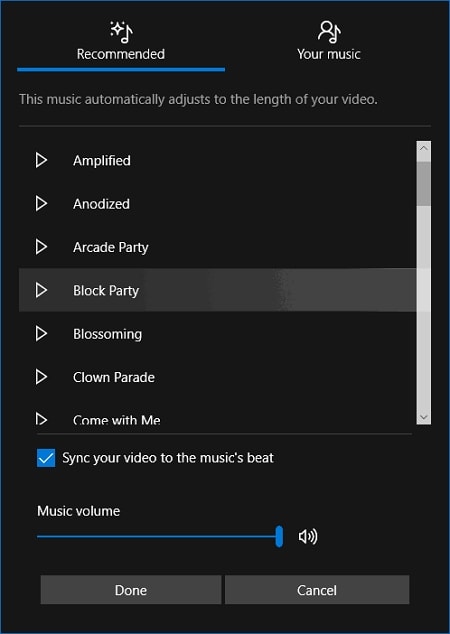 Finish Video
If you have done editing the video project, click Finish video to save the video on your Windows 10 PC.
Edit Video in Windows Movie Maker
If you are still in Windows 8/7, you can access the default Windows video editing software: Movie Maker.
Compatible with: Windows 8/7, XP, Vista.
Add Photos and Videos
In the Movie Maker, click the Add Photos and videos button to select the items you want to edit. The videos and photos appear in the timeline. You may reorder the videos and photos to organize your content.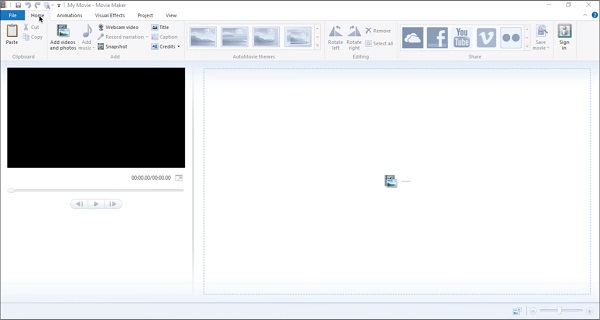 Edit Videos
Select a video clip. Click the Edit tab to access the video editing panel, from which you can split, trim, speed up/slow down, shorten, mute videos.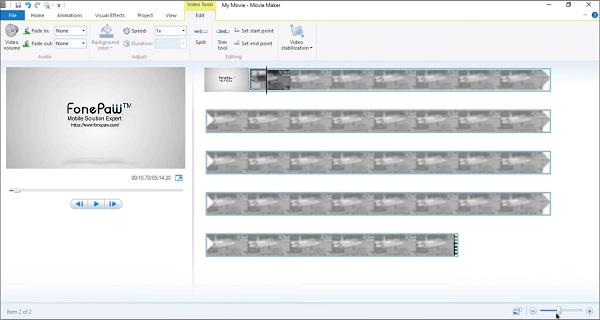 Add Animations
Animations in Movie Maker are transition effects that you can apply to selected clips or all of them. The duration of the animations is adjustable.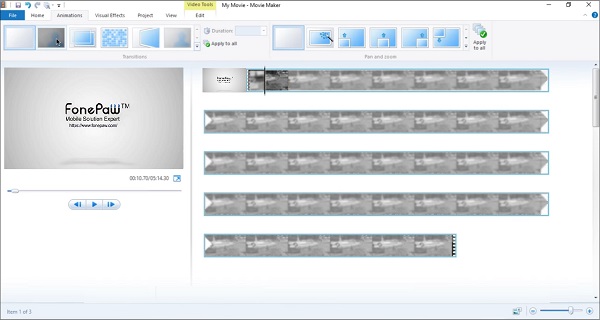 Text Tools
Click Title or Caption and you can add text to the working video. There are text tools that can adjust the fonts, sizes, colors, transparency, duration, outline styles of the text. Transition animations can also be applied to the text.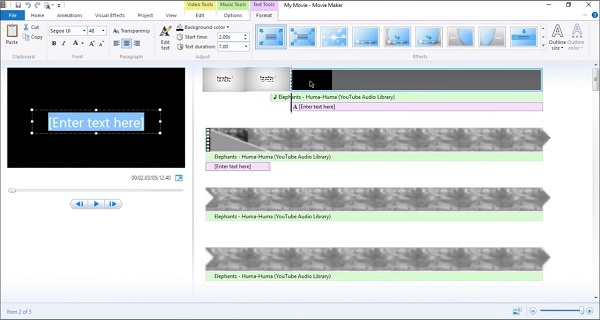 Visual Effects
Visual effects are filters to change the color of the video clips. There are 4 types of filters: artist, cinematic, black & white, mirror to choose from.
Add Music
If you would like to have background music in your video. Click Add music > Add music from PC to select the music clip you need. You can set the starting and ending point of the music in your video.

Record Narration
Click the Record Narration button. You can then record a voice-over for your video. When you are finished, click the Stop button to save the narration in the video as well as your computer.
Wrap-up
These are the most easy-to-use video editing software for Windows 10/8/7. If you don't want to download an additional program, use the built-in video editor (Photos in Windows 10 and Movie Maker for Windows 7/8). As the Photos and Movie Maker can handle the basic video editing tasks, if you would like to access advanced features, such as adding keyframes, color correction, voice changer, get Icecream Video Editor (opens new window) on your Windows computer.