"Can I combine videos on YouTube?! I remember that I used to be able to merge multiple videos into one with a YouTube video editor. I can't find how to do it now? Can anyone help?"
We used to be able to merge YouTube videos online. In the past, after uploading videos, you can combine multiple videos into one and even add the transition effects to the combined video with a YouTube video editor. However, since YouTube has canceled the online video editor since September 2017, it is impossible to combine videos directly on YouTube. Currently, with YouTube's new video editing tool - YouTube Studio, you can only trim videos, add music, add blurs.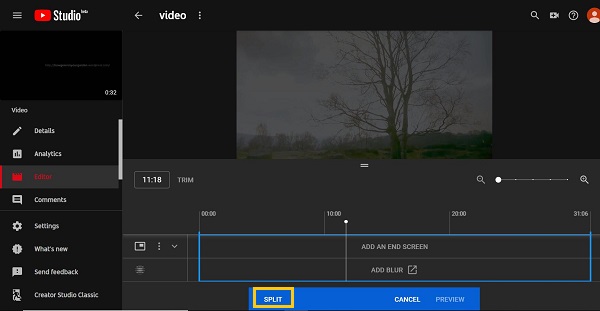 So here is a workaround for you to merge videos on YouTube, whether they are videos uploaded by you or others. Read on for the details.
# How to Merge YouTube Videos
Since you can't merge videos directly on YouTube online, you need to use a desktop video editing tool on your PC. And Icecream Video Editor (opens new window) is highly recommended. It is simple to use but powerful. In addition to clipping, trimming, and combining videos, it can also combine video and audio. What's more, it has more than 20 colorful transitions, filters that make you a high-quality video and link the combined videos together more closely.
Step 1: Download and Launch the YouTube Video Combiner
First, download the latest version of the program. Then follow the instructions to start the installation process, which is very simple. Then launch the video editor.
Step 2: Download YouTube Videos Offline(Optional)
If the YouTube videos are not on your computer, open the videos in YouTube Studio and click Download beside its name.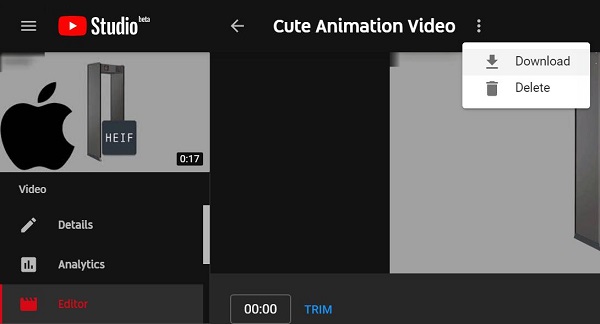 Or if you want to combine videos of other YouTubers, you can download videos via a YouTube downloader (opens new window) first.
Step 3: Import YouTube Videos
Drag and drop the video to the video library or click the "+ Add files" button to importing all the YouTube videos you want to merge.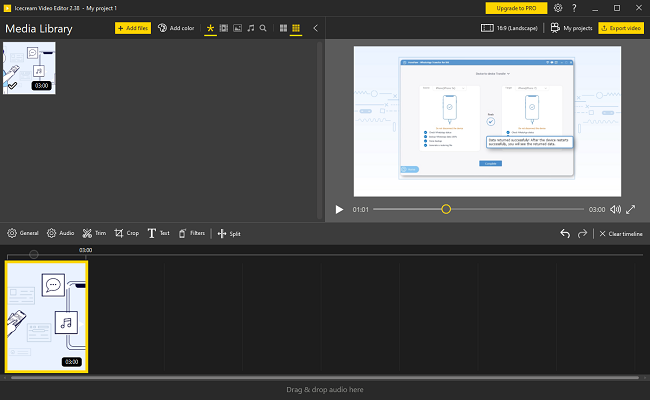 Tip: Hold down Ctrl on the keyboard and click on all YouTube videos you want so that you can select multiple videos at the same time and import them into Icecream Video Editor at once.
Step 4: Combine YouTube Videos into One
First, take a look at which video you want to use as the beginning.
Select this YouTube video clip and place it at the very beginning of a track in the timeline.
Then select the next YouTube video from the library and drop it to the timeline track next to the previous video.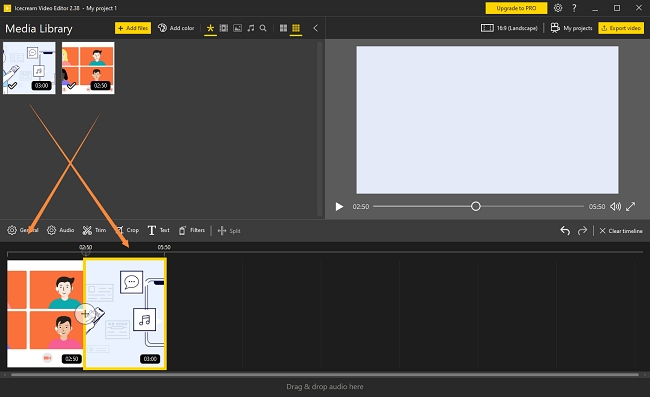 That's it, you drag all YouTube videos to the timeline in order and make sure all the videos are side by side. Then these videos will be merged automatically. You can preview the combined YouTube videos, and continue to trim them if you need.
Merging YouTube videos is very simple, right? But if you can number and rename the video clips before the merge, this will make the process easier.
Step 5: Add Transitions (If Necessary)
Adding a transition makes the merged YouTube videos look like the whole one. It can also prompt you that this is a transition between the two videos.
To add a transition to the YouTube videos, you can first find the "+" between the two videos and click on it.
Pick one of the transition effects and add it between the two YouTube videos.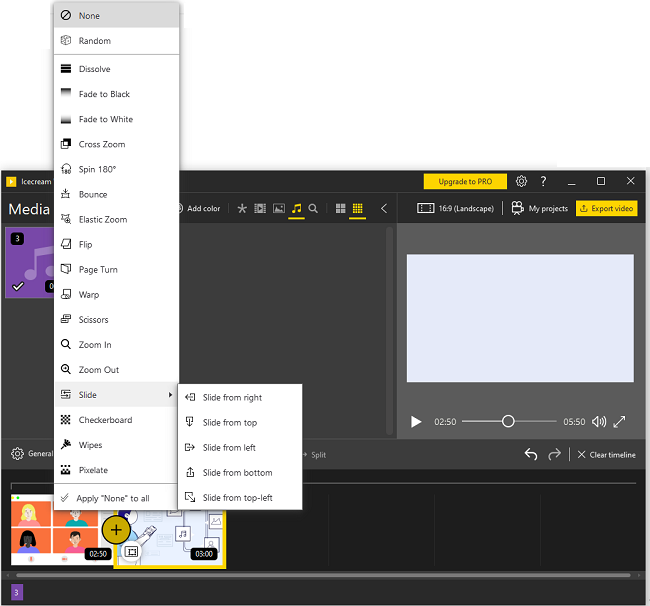 Step 6: Preview and Export Combined Videos
Once you've finished editing, click the Export video to save the combined YouTube video locally. You can choose any format you want in which MP4 is recommended which is compatible with most devices and websites. You can then upload the merged video to YouTube or other websites and share it with your friends.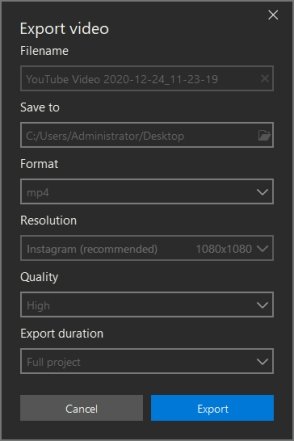 # More Video Editing with Icecream Video Editor
Icecream Video Editor offers simple but powerful video editing capabilities. You can add transitions, as well as add filters, text, effects, or audio and images.
Combine Videos with Audio
If you need to add background music to a YouTube video, you can do it with Icecream Video Editor. Add an audio file to the Media Library.
Drag the audio in the audio track and the video in the video track. After exporting the project, the video and audio will be combined together.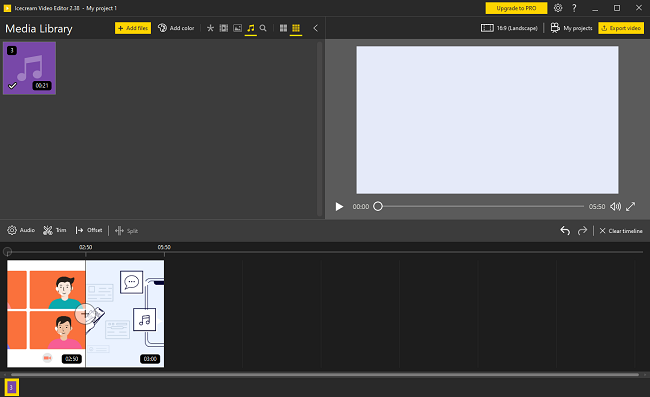 Add Subtitles/Text
Besides combining videos, Icecream Video Editor allows you to add subtitles and text if you like.
You can adjust the size, speed, position, and style of the text.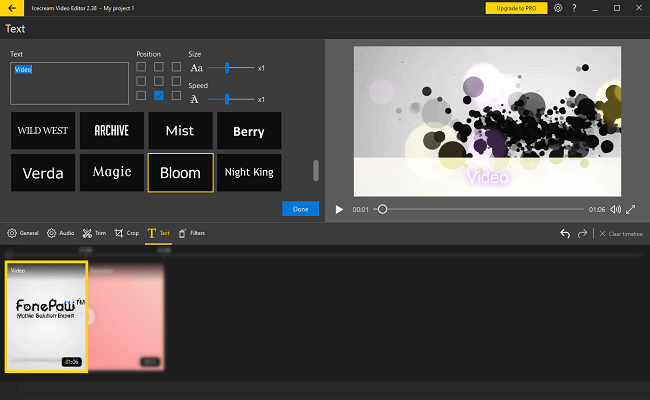 Blurred Background
One of the special functions of Icecream Video Editor is that it can blur the background of the video. It will be useful if you want to make a specific part of the video blur and highlight other parts.