It is fun to change your voice in a phone call or a game, for example, changing voice for Discord, Skype, VRChat, Overwatch, Fortnite, YouTube. A good voice changer app can help you with that.
Here are the 10 best voice changing software tools for PC. These voice changers can easily change the voice from male to female, make robot voice/anime voice, and more. They are free to download and can modify voice on Windows 10/8/7 PC.
# Icecream Video Editor
Icecream Video Editor (opens new window) is a video & audio editing software program with a auto-tune voice changer. By altering the pitch and tone of a voice, you can change voices from male to female or vice versa, make a voice sound like a robot, an alien, a baby, and more. You can also add echo, reverb to an audio file.
It is perfect for changing voice in a pre-recorded audio file for voiceover or other. This voice-changing software also enables you to cut or merge audio files, change the speed or volume of an audio file, and more.
Step 1: Import an audio file that you want to change the voice.
Step 2: Drag it to the audio track. Click Audio > Audio effect.
Step 3: Select a voice effect that sounds right to you. There are 4 voices you can choose from.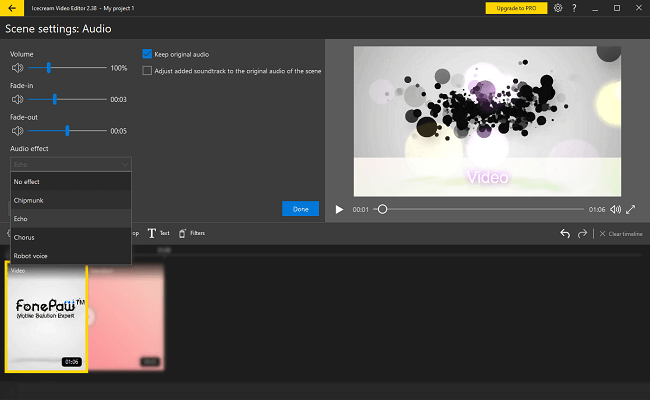 There are also other audio effects you can use: fade-in, and fade-out:
Voice changer for MP3 and more;

Support audio & video editing;

Special audio effects;

Non-real-time voice changing.
# Voxal Voice Changer
Voxal Voice Changer is a real-time voice changing software for games, avatars, and podcasts. It supports voice changing for Skype, TeamSpeak, CSGO, Steam games that use a microphone.
Your voice can be modified and disguised to create the voice of a robot, Darth Vader, girl, boy, alien and more. Not only that you can disguise your voice with the existing effects, but also that you can create a custom effect by configuring pitch shifter, high/low pass, tremolo, reverb, echo, etc. This voice changer support text to speech with its various voice effects.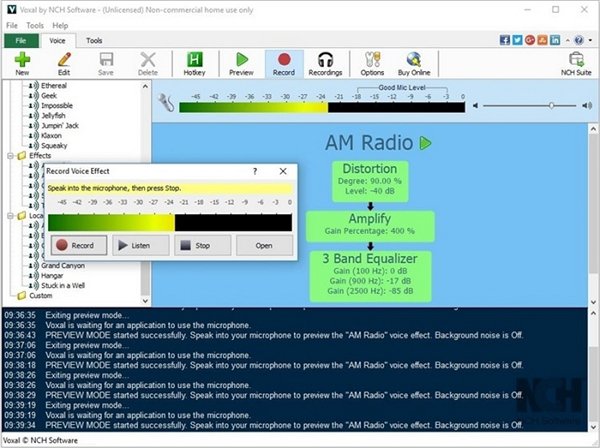 Real-time voice changing for games and chats;

Customize voice effects;

Free trial available. $35 to get Voxal Voice Changer Plus for non-business use.
# Voicemod Real-Time Voice Changer for Discord
Voicemod is a voice changer & soundboard software for PC. It can convert your voice into a robot, girl, spacemen, etc. In gameplay or online chat in real-time. The voice changer is compatible with Discord, VRChat, Skype, Viber, and games like Fortnite, Apex Legends, LOL (League of Legends), Minecraft.
There are 42 voice effects you can choose from in Voicemod. However, if you are using the free version, only 7 free effects can be accessed.
This voice changer can also work as a soundboard app for Windows, with which you can find funny meme sounds and creative memo sound buttons.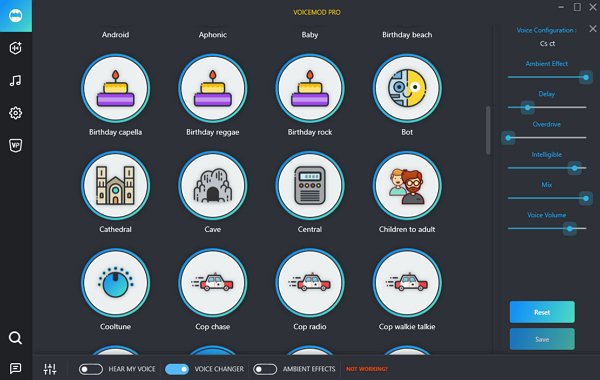 Voice changer for Discord, Fortnite, Minecraft, and other games and platforms;

Easy setup with your microphone;

Modify voice of prerecorded audio files;

$19.99 to unlock Voicemod Pro.
# VoiceChanger.io
This is a free and online voice changer. It offers 50 voice effects for you to modify your voice, including robot voice, alien voice, cave voice, and more. It can't change voices for gameplay, online chats in real-time. Instead, it allows you to modify the voice of audio files or record an audio clip with the voice effects provided on the website.
This online voice changer is very simple. It can either upload an audio file to alter voice or use the microphone to record a file with one of the voice effects.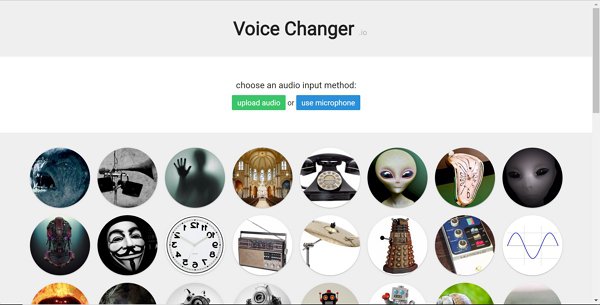 Voice changer online. No need to download an extra program;

Free to use;

Unstable and buggy.
# Clownfish Voice Changer
This is a mic voice changer software that works with Skype, Steam, Hangouts, ooVoo, Viber, Ekiga, Jitsi, Ventrilo, TeamSpeak, Discord on Windows PC. It has voice effects including alien, Atari, clone, mutation, male pitch, female pitch, baby pitch. The voice effects are rather limited, but you can add custom effects.
It also offers a music playlist for you to add background music to your microphone and a voice assistant to turn text into speech.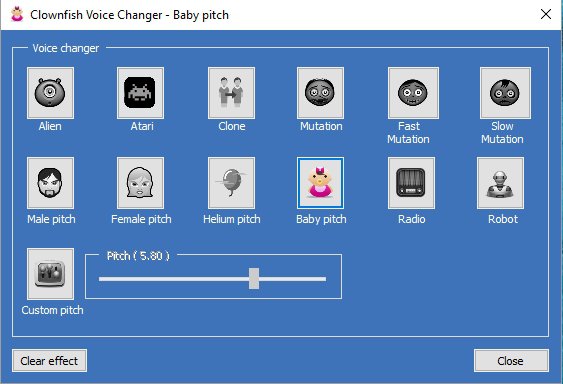 Simple to use;

The limited number of voice effects available.
# MorphVox
MorphVox, the voice changing software that works with online games as well as VoIP and Instant Messaging applications such as Skype, Ventrilo, TeamSpeak, Yahoo Messenger, MSN Messenger, etc., can not only change your voices with various effects but also tweak your voice by pitch shift, timbre. There are mainly 5 types of voices you can choose: female, male, fantasy characters, furry voices, sci-fi celebrity.
With MorphVox voice changer, you can talk with your friends online or in games pretending you are a different person, and even add background sound to pretend you're at a mall or on the road.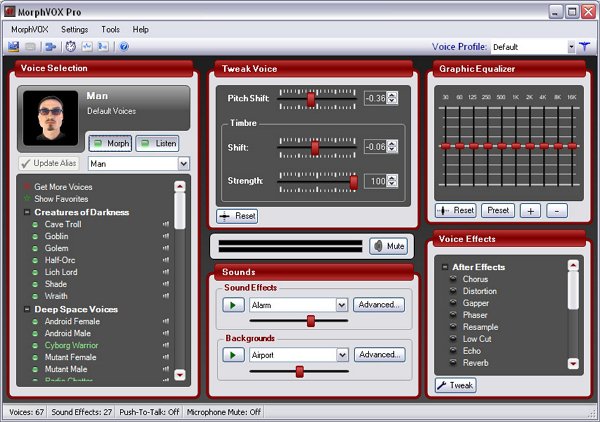 Free trial. Get MorphVOX Pro at $39.99;

Superior voice-learning technology.
# AV Voice Changer Software
Like PawEditor, AV Voice Changer is more than just a voice modifier. It can not only change your voice for Twitch, Discord, Skype, Steam in real-time, but also record audio, cut/edit audio files, morph voice by two elements - pitch and timbre, convert audio file formats.
With a smart algorithm, it can modify voices by gender, age, emotion, or even turn your voice into a non-human voice. With its 70 background effects, you can add the sound of the wind, train, footstep, sea, street noise, etc. Into your audio files. And its voice mimicker helps you mimic other people's voices, for the voices of Hollywood stars, celebrities.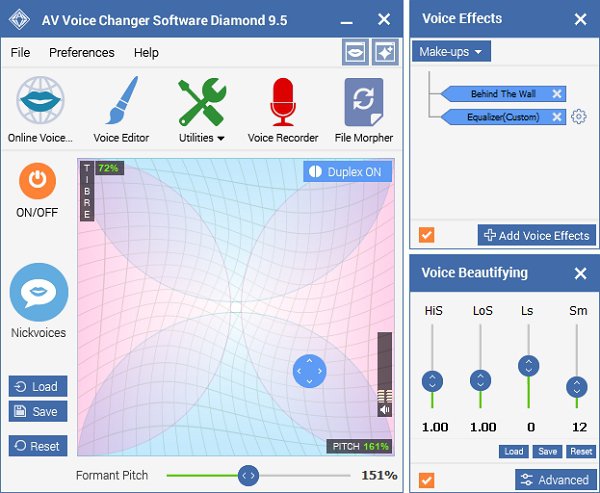 Full-featured. Can do more than altering voices;

3 versions available: basic($29.95), gold($39.95), diamond($99.95);

The basic version has only the online voice changer feature.
# Fake Voice
The voice changer software has 3 features: voice changer to change voice to female, male, old people, children; robot effect to give a robotic sense to your voice; echo effect to add echo to your voice. All of these effects can be achieved by altering pitch, formant, noise threshold sliders in the software.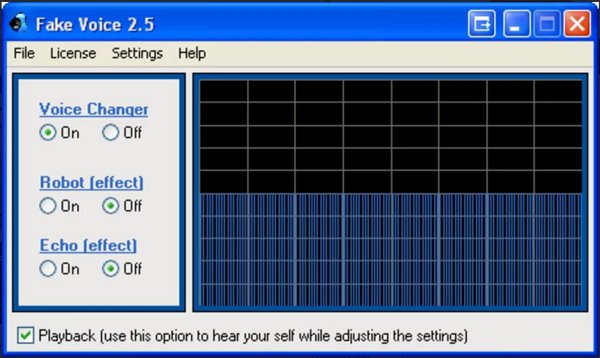 Simple to use;

No advanced features;

$9.95 for a 1-year subscription.
# All-in-one Voice Changer
The voice changer works with messaging apps like Skype, Yahoo Messenger to change your voice to female, male, or even cat during an online call on Windows PC. The software is extremely easy-to-use: just drag the slider to the appropriate pitch to get the voice you need. After altering your voice to the proper pitch, you can start a call via Skype and call your friends with a fake voice.
The voice changer can also modify a voice in audio files.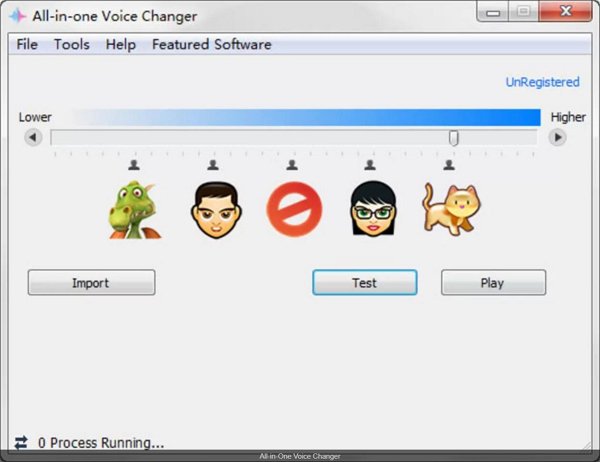 Real-time voice changing;

Small in size;

Not free to use. Get the full version at $15 after a free trial.
# Voice Master
Voice Master is a super simple voice changer that is free to use. It can do only one thing: that is changing your voice by altering the pitch. Launch the voice changer, you'll see only one switch on the main page, which is the switch to control pitch. The changer only works with Skype. After setting up Voice Master with Skype, you can alter your pitch to change voice in Skype calls.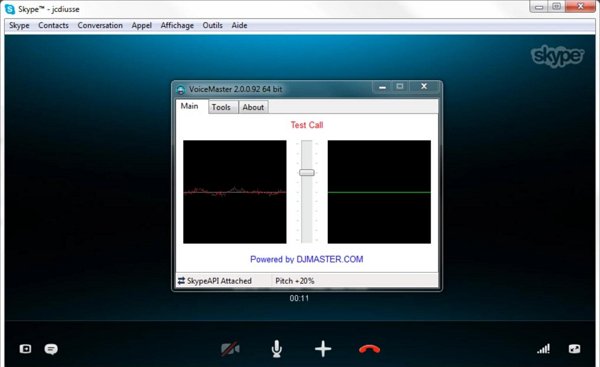 Totally free to use;

Limited functionality;

No software update.