Huawei devices, such as Huawei Mate 30 Pro, Huawei P30, P20, are equipped with a great camera that can capture sharp and high-resolution photos. That's why users have tons of photos in the gallery of their Huawei phones. But sometimes, users can make mistakes and delete some important and unique pictures from the device.
If you need to recover deleted photos from Huawei P30/P20/P10/P9/P8, Huawei Mate X, Huawei Honor 8x/7x and more, this article can help you. Follow the methods below to retrieve photos from Huawei phone.
Tip: Once you realize that photos are missing on your Huawei phone, stop using the phone to take new photos/videos, download new files to protect the deleted photos from being erased by new data.
Recently Deleted Photos Folder on Huawei Phone
This is a Recently Deleted folder on Huawei phone to store the deleted photos for 30 days. You can undo deleting photos from the folder.
Step 1 Open the Gallery app.
Step 2 Tap Album > Recently Deleted.
Step 3 Search for the deleted photos or videos you need and undelete the photos.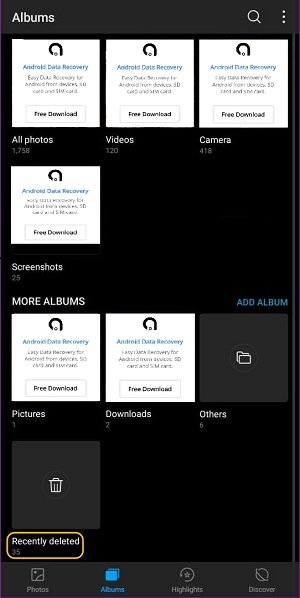 If you can't find the deleted items in the Recently Deleted folder, you need to recover the deleted photo or video from Huawei with a professional photos recovery application.
Huawei Photo Recovery Software
FonePaw Android Data Recovery (opens new window) is perfectly compatible with your Huawei Mate, Huawei P30/P20/P10/P9/P8 and more. After installing on PC/Mac, it can first quickly scan your Huawei phone for deleted images that can easily access, then if necessary, deeply scan your Huawei phone and SD card to get the deleted photos back, whether the photos are captured by the phone camera, downloaded online or transferred from other sources.
Free Download Buy with 20% off Free Download Buy with 20% off
Step 1. Connect Huawei P30/P20/P10 to the Computer
Install FonePaw Android Data Recovery on your computer. Then open the program. Connect Huawei's phone to the computer and enable USB debugging (opens new window) on the Android device.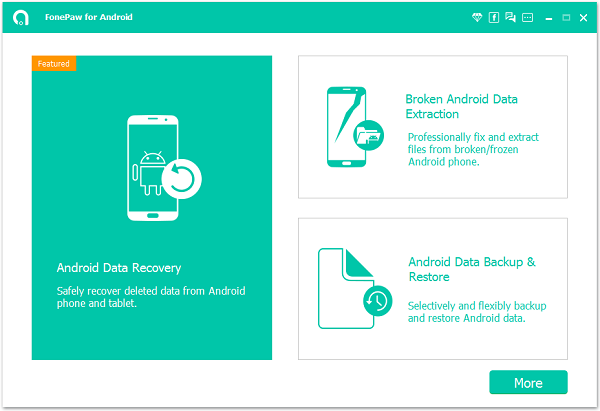 Step 2. Select File Types to Scan
Your phone is connected. Then select file types to scan. To regain deleted photos from Huawei P10/P9/P8, you will need to select "Gallery" and "Picture Library" in the menu. Then check the "Next" button to move on.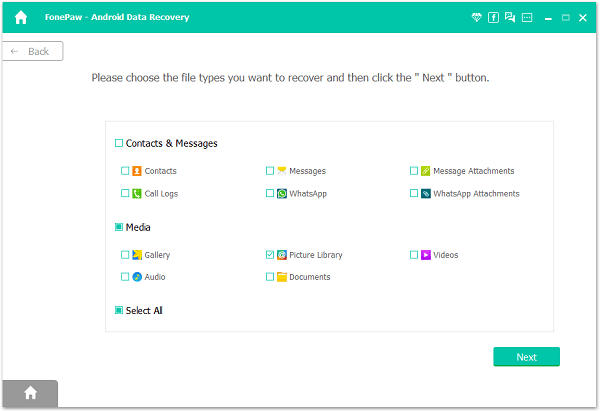 Step 3. Confirm FonePaw Access Request
Go to your Huawei P phone. Turn on Install via USB in the Settings and install the FonePaw app.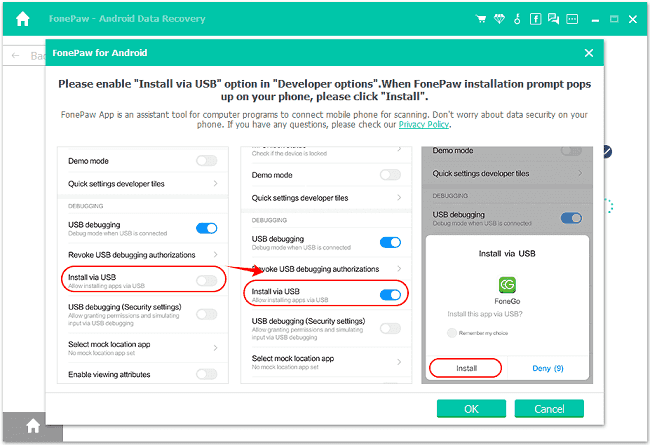 When you see the pop-up requests from the FonePaw app, touch the "Allow" button to allow the program to scan your phone memory for deleted images. Click Scan Authorized Files to start photos recovery scan.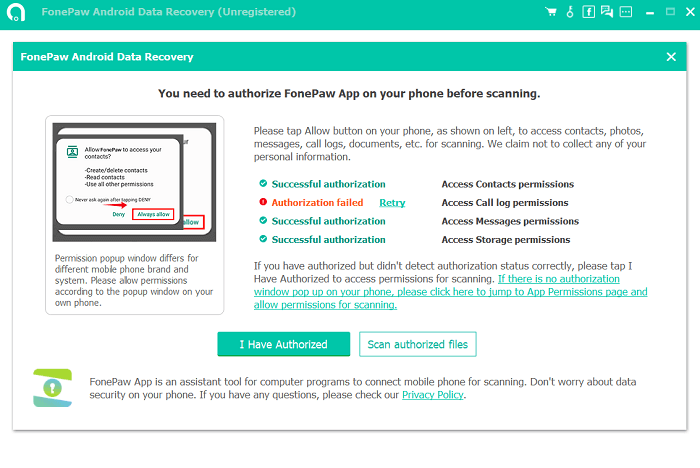 Step 4. Recover Deleted Photos from Huawei Smartphone
After a quick scan, click "Gallery" or "Picture Library" to view the deleted photos from your Huawei phone. If they are not the photos you are looking for, click Deep Scan to find more.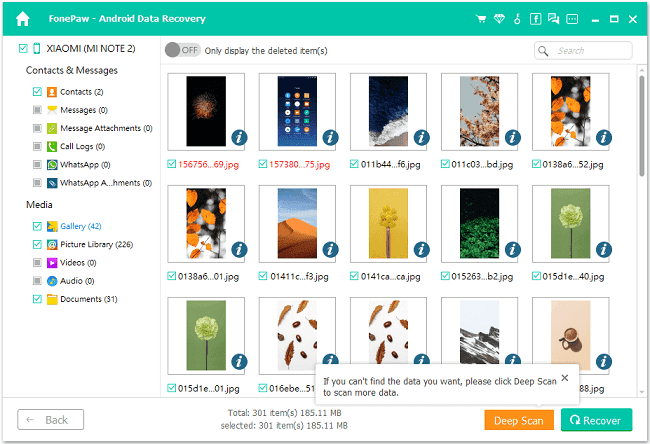 The deep scan process can take some time. Before finishing, do not disconnect your device. After that, you can preview photos on the table. And you can select items you would like to get back. Click the "Recover" button to bring back what you want.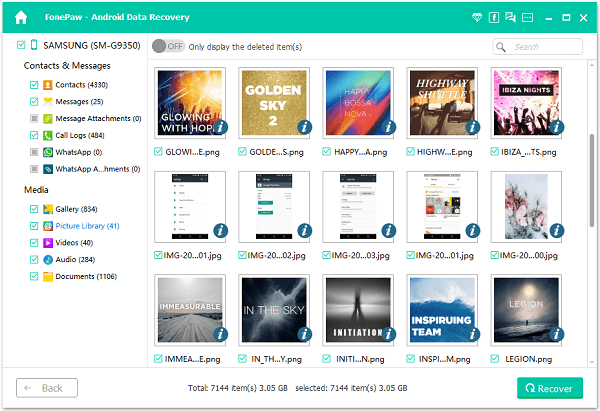 Nice! Note that single-user personal license can only allow you to recover lost data from up to 6 Android devices in one computer. You can purchase (opens new window)a multi-user license or business license if necessary.
Free Download Buy with 20% off Free Download Buy with 20% off
Tip: FonePaw Android Data Recovery recovers your deleted photos back to the computer. If you would like to get the photos back to your Huawei phone, you can connect the phone to the computer and add the photos to the Gallery folder. Or use FonePaw DoTrans (opens new window), which can transfer photos from PC to Huawei, from Huawei to other devices such as iPhone, Samsung and more.
Recover Photos from Huawei Backup After Factory Reset
If all photos and videos on your Huawei phone disappear after a factory reset, you can recover photos from Huawei backup if you have made one.
Step 1 Run the Backup app on the Huawei phone.
Step 2 Tap Restore.
Step 3 Select Restore from SD card, USB drive or internal memory.
Step 4 Tap Next and select Photos, Videos to restore.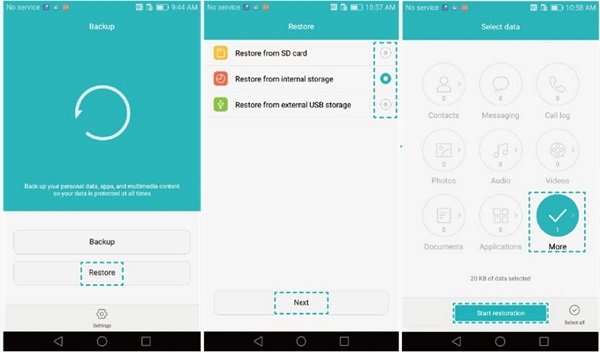 Now you have learned 3 ways to recover deleted photos and videos from Huawei phone. To avoid Huawei photos missing again, it is a good idea to make a full backup of your Huawei phone on computer (opens new window)on a regular basis.