Google Meet is a platform where you can conduct online video and audio meetings, attend your business meetings, online classes, and arrange conferences. Amid the pandemic, the importance of video and audio meetings have been increasing since everyone is locked at home. Google Meet offers to record the meeting with its built-in recorder, but it requires prior permission. So how to record a google meeting without permission?
Although Google Meet provides you with access to your virtual meetings, it sometimes becomes important to record a Google meeting when you cannot attend the live meetings. You can watch the meetings repeatedly later once you have recorded them. So can you record a Google meeting? And if so, how?
You may also like:
How to Record A Zoom Meeting without Permission (opens new window)
Webex Recording: How to Record Webex Meeting & Session (opens new window)
Can You Record a Google Meet?
Yes, you can record Google meetings. However, in many cases your right to record meetings would be regulated if you use Google's built-in recorder. It allows you to record meetings only if you are the organizer of the meeting or in the same organization as the organizer. Also, Google Meet will ask for the participants' permission and notify them of the start and finish of the recording. Find that too troublesome? You can always ask a screen recorder for help which can save you all these troubles! Check the following methods for more details.
Record Google Meet in Two Ways
There are two ways on how to record Google Meet.
The first method is recording Google Meet with its built-in recorder. You can use its built-in recorder only by obtaining the permission of organizer of the meeting, or the permission of the other participants if you are the organizer.
The second method to record Google Meet is using a recording program. This article introduces a powerful recording program--FonePaw Screen Recorder (opens new window). With this recorder, you will be able to record Google Meet anytime anywhere.
Method 1 Record Google Meet with Built-in Recorder
You can record Google Meet with built-in recorder only if you are an administrator at a workplace or the organizer allows you to record the meeting. You are not allowed to record Google Meet without joining the meeting. Follow the steps below to record the meeting with built-in recorder.
Step 1. During a video meeting, click More > Record Meeting
Step 2. The recording will start and other participants will get the notification that the meeting is being recorded.
Step 3 To end the recording, click More > Stop Recording. The recording file will be saved to your Google Drive account as .svg file. Access it via My Drive > Meet Recordings folder.
Note: The Google Meet saves video in .sbv file format, which is inconvenient to use. Therefore, it is recommended to make sure that the .sbv file can be opened successfully before the recording. Otherwise, it would be disappointing to find that the file cannot be opened after painstakingly recording.
In most cases, users do not like to face the above-described problems, so they search for convenient means to record Google Meet. If you desire to record a google meet without the permission of others and improve your recording experience, you need to move on to the second method, where we will show you how to record Google Meet with a screen recorder.
Method 2 Record Google Meet with a Screen Recorder
You can also record Google Meet with a screen recorder. FonePaw Screen Recorder (opens new window) is an all-round and powerful screen recorder which can help you record Google Meet freely and easily. Both Windows version and Mac version are available. The screen recorder provides you with a free trial version. How to use FonePaw Screen Recorder? Just follow the guidance below.
Step 1. Download FonePaw Screen Recorder.
Free Download Buy with 20% off Free Download Buy with 20% off
Step 2. Open FonePaw Screen Recorder and click Video Recorder.

Step 3. Select a recording region, namely the window of your meeting.

Tip: You can also click Advanced Recorder > Lock and Record Window and select the meeting window. In this way, during the call, your actions on other applications, such as opening a document, checking emails won't be recorded.
Step 4. Turn on the buttons for System Sound and Microphone to record your voice and voices from others in the meetings. At the same time, please enable Microphone noise cancellation and Microphone enhancement so that the external voice will be clearer.

Step 5. Click REC after sound checking when the meeting gets started. And the recorder will record everything in the meeting. Also, you can use its Task Schedule feature to start or stop recording meetings automatically.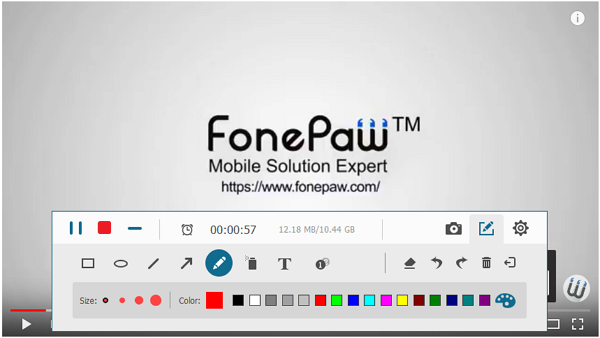 Tip:
1. In case that you may adjust the meeting window during the call, click Settings > Recordings and tick Allow to move the recording region when recording.
2. You can also select the Hide float bar when recording if you don't want to have the recorder recorded in your video.
After the meeting is over, you can review the recorded video and save it in various formats like MP4, MOV, WMA.
Conclusion
This article introduces two ways on how to record Google Meet, namely using Google Meet's built-in recorder and using FonePaw Screen Recorder.
For those who don't want to bother others by sending them recording notification and asking for their permission, FonePaw Screen Recorder would be perfect for you. But if you don't want to download a recorder, then you can choose Google Meet's built-in recorder as long as you don't mind the procedure before recording. Which method do you prefer? Share your thoughts with us.