Webex recording feature enables hosts to record meetings and classroom sessions on computer or WebEx network servers, but there are some confusions, such as where Webex save the recordings and whether I can record a Webex meeting if I am not the host. This post is written to explain everything you need about recording a meeting and session in Webex.
Record Webex Meeting as Participant
The recording button is exclusive to the host accounts. If you are a participant, there is no Record option available in the Control bar of your account. Thus Webex recorder is not an option for you. You may get a third-party screen recorder to do the job.
FonePaw Screen Recorder (opens new window), for example, is capable of recording the Webex meeting or session with video and audio. Everything happens in the meeting can be recorded and you can mark annotation to recording and cut unneeded part of the recording.
Here is how to record a Webex meeting with FonePaw Screen Recorder.
Step 1: Download and install the recorder on your computer.
Free Download Buy with 20% off Free Download Buy with 20% off
Step 2: Click Video Recorder (select Audio Recorder if you only need to record the voices).

Step 3: Turn on both System Sound and Microphone to record the meeting with audio.
Step 4: Click the Rec button to start recording.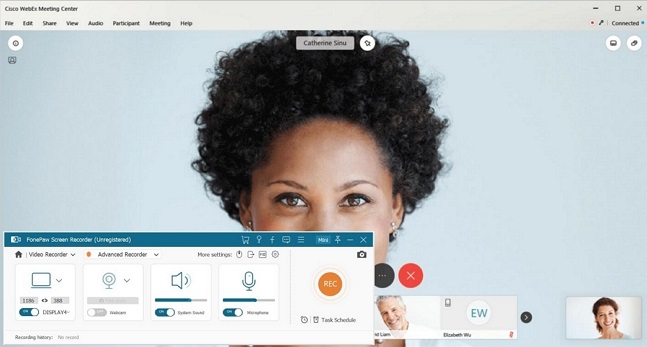 You can pause or stop the recording, set up a timer with the floating bar.
Record Webex as A Host
If you a host, there is a Record button for you to easily start recording a meeting or session in Webex. Also, there is a Cisco Webex recorder you can download to record everything(audio, video, chat conversations, notes) in the meeting.
Use the Record Button
Step 1: In a Webex meeting, click Recorder Recorder.
Step 2: On the Webex desktop application, you may select Record in Cloud or Record on my computer.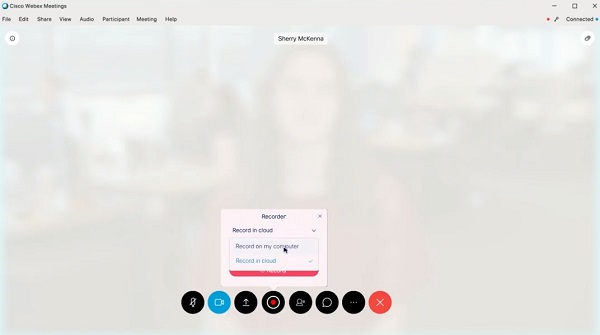 Step 3: Click Record. If you choose to record the meeting on a computer, you need to select a location to store the recording.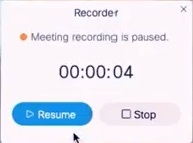 Step 4: Stop the recording when you want to end the recording.
Tip: Where Does Webex Save Recordings?
If you have chosen to record the meeting to computer, the recording will be saved in the location you have selected.
If you have recorded the meeting to the Webex server, you will receive an email with the link of your recording after the meeting. You can access the recording on your Webex site from the Recordings tab. If you see "generating" next to the recording, it means that Webex is processing the file and you need to wait until it is done.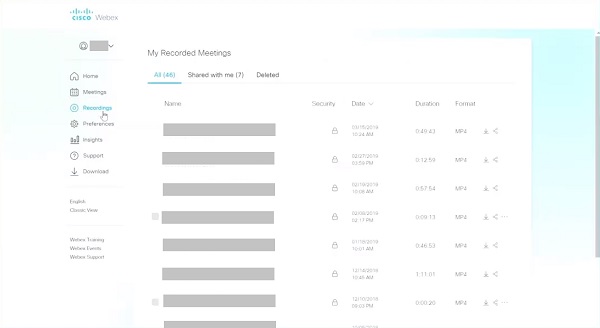 Use Webex Recorder
Webex also provides a dedicated screen recorder to help you to record any screen activity in the meetings.
Note: Users of the free version have no access to the Webex Recorder. You should use the Recording feature in the desktop app or third-party video recorder, such as FonePaw Screen Recorder (opens new window) to record a Webex meeting or session.
Download Webex Recorder
Go to your WebEx site, select Support > Downloads and navigate to the Recorders and Players section. Here you can download the Webex recorder and player.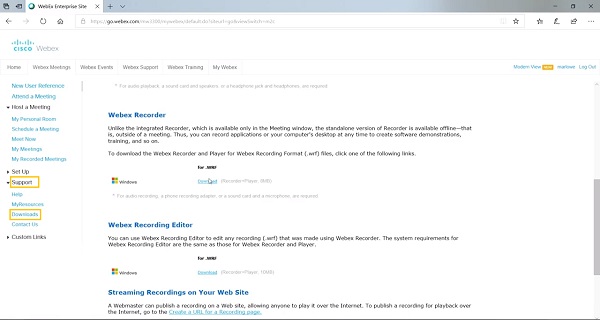 View Webex Recording
The recordings created by Webex recorder can be saved in .arf and .wrf formats, which can't be played by a regular media player. You will need to download Cisco's WebEx Network Recording Player to play it or you can convert the recording to MP4, WMV, SWF with the player.
Open the WebEx Network Recording Player. Launch your ARF file. Select File > Convert Format and select a format to start converting.