Using iTunes to transfer files sometimes can be frustrating due to its complex interface, system errors, and other issues that may impede the smooth file transfer process. In such a context, third-party tools' ability to streamline the transmission process and enhance file transfer efficiency is particularly convenient and impressive.
Today, we introduce you to one of the top iOS transfer software - FonePaw iOS Transfer. This review aims to provide insights into its capabilities and usage methods, offering a reference point for your data transfer needs. Can FonePaw work on you? Just keep reading.
What Is FonePaw iOS Transfer?
FonePaw iOS Transfer is invaluable software and can be the best iTunes alternative. Not only can it enable you to effortlessly transfer, back up, and restore photos, videos, music, messages, and contacts between iOS devices without iTunes, but it can also import similar files to your iOS devices from the computer. It boasts a user-friendly interface. You can easily locate the function key for file transfer, making the process remarkably straightforward.
Better still, with a toolbox embedded, FonePaw iOS Transfer comes with more versatile and customizable options for your data management like making ringtones, editing playlists, and deleting content you don't like. In summary, FonePaw iOS Transfer is a convenient and practical tool that can assist you in transferring and managing data on iOS devices with no sweat.
Key Features of FonePaw iOS Transfer
Why is FonePaw iOS Transfer a popular iTunes alternative? What makes it stands out among the competitors? Here are some key features owned by FonePaw iOS Transfer. Check them out to learn more about this program.
Manage iPhone/iPad Files
One of the standout features of FonePaw iOS Transfer is its robust capability to manage files on your iOS devices. It boasts an intuitive interface for easy data preview. Take videos as example, you can swiftly edit and organize them with just a few clicks, and transfer videos from iPhone to computer.
With FonePaw, you can also effortlessly export books, memos, calendars, Safari browsing history, and even call records to your computer. Better still, FonePaw iOS Transfer takes the hassle out of managing duplicate songs and contacts. It assists you in locating and handling duplicate entries, ensuring your data remains clutter-free.
Backup WhatsApp Chat History
Beyond the native iOS communication apps, FonePaw iOS Transfer also lets you manage and back up messages and call records from third-party applications. Including but not limited to WhatsApp, Kik, Line, Viber, and WeChat, you can easily access and export your conversation messages to your computer in formats like CSV, HTML, and TXT. Thus, you can better view and organize the chat data.
Sync iTunes Content
FonePaw iOS Transfer empowers you with the ability to transfer music, podcasts, movies, TV, and more from iPhone/iPod to iTunes or the computer's local folders. It encompasses a powerful toolbox that not only simplifies the management of your iOS device's data but also integrates essential functionalities of iTunes.
These functionalities can help you seamlessly synchronize, back up, and locally manage your iOS device's content just as you would with iTunes. You can view the data stored within iTunes directly. And with a simple click, you can copy music and other media files from the old iTunes library to the new one on the computer.
FonePaw iOS Transfer Review: Pros and Cons
Do you think FonePaw iOS Transfer is attractive after reading the above introduction? Undoubtedly, this top-rated program has many marvelous features, but it must be said that there is still room for improvement. Check the pros and cons below for a comprehensive insight into this software.
Pros:
Effortlessly transfer files from iPhone to iPhone, iPad, and Windows/Mac.
Ensures secure transfers, safeguarding personal data and privacy.
Manage and back up data of inbuilt apps such as browser history and calendar.
Support third-party software data transfer, restore, and backup.
Built-in iTunes features that can view and manage iTunes content.
Search for duplicate songs and contacts for improved data organization.
Compatible with the latest iPhone 15 models and iOS 17.
Cons:
The free trial has limitations on the times of certain features.
Currently lacks wireless transfer support.
How to Transfer Data Between Apple Devices with FonePaw iOS Transfer?
Now, let's take the example of transferring iPhone photos to a Mac. If you want to learn tutorials on more features, go to the official website of FonePaw iOS Transfer and try the free trial.
STEP 1.Free download and launch FonePaw iOS Transfer on your Mac. Connect your iPhone to the Mac using a USB cable.
Free Download Buy with 20% off Free Download Buy with 20% off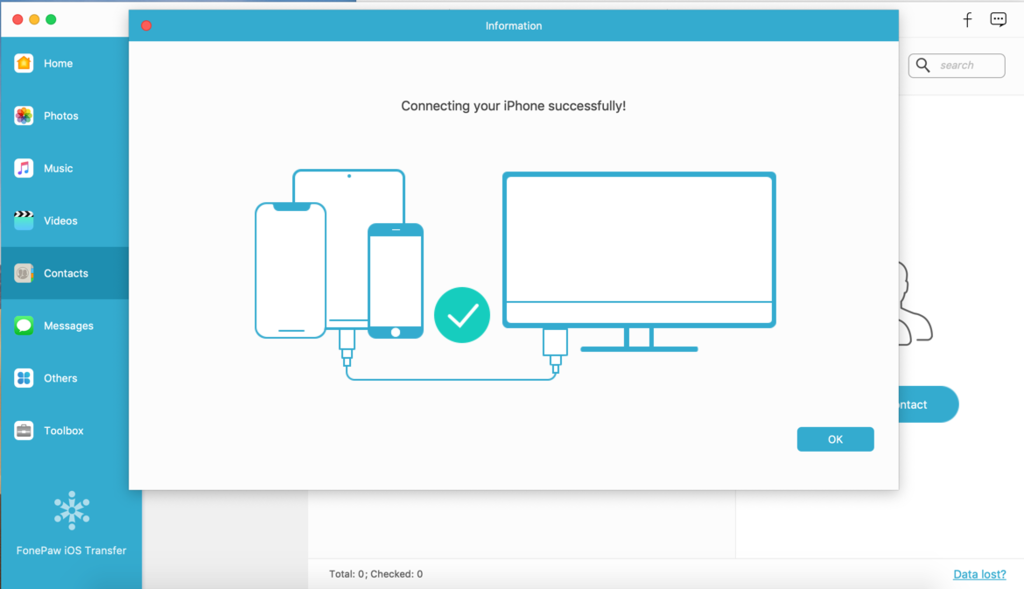 STEP 2.After the connection, choose the file type "Photos" from the left panel. Tick on the desired photos and click the "Export to Mac" button at the middle-top screen to start transferring.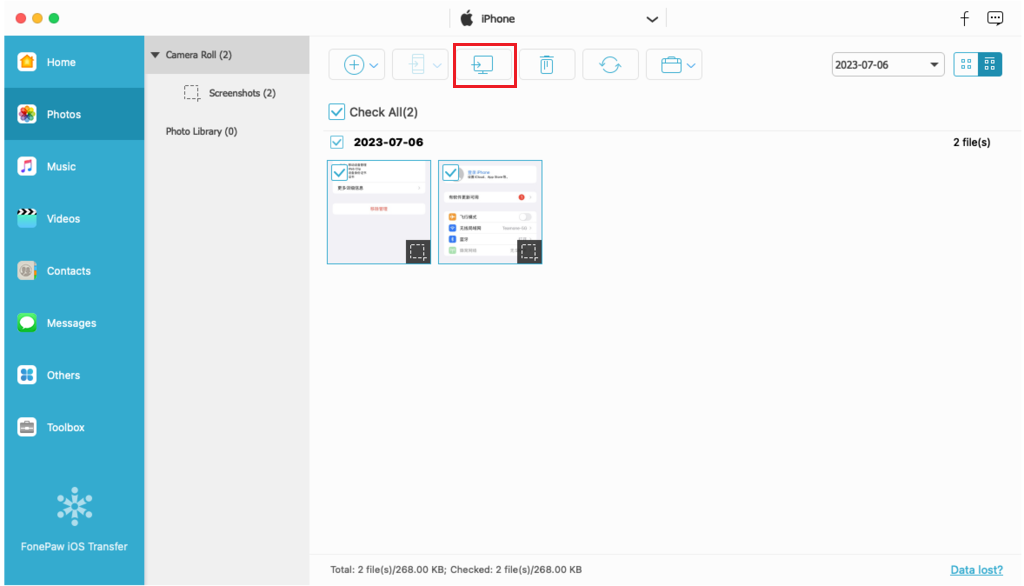 STEP 3.If you have chosen to transfer multiple images, there is no need to worry. This tool will quickly complete the transfer, and you will see a notification similar to the image below, informing you that the images have been successfully transferred to your computer.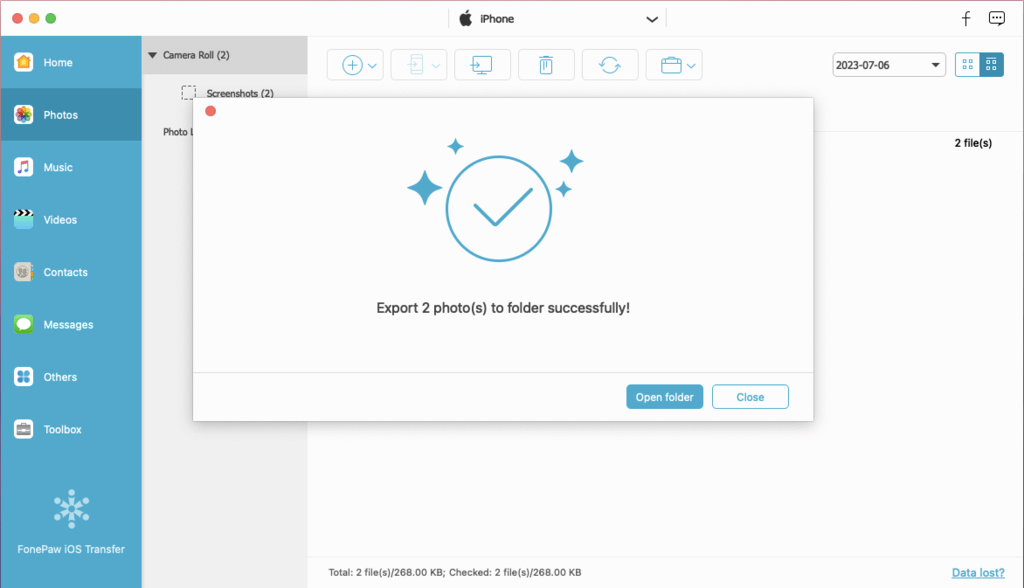 Note:
If you want to transfer all photos at once, you can go to "Toolbox" and choose "Device to PC". Then select "Photos" and click "Start".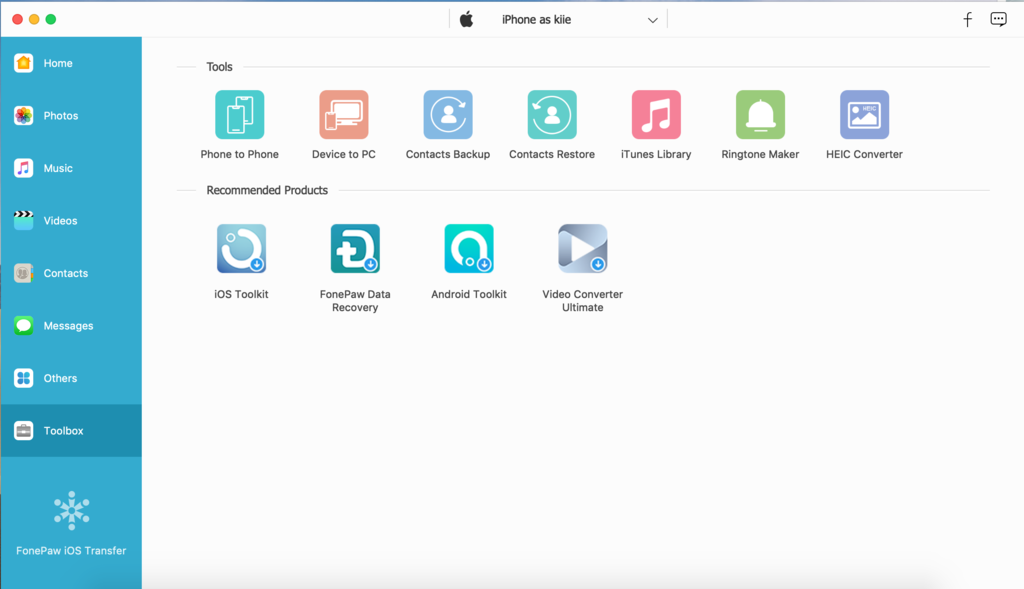 FAQs About FonePaw iOS Transfer
Is FonePaw iOS Transfer Safe?
Absolutely, developed as a well-known iOS-related tool, FonePaw iOS Transfer prioritizes data safety and privacy throughout the transfer process. You will not be bothered by malware or pop-up windows as long as you download the program from official websites.
Is a Free Registration Code Available for FonePaw iOS Transfer?
Certainly, FonePaw iOS Transfer offers a free trial version even without the need for a registration code. For a Free License, you can access it by writing for us. It's advisable to avoid seeking free registration codes online due to potential security risks and data compromises.
Conclusion
In conclusion, FonePaw iOS Transfer offers comprehensive solutions for transferring, managing, and backing up your iOS device data. Its user-friendly interface and diverse functionalities make it a valuable iTunes alternative for iOS users. It is well worth downloading and trying out this software to simplify your data management tasks.
Free Download Buy with 20% off Free Download Buy with 20% off