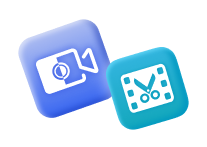 Screen Recorder + Video Converter Ultimate
Shop Now
Many people grow the hobby of listening to podcast nowadays. Millions of people listen to Apple Podcast, Google Podcast and Spotify every day. However, these platforms all require Internet to login in and use. With the soaring popularity of podcast, a question may emerge: How to download podcasts to computer or how to download music from website so that I can listen to music offline? This article shows you a simple way to do it!
Download Podcasts to Computer with Podcast Downloader
Fonepaw Audio Recorder is a powerful function of Fonepaw Screen Recorder for both Windows and Mac. It enables users to freely record audio with flexibility and swiftness.
With this function, users can customize his or her own setting and easily download podcasts to one's computer. Here's how to download podcasts with Fonepaw Audio Recorder.
Step 1. Download Fonepaw Screen Recorder.
Free Download Buy with 20% off Free Download Buy with 20% off
Step 2. Open Fonepaw Screen Recorder. You can see the simple yet concise surface. As you can see, this powerful application allows you to record both video and audio. Choose Audio Recorder to proceed.

Step 3. Entering the Audio Recorder, you can customize the whole recording process to your needs. Click the small buttons next to the sound logo and the microphone logo to customize your settings and have a sound check, making sure that there's no annoying noise while recording. What's more, you can further customize your recording by clicking the setting option above the microphone log, including changing output format! After fully customizing your settings, click REC to start recording.

Step 4. Start to play your podcast. It will be recorded according to your settings. While recording, you can also alter the sound and the voice of the computer and feel free to pause at any time. After completing the record, click the red square to proceed.

Step 5. In this session, you can check your recording. Full version users can edit the audio and cut the unwanted part. If you are not satisfied with your work, click Re-Record to start recording again. The current recording would be automatically deleted. If you don't have any problem, choose Save to download your recording.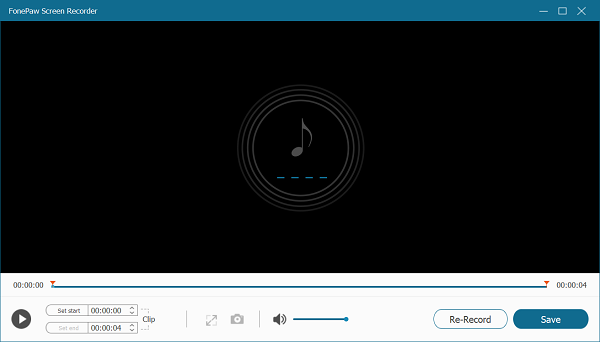 Step 6. After inputting the name and choosing the output path of the recording, click Next to save your recording.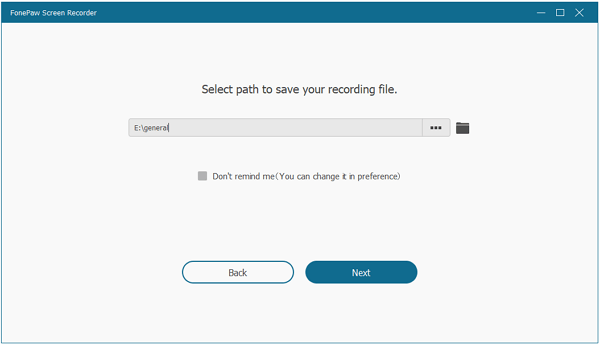 If you want to transfer your podcasts (opens new window)to your iPhones or Android so that you can listen to them anytime anywhere, Dotrans (opens new window) can help you with that!
Tips for Using Fonepaw Audio Recorder
Sound Check before Recording
A recording with noise is not a good recording. Fonepaw Audio Recorder possesses a powerful function—sound check for both system sound and microphone. Sound check allows you to listen to the sound of your system and your microphone before recording in order to avoid mistakes occur after painstakingly recording.

Plan Your Recording Precisely
In order to make a nice recording, precise planning is vital. Fonepaw Audio Recorder allows you to precisely plan every second of your recording beforehand, while and afterwards. You can set record length beforehand, which saves you from clicking the finishing button yourself. What's more, the Task Schedule enables you to schedule your recording. When to begin? When to stop? How long? It's all up to you!
Retrieve Your Unsaved Recording
Something goes wrong with your computer while recording? Worry about it no more. When you reopen Fonepaw Screen Recorder, you can restore the recording immediately.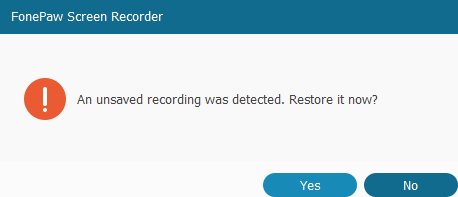 Official Version Provides Awesome Service
The official version of Fonepaw Audio Recorder provides awesome service.
Although Fonepaw Audio Recorder enables users to record full recordings, the full version can save full recordings while the trial version only allows for saving 3-minute recordings.

It allows for noise cancellation & microphone enhancement. The official version reduces the noise of the recording to the minimum and helps you adjust the sound of your microphone.

What's more, with official version, users can edit recording freely. The official version allows you to edit your recordings. In other words, just delete the parts that you are not satisfied with. Worry about the recording errors no more!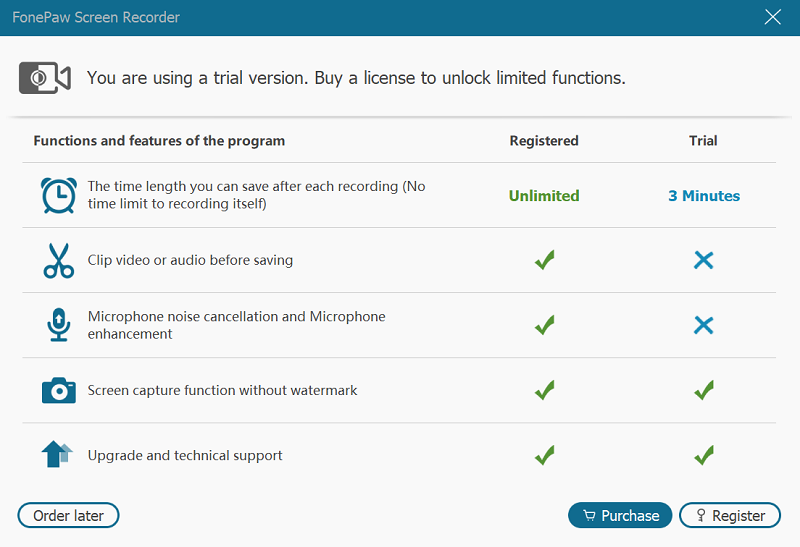 To draw a conclusion, Fonepaw Audio Recorder serves as a perfect podcast downloader. It fulfills all your needs in downloading podcast and provides you tools to download the best podcasts. Get Fonpaw Audio Recorder and start your amazing recording journey now!
Free Download Buy with 20% off Free Download Buy with 20% off