My computer won't recognize my iPhone 7 Plus. I don't know whether it's because my iPhone is not connecting to the computer or it's simply iTunes that making all the nuisances. How to fix this my computer not recognizing iPhone issue? I've tried to restart both devices and reinstall the iTunes so far.
Don't Miss Out:
If your PC doesn't recognise your iPhone, you're far from alone. There are over 3000 people on this planet having the same issue as you do every month. Whether your PC/Laptop is running Windows 10/8/7/Vista/XP, it simply happens somehow. However, just take it easy and let me help you out. There are a few workarounds you can give it a shot and see whether it fixes this 'iPhone not Recognized by PC/Computer' problem. Let's dive in.
Part 1: Basic Solutions
Before you go any further, you might as well try the following 8 basic solutions. It's easy to do and helps you make out whether this is simply a system glitch or in need for further help. Let's try them out one after one.
Restart your iPhone and computer. Then try connecting your iPhone to Windows 10/8/7 computer and see if the issue is resolved.
Give your computer a few minutes to detect the device upon connecting.
Connect iPhone to another USB port on PC.
Try using another USB cable. You'd better use the original Apple cable.
Try installing or reinstalling the latest version of iTunes.
Upgrade your iPhone to the latest iOS 11.
If Auto-Lock is on, unlock the iPhone with your password. (Forgot iPhone passcode

(opens new window)

?)
Trust the computer when prompted at the time you're connecting your iOS device.
Part 2: Check Mobile Device Support, Service and USB Driver
If the basic workarounds listed in part 1 cannot make computer or iTunes detect and recognize your iOS device, we recommended you to install or reinstall the Apple Mobile Device Support service and USB driver.
Check if Apple Mobile Device Support is installed
Go to the Control Panel > Uninstall a program to check if Apple Mobile Device Support is installed. If not, you need to reinstall iTunes.
Start the Apple Mobile Device Service Again
Go to Start > Run or press Windows key + R and type 'services.msc' in the text field and hit Enter. Then, Locate Apple Mobile Device or Apple Mobile Device Service. Press right-click and then go to Properties. Click Stop to end the service. Click Start to restart the service again and then reboot your computer.
Check the Apple Mobile Device USB Driver
Type devmgmt.msc from Start > Run (or press Windows key + R) and then hit Enter. Then, expand the Universal Serial Bus Controllers entry in device manager and verify if the Apple Mobile Device USB Driver is listed.
If not listed, you just need to reinstall iTunes and connect your iPhone to PC. The computer will then automatically install the drivers for you.
If you see a "!" next to the Apple Mobile Device USB Driver entry, right-click on the entry and choose "Enable".
Part 3: Install Apple Application Support and Apple Mobile Device Support
FonePaw iOS Transfer (opens new window) is the best alternative to iTunes, as an authentic and intuitive data transfer tool fully compatible to iPhone 6s/6s Plus, iPhone 7/7 Plus, iPhone 8/8 Plus and iPhone X. Better yet, this is quicker way to install Apple Application Support and Apple Mobile Device Support on your Windows PC/Laptop as well as help computer recognise your iPhone. Let's see how.
STEP 1. Download, install and run FonePaw iOS Transfer on your computer.
STEP 2. Connect your iPhone/iPad to the computer. If there is no Apple Application Support and Apple Mobile Device Support on your computer, you will see a window as below.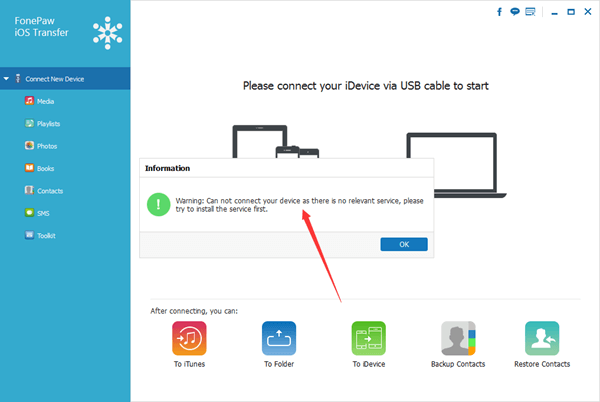 STEP 3. Click "OK" to continue. Now the program will directly download and install Apple Application Support and Apple Mobile Device Support for Apple device.
Is there any solution listed above help you solve the "iTunes not recognizing iPhone" or "Computer not recognizing iPhone" problem? Hopefully so!
Do you know other effective ways to fix the problem? If YES, why not tell us in the comments section below? We are happy to add the solution to the list.