My calendar app is missing from my iPhone 7 after updating to iOS 11. I can't find the app icon in any folders and not in the Spotlight search. It seems that the calendar icon just disappeared from my iPhone. How to get the app back?
--A user from Apple Support Community
You may be stuck in the similar situation that calendar app disappears from your iPhone. It may happen since you have deleted it accidentally, or you have the operating system upgraded, or your phone came across system mistakes. Let's see how to get calendar app back respectively.
How to Restore iPhone Calendar App?
Method 1: If you have deleted Calendar app by mistake(In iOS 10 or above, it's supported to delete built-in apps like Calendar), turn to App Store, type Calendar in the searching bar, tap GO or a cloud-like button on the right to redownload Calendar app.
If you are sure you have done nothing to Calendar but it still disappeared mysteriously, continue to read.
Method 2: Reboot your phone may also get Calendar app back.
iPhone 5/5s,6/s, 7/7 Plus or 8/8 Plus: Press and hold the Power/Wake button on the top of the phone, and then there will be a word on the screen to guide you slide to turn off.
iPhone X: Press and hold the power button and volume button, and then slide to turn off. Or you can go to Settings > General > Shut Down in all iPhone model.
A few seconds later, press the same button as your phone turn off until the phone turn on. Check if Calendar comes back now.
Method 3: Reset homepage is also an option. Open Settings, go into General, slide to the button, choose Reset > Reset Home Screen Layout, which won't change any data on your phone.
Method 4: As it is mentioned above, system problems can also get Calendar lost. If apps disappear from your iPhone after a system update, you can reinstall the iOS system to find the missing app. If iTunes doesn't work, you may use software like FonePaw iOS System Recovery (opens new window) to reinstall the iOS system. After restoring iOS, your system will be back to normal without data loss. And the Calendar app should come back. Check How to restore iOS without iTunes. (opens new window)
How to Recover Calendar Events on iPhone?
Despite missing calendar apps, you may also come across calendar events loss. There are two possibilities
1. Old events missing but recent event still showed in Calendar
In this case, events haven't disappeared from your phone but just being hidden. Recover it by the following steps.
Step 1: Run Settings, tap Calendar and then Sync. Choose All Events, or others to show events.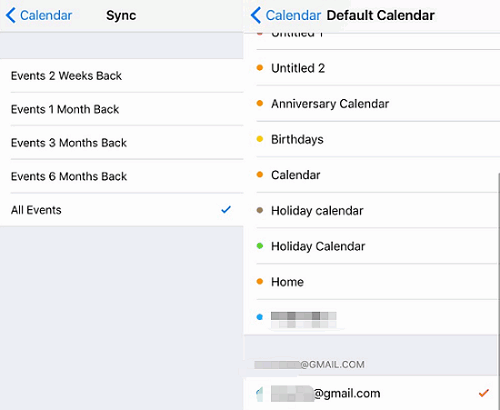 Step 2: A few minutes later, run Calendar again and you can see old events back to your sight. However, the more events show, the slower Calendar run, so you'd better hide some events if you don't need it.
2. All events disappeared
It may happen when you update the system, reset your phone to factory settings, or even log out of iCloud. You can try to recover calendar events by rebooting your phone( as Method 2 mentioned above), or by apps like FonePaw iPhone Data Recovery (opens new window). It helps to restore iPhone data from iDevice, iTunes backup or iCloud backup, and calendar events, message, contacts etc. can be easily recovered with just two steps.
Free Download Buy with 20% off Free Download Buy with 20% off
Step 1: Have your iPhone and your computer connected to USB cable. Launch the recovery tool, click Recover from iOS Device on the left list, and then click Scan in the middle of the interface to start scanning your phone.
Step 2: After the scanning is finished, the lost data will be shown on the list. Tick the calendar events and recover them. They will be saved on your computer.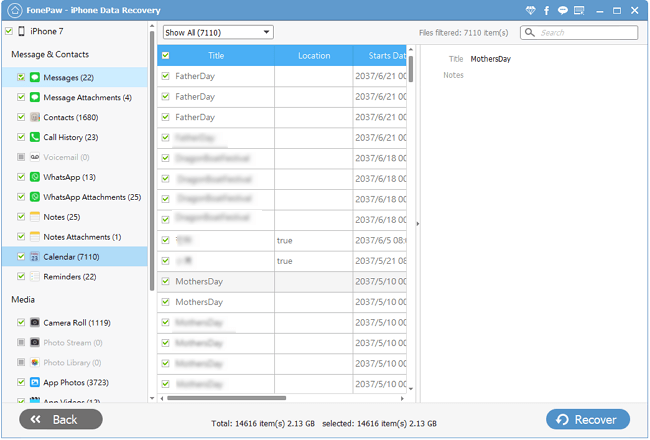 Besides, you are able to get calendar events back from iTunes or iCloud backup. Remember to make a new backup of the existing data first, since, after recovery, the existing data will be eliminated and replaced by iTunes or iCloud backup.
Does the article do some help? Share with your friends.