Updated on Thursday, June 27, 2019.
Almost all iPhone users don't know how to delete multiple or all iPhone Contacts including me. However, sometimes we will have to mass delete the no longer used numbers or the duplicated ones, then how to do? Delete them one by one? That would be wasting time if you are going to delete hundreds of phone numbers. But with this article, this kind of concern will not be a problem anymore. For I'm gonna guide you how to delete multiple or all contacts on iPhone X//8/7/6/5.
1. How to Delete Contacts on iPhone
Whatever cell phones you are using, whatever it is iOS system or Android one, all phones would have a built-in Contacts app. However, when you are using iPhone, you know clearly that Apple does not support batch deleting multiple or all contacts. So what it means would be you have to delete the contacts one by one directly in the Contacts app.
STEP 1 Launch Contacts app on your iPhone or other iOS devices;
STEP 2 Select the contact which you want to delete, and then tap the "Edit" icon in the right corner;
STEP 3 Scroll down and click "Delete Contact" button.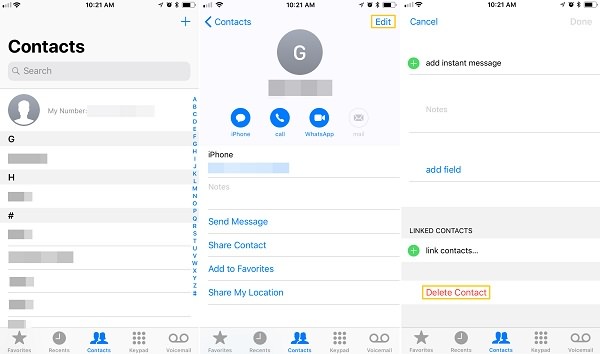 If you try this then you can understand that you only can delete one contact one time on iPhone. However, when you have many invalid contacts and want to delete all of them in one time, how to do so? Move to Part 2.
2. How to Delete Multiple/All/Duplicate Contacts on iphone X/8/7/6/5
As the normal way about how to delete iPhone contacts shown above, it is really a trouble because you have to do 3-4 steps then can delete the contacts successfully, and one time for one contact. Therefore, to fix this issue, here is a simple way to quickly delete multiple or all contacts on iPhone.
FonePaw iOS Transfer (opens new window) is a tool that can help you transfer contacts, photos, music and more between iOS devices, iOS devices and computer. Besides transferring iPhone data, the program can also:
Permanently delete multiple contacts on iPhone 5, iPhone 6/6s, iPhone 7/7 Plus, iPhone 8/X;
Delete all contacts on iPhone at once;
Remove duplicate contacts on iPhone.
Follow the steps below to use the program to fast delete contacts on iPhone.
STEP 1 Click the Download button to free download the program on your computer.
Free Download Buy with 20% off Free Download Buy with 20% off
STEP 2 After launching FonePaw iOS Transfer, connect your iPhone to PC with a USB cable.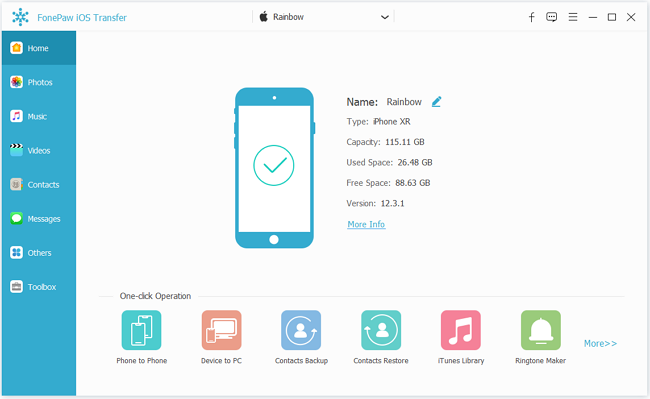 STEP 3 There is a "Contacts" button on the left column, tap it to select the contacts you want to delete and go to "Delete" button. That can help delete multiple iPhone contacts at one time.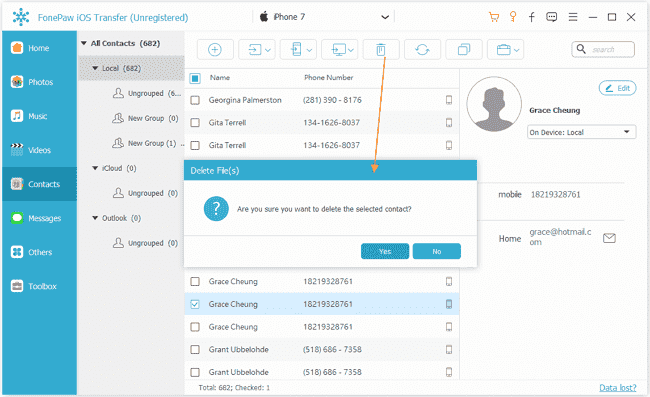 #Delete All Contacts on iPhone
If you want to delete all iPhone contacts at once, choose Contacts, check the checkbox besides Name, and press "Delete" icon. All the contacts will be gone.
#Delete Duplicate Contacts on iPhone
Tap the "Contacts" button on the left side, and then click on "Find duplicate contacts" icon. The software will start to search for the duplicate contacts existing on your phone.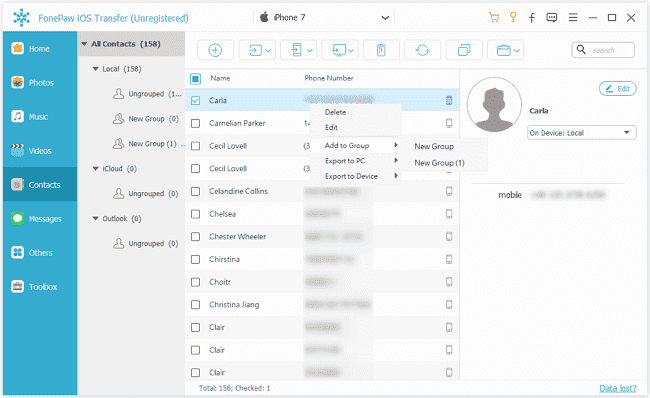 When the duplicate contacts show on the Merge Duplicate Contacts windows. Two options are given, either to match contacts exactly or to match them by groups. After that, tap "Merge Selected" button to delete/merge the duplicate contacts.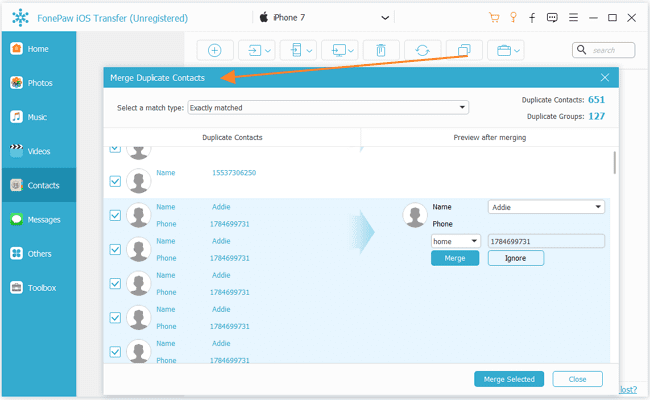 3. How to Delete All Contacts on iPhone at Once
Besides using FonePaw iOS Transfer, if you need to remove all contacts from iPhone at once, here are two tricks you can try without extra help from a program. However, the following methods are not applicable if you want batch delete some contacts from your iPhone.
3.1 Delete All Contacts on iPhone at Once by iCloud
STEP 1 Launch the Settings on iPhone; If your phone system is iOS 11 or later, then choose the "Accounts & Passwords" and then go to "iCloud"; If your phone system is iOS 10 or earlier, then select Mail > Account > iCloud.
STEP 2 Turn off iCloud for Contacts. You'll have two options: Keep on My iPhone/Delete from My iPhone. Choose Keep contacts on iPhone.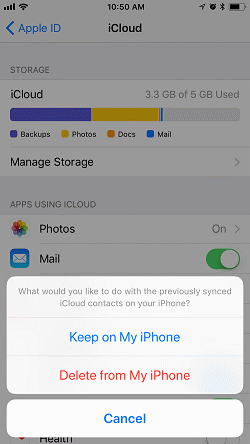 STEP 3 Then toggle Contacts back on and then select Merge. At that time, all the contact will be synchronized to iCould. Second, turn off the Contacts again and then tap Delete from my iPhone.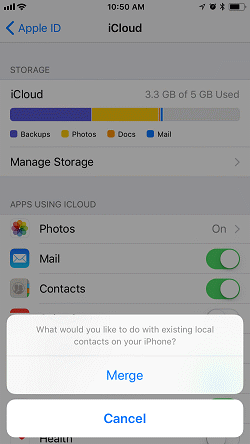 3.2 Delete All Contacts on iPhone at Once by Gmail/Yahoo
This solution is also simple; just delete all the contacts on iPhone by Mail way.
First, go to Accounts and Choose Gmail/Yahoo;
Second, toggle off Contacts under Gmail/Yahoo;
Third, select "Delete from My iPhone" button.
With several ways shown above about how to delete all or multiple contacts on iPhone X/8/7/6/5, I think at least you know one way for doing this. And I have to say FonePaw iOS Transfer is exactly a good way for managing the contacts and also convenient for batch deleting the iPhone contacts.