For iOS users, iTunes, in particular, is an easy way for them to store and manage their favorite music. If you switch from iOS to Android, suppose that you enjoy the music in iTunes and want to play them on your Android device, then you may need to transfer your iTunes music from Mac/PC to Android. Since there is no iTunes app for Android, how can you get iTunes music on your Android device? Here, we have outlined four useful methods for you.
---
People Also Read:
How to Transfer Music from Mac to Android (opens new window)
---
Sync iTunes Music to Android with A Transfer Utility
Using a professional iTunes to Android transfer utility can help you easily put iTunes music on Android at a fast speed. In terms of transfer utility, I would recommend you DoTrans by FonePaw (opens new window), which is able to sync the data among iOS, Android and Windows PC. Here will introduce how to move iTunes music to Android step-by-step.
Step 1: Run FonePaw DoTrans and connect your Android device to your computer.
Step 2: Select Music in the left sidebar and then click the add button to Add File(s) or Add Folders. Here, select your iTunes music on the computer. (This PC > Music > iTunes > iTunes Media > Music)
Step 3: The selected songs from the iTunes folder will be added to your Android phone. Open the built-in music player on your Android and you should be able to find the iTunes music files in My Music library. Or you can find the imported iTunes music in the Music folder with a file explorer.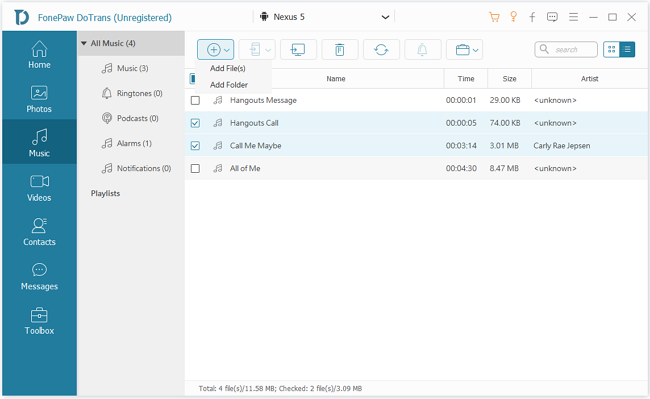 Note: If your iTunes music library is also stored on your iPhone, you can simply connect your iOS device to Mac/PC and transfer them to your Android device via DoTrans. On DoTrans, select your iPhone, tick all iTunes music and click Export to Device > your Android device.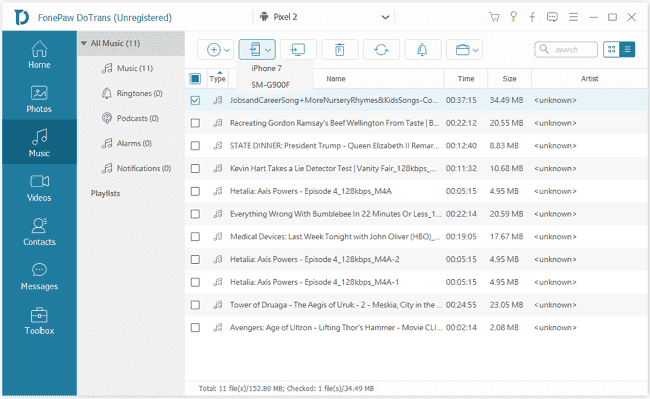 Download DoTrans for a free trial now!
Free Download Buy with 20% off
Move Music from iTunes to Android from PC/Mac via USB Cable
One of the fastest and convenient ways to move music from iTunes to Android from PC/Mac is using a USB cable.
Firstly, you need to connect your Android device to your Mac/PC and if needed, allow the phone to manage files by simply taping the option USB-transfer files. Next, open your File Explorer and find the Music folder on your phone. In this case, the location is: This PC > Galaxy S5 > Phone> Music. Open another File Explorer window to find your iTunes music library, the default location is This PC > Music > iTunes > iTunes Media > Music.
Then put these two windows close each other on your desktop. Drag and drop the music you want to transfer or move everything, from your iTunes music library to the Music folder on your Android device.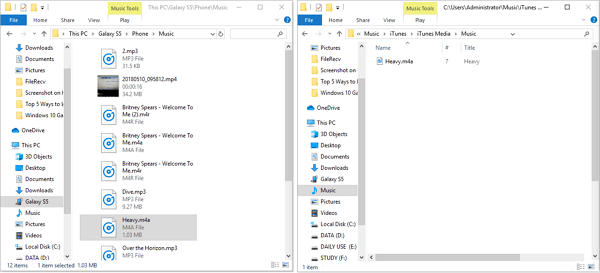 That's it. And you get play your iTunes music on your Android device now!
Transfer iTunes Music to Android without Computer
Google Play Music is another good method to get all your iTunes music on your Android device. It allows you to access iTunes music library in any other Android device and takes up no storage space on your phone. To transfer iTunes music to Android, you can sync iTunes music from the web or upload iTunes music with Google Music Manager.
Method 1: Sync iTunes Music to Android from the Web
Step 1: Open a web browser and go to Google Play Store on your computer, click Music and select My Music.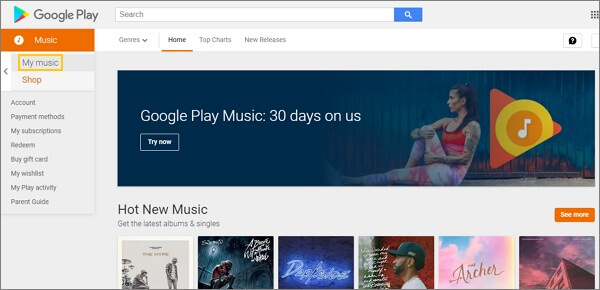 Step 2: Sign in to Google Play Music with your Google account, then hit Listen Now.
Step 3: In the Music section, click the menu, symbolized by there short lines in vertical, on the left side, and click the Upload music button.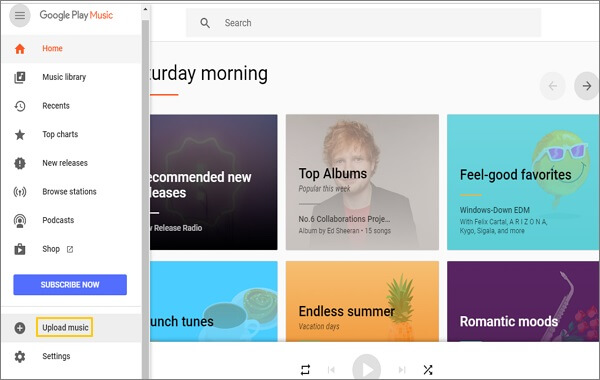 Step 4: Drag songs or folders to add your iTunes music to the library, next click Continue to install Google Play Music for your browser. When the process completes, you have successfully added your iTunes music.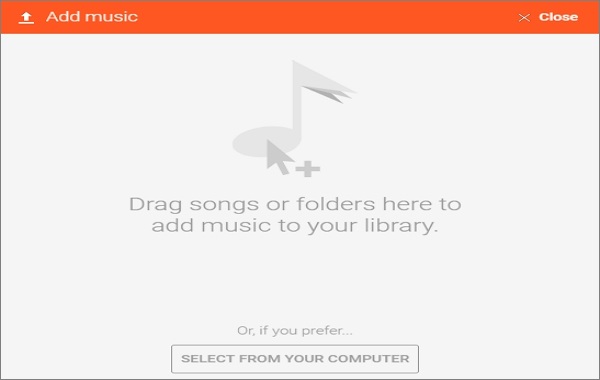 Note: If you haven't added a payment method already, in step 3, hit Next, and click Add Card to add one. And click Activate to activate your payment method free of charge. Then go to the top-left menu again, click Upload music.
Method 2: Upload iTunes Music with Google Music Manager
Step 1: Download Google Music Manager on your computer. (If you have got Music Manager, just open it and sign in with your Google account)
Step 2: After logging into the manager, select upload songs to Google Play, and hit Continue.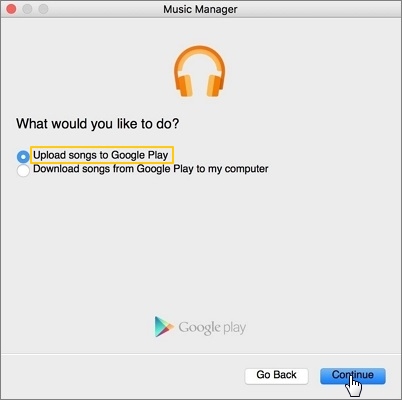 Step 3: Choose iTunes, you can choose transfer all music and playlist or select songs to upload by clicking the options, then hit next and the Manager will automatically upload your songs.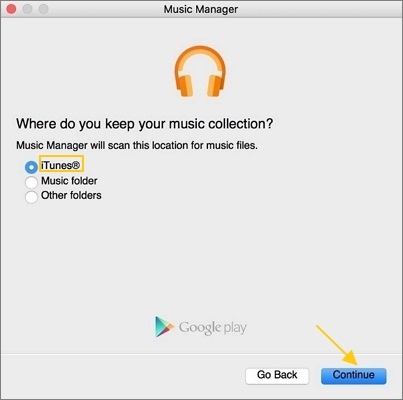 To play the music you upload to Google Play Music, you just need to download Google Play Music app on your Android device.
Note: If you're using Google Chrome, uploading your music with Google Play Music for Chrome instead of Music Manager.
Get Apple Music for Android
Apart from the above methods, you can also get iTunes music from Apple Music on your Android device. Although many Apple services can not be accessed on Android, Apple Music is available now. It is accessible to Android users and you can also enjoy the access to millions of songs and playlist. It is also safe and ad-free. You can directly get the Apple Music app for Android from Apple or from Google Play Store.
Once you've installed Apple Music, it is time to sign in and get your iTunes music. If you have an Apple ID and subscribed to Apple Music already, open the app and simply enter your existing Apple ID and password to sign in, then start to enjoy your music. If you don't have an Apple account and not subscribed, you have to create a new one and subscribed a type of service [Family ($14.99/month), College Student ($4.99/month), Individual (available for up to six people $9.99/month)] or have a free trial for three months.