There are many root software out there that can help us to root our Android phones in one click. But there are not many root software that also allow us to unroot the rooted device. Therefore, when we want to unroot our Android devices so that we can update a new Android system, we have to search online for new methods. In fact, we don't have to go through all these troubles if we use Framaroot, the root software installed on Android phone, to root and unroot Android in 10 seconds.
This is a one-click application to install Superuser and su binary on phone. Superuser and su binary include in application work from android 2 to 4. With root exploits attached to the application, it allows users to root their Android phone in a few seconds. Moreover, it provides the option of "Unroot" as well as the "Execute script" option for advanced users.
Note:
Success with this application void warranty on your device.
Before downloading the APK on your phone, please check the compatibility list to see if Framaroot supports your Android phone.
Root Android Using Framaroot in 10 Seconds
STEP 1 Install Framaroot on your phone.Download Framaroot APK file on your phone. If you have the APK file downloaded on your computer, copy the file to your phone via USB cable. Then go to Settings>Security>Unknown source to enable the install of applications outside of Play Store, after that, use a file explorer to install Framaroot on the phone.
STEP 2 Root Android using Framaroot. Open Framaroot on the phone, from the drop-down list, choose "Install SuperSU". Then select one of the exploits (Gandalf, Boromir, Pippin, Legolas, Sam, Frodo, Aragorn and Gimli) that fits your device. After that, the application will start to root your device and you have to reboot the device after it is successfully rooted.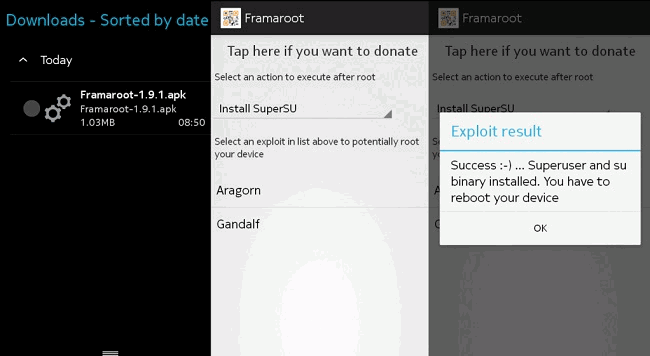 Tip: If there is a popup saying "Your device seems not vulnerable to exploit included in Framaroot", in this case you can just uninstall Framaroot.
Unroot Android Using Framaroot in 10 Seconds
When you need to unroot your rooted phone, just launch Framaroot on your phone, and choose "Unroot" from the drop-down list. In 10 second, your Android phone will get back to the unrooted status.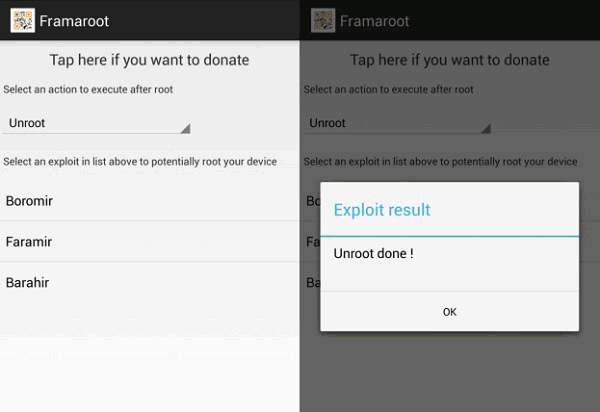 With Framaroot, it is just a piece of cake to root and unroot your phone, right? Have a try with the application and tell us about your experience.