I believe that you've heard the word "root" a lot from the geek guys. But do you know what exactly "root" is? Here we will give you a comprehensive introduction on what is "root", what to do before rooting and how to root Android devices with Kingo Root. Now let's know more details about "Root Android".
Note:
Verizon and AT&T have locked the Bootloader in Android, leading to difficulties in rooting Android and possibilities of bricking the device. So the solution we offer below may not works on Android manufactured by Verizon or AT&T and it is better not root your phone with this method.
Part 1: What is "root"
In brief, "root Android" means getting the highest authority on Android and has access to better use your Android phone by optimizing your phone, and its data, etc.
Part 2: Precautions before rooting Android
Before you root your Android, you'd better do the below things in advance:
Backup your Android, in case you fail rooting your Android and need to recover your lost data, you need to have an backup file with you.
Make sure that your Android has at least 50% of battery remained. If unfortunately, your Android runs out of battery, the device is likely to turn brick.
Find a third-party root tool which provides less and easy steps with higher success rate freely, for example, KingRoot.
Part 3: Steps to Root Android Device with iRoot
Step 1. Connect Android to Windows
Download and install iRoot on your Window computer. Double click the icon of iRoot and run the program. Then connect your Android phone to the computer with a USB cable. Enable USB debugging mode (opens new window) on your portable device if unrecognized.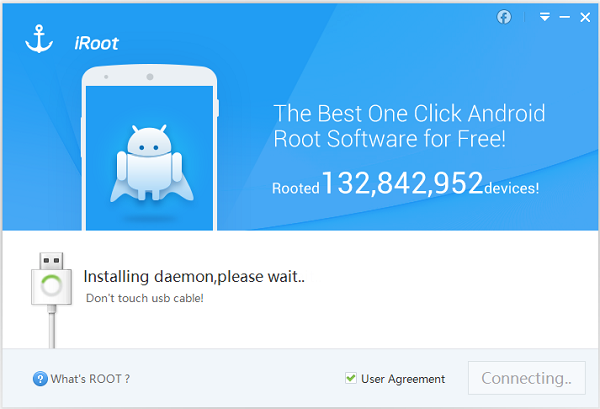 Step 2. Root Android Phone with iRoot
When your phone is detected, you will get the interface as below. Click the button "Root". This will enable the program to root your phone.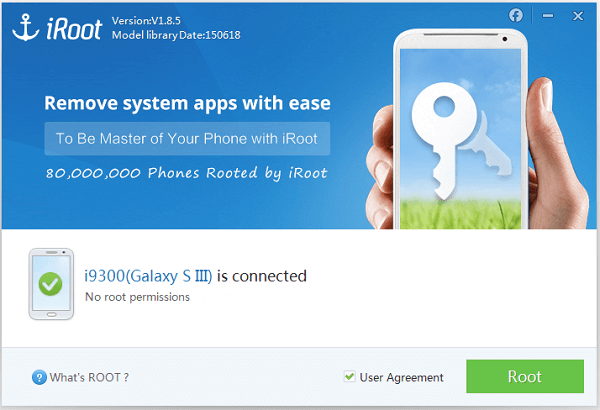 Note:
Privileged control or administrator-level permission would be attained after your device has been rooted, which leads to the ability to install custom ROM, uninstall system apps and more.

The process of rooting is a modification to the original system of your device, which may void your device warranty.

You still need system management tools to remove or disable system apps after rooting Android.
As an open operating system, Android triggers a wide range of Android mobile brands and Android OS versions, we still have not found out a program which is 100% compatible for every Android phone or leads to absolutely successful rooting, particularly for Android 4.4 and the later. If both two programs fail to root your mobile, we suggest you turn to other solutions, please refer to: https://forum.xda-developers.com/.