"Every time I share with Mary my photos stored in my iPhone 6s, she would swipe left and right to check out other images! Oh my god! I will absolutely not share with her next time."
Have you got a friend like Mary? Being rummaged about photos by friends happens all the time, especially when you gather with your friends during a party or chatting with friends in a coffee house. If you tell them to keep their eyes on the photo you show them, it just goes worse. That's somehow intolerant even though you keep no secrets in your cellphone. Here we offer you some tricks to avoid being rummaged. Just freeze your screen and they will be able to do nothing! Read on and see how to freeze screen.
Part 1: How to Freeze Screen on iOS
As for iOS users, it would be a piece of cake. Have you ever tried or heard of "Guided Access"? Guided Access helps you to stay focused on a task while using your iPhone, iPad or iPod touch which limits your device to a single app and lets you control which app features are available. It is an interesting function but seldom used by iOS owners. Once it is turned on, your screen will restrict to a specific photo and your friends will be allowed to do nothing.
Step 1. Go to "Settings" > "General" > "Accessibility", scroll down to the bottom and tap "Guided Access".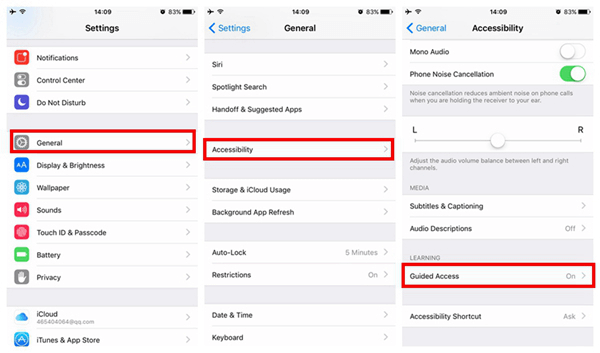 Step 2. Toggle the slider to turn on both "Guided Access" and "Accessibility Shortcut". Triple-click the Home button as to activate Guide Access. If Guided Access is enabled for the first time, you should enter your passcode and will see the interface of Guided Access displayed on the screen.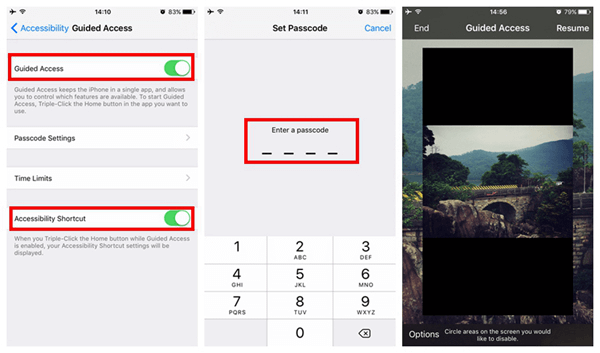 Step 3. Tap "Options" and flip "Touch" off. Click on "Resume" and your screen will be frozen. If you want to quit, you can triple-click again and enter the passcode, tap "End" to quit Guided Access.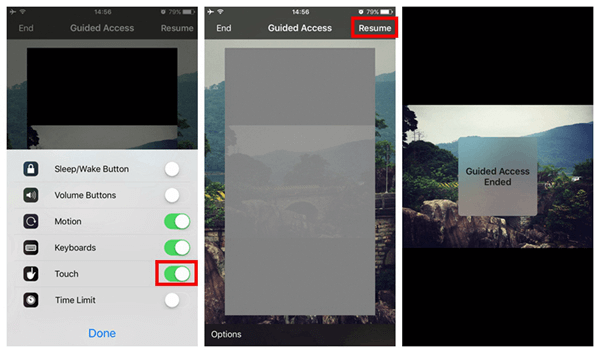 Afterward you're going to share images with friends, what you should do is just to open the photo you want to share and triple-click, and then your screen will stay focused on the photo. However hard your friends try to swipe left and right, they will end up in vain.
Part 2: How to Freeze Screen on Android
As for Android users, here we recommend Ninja Snap (opens new window), which is totally born to prevent from being swiped left and right. Maybe it is because the developer has heard the complaints about photos being rummaged. This app aims not only to free photos from being rummaged, but to mock at those who like rummaging about camera roll. The operation is simple as well. You can either directly show friends photos in Ninja Snap, or open the photo by sharing to Ninja Snap.
Then, we show an image to our friends pretending like nothing will happen. At the time when friends try to swipe the screen, the next photo that is going to be showed on the screen will be their faces captured by the front-set camera. Such fun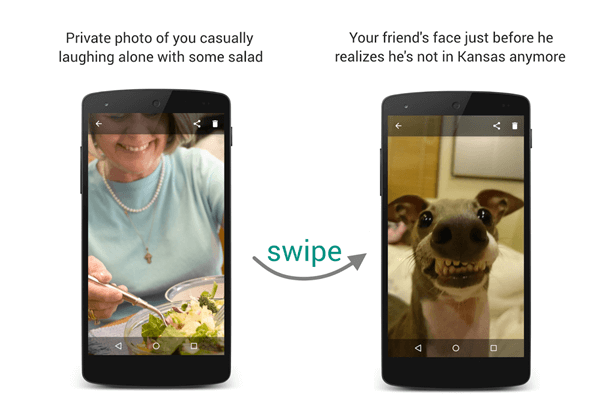 All in all, with these tricks, you don't have to worry about being swiped away through album when sharing with friends. Let secrets remain secrets!