When some iPhone, iPad or iPod users update their devices to the latest version of iOS using iTunes, they may encounter an error messages saying that "The iPhone Software Update Server Could Not Be Contacted. Make sure your network settings are correct and your network connection is active, or try again later."
Don't Miss:
Download and Install iOS 12 Public Beta on iPhone, iPad (opens new window) Fix iTunes Error 3194 while Restoring or Updating iPhone/iPad (opens new window)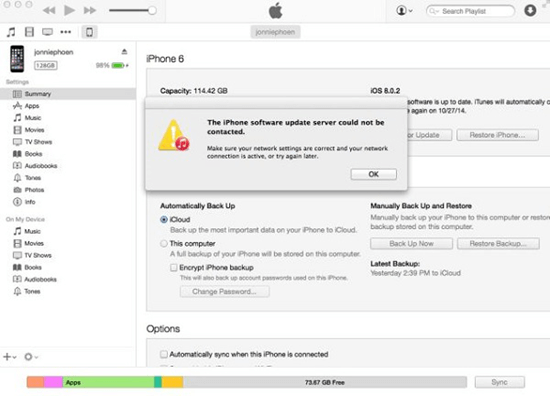 When some try to update their phone from Settings > General > Software Update, they see "Software Updated Failed".
These problems are mainly caused by two factors: one is local networking issues and the other is that Apple Severs are overloading. So, first of all, be sure you're connected to the internet. If there is nothing to do with networking, it is most probably that Apple iOS update servers are overwhelmed by requests. As the message suggest, simply wait a moment and try again or quit and re-launch iTunes, then try again.
Alternatively, the update mechanism is available on iPhone, iPad or iPod touch through Settings > General > Software Update, if you can access your device's settings menu and connect to Wi-Fi. If your device is locked with a forgotten passcode or in recovery mode, you will need iTunes to restore the device. In conclusion, there is no bet fix for this problem at once. All you can do is to wait patiently. When Apple servers have less traffic, you'll be able to update your iPhone to the latest iOS version without trouble.