Everything You Need to Know about "Safe Mode" on a Jailbroken iPhone
Unlike "Recovery Mode" and "DFU Mode", most of iPhone users have never heard "Safe Mode" before. That's because "Safe Mode" is usually related to a jailbroken iPhone.
Safe Mode is a way Apple has helped upkeep from destroying our devices. On the desktop, safe mode is used for removing corrupted processes that may be causing the operating system to mal-function. Similarly, the safe mode on iPhone allows a jailbreaker to remove any unwanted or problematic tweaks or themes to uninstall the bad packages which could have caused the crash.
Briefly, a jailbroken iPhone boots into Safe Mode whenever a jailbreak extension is causing iOS to work abnormally.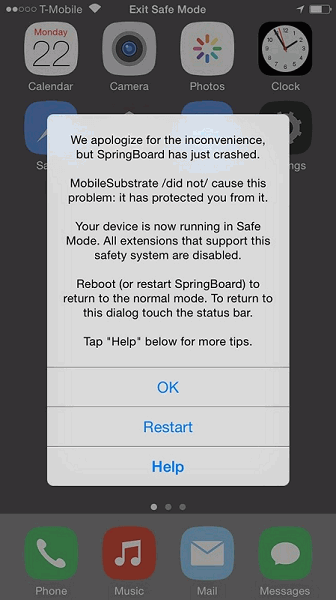 How to Exit Safe Mode on iPhone
If your iPhone is stuck on safe mode, here are 4 recommended ways to exit iPhone safe mode and return your iPhone to normal operation.
Way 1: Choose "Restart" from Safe Mode Notification
Tap "Restart" from the Safe Mode pop-up message. SpringBoard will restart and if the problematic tweaks have been removed you are now in normal mode.
Way 2: Hard Restart iPhone
If the first way still leads to Safe Mode, hold Power and Home button until device turns off completely and restarts. Also, you should ignore the "Slide to unlock" that appears on the screen a few seconds after you start this process.
Way 3: Remove Erratic/Incompatible Packages
Still in Safe Mode? It's possible that a recently installed Cydia package such as a tweak or an extension is causing the problem. Open Cydia and remove suspected extensions or tweaks.Reboot the iPhone to see if it boots up correctly.
Way 4: Restore your iPhone
This is the last resort to exit iPhone Safe Mode. Make sure you have backed up your iPhone (opens new window) since all data on your iPhone will be wiped by restoring it. If you unluckily lose your iPhone data, you can use FonePaw iPhone Data Recovery to recover lost data from iPhone (opens new window).
Which way you use to exit Safe Mode on iPhone? Tell us in the comments below.