Updated on May 09, 2017: Adds a video guide for users to delete backups on iPhone easily.
First Things First – Some Important Points you Need to Know about iCloud Backup
• iCloud is Apple's cloud-based content storage system which can be used in Mac, iPhone, iPad and iPod.
• Apple provides 5GB free storage for every iCloud account, which can be used to backup iOS devices.
• If you have multiple devices sharing one Apple ID, old iCloud backups can quickly fill up the 5GB storage.
• When the storage limit is reached, you have three choices:
A. Pay for additional iCloud storage.
B. Turn off iCloud backup and backup iPhone with iTunes.
C. Delete old iCloud backup files to free up storage.
In this post, we will learn how to delete old iCloud backup from your iOS device, from Windows PC or from Mac.
Part 1: Delete iCloud Backup directly from iPhone/iPad
On your iDevice, go to Settings > iCloud > Storage > Manage Storage. Then, you will see all your iCloud backups.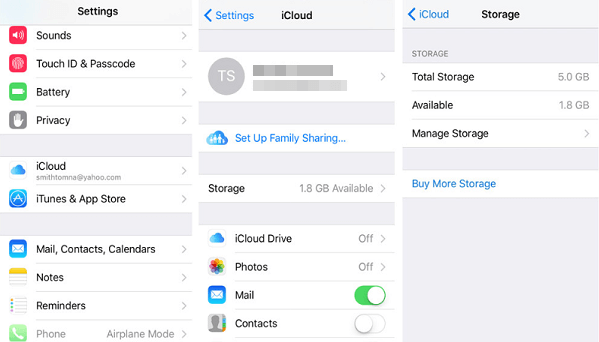 Select the backup you don't need, then tap Delete Backup. A popup will show up, asking if you want to turn off backup and delete all backup data for the device. Select Turn Off & Delete.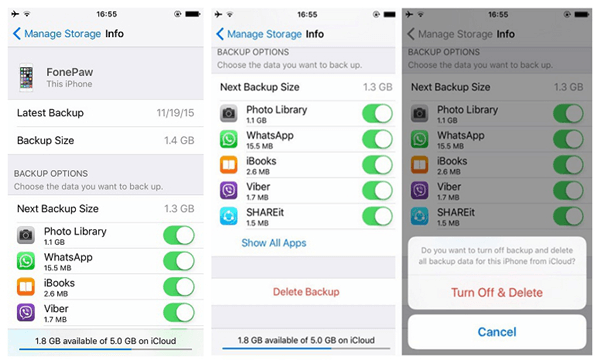 Part 2: Remove iCloud Backup from Windows PC
Open iCloud Control Panel and sign in with Apple ID and password.

Click Manage on the iCloud Control Panel.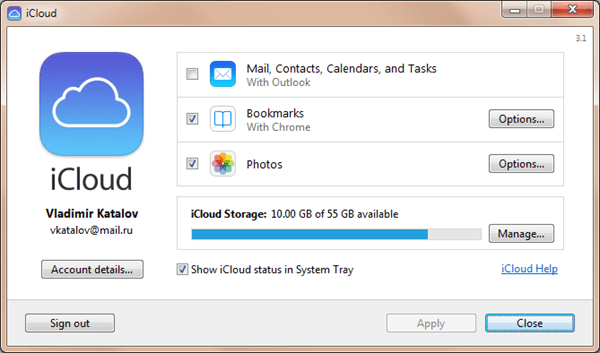 Click Backups on the left, then select the backup you don't need from the iCloud Storage interface. Then click Delete and Confirm.
Part 3: Delete iCloud Backup from Mac
Choose Apple menu > System Preferences > iCloud > Manage.

Click Backups on the left and select the backups which you don't want to keep.

Click Delete and confirm the deletion.
Removing old iCloud backups can be an easy way to free up iCloud storage. You can either delete them from iOS device or from computer, just as your convenience.Without iCloud backup, you can restore iPhone from iTunes backup (opens new window)when data loss happens.