When you google for Android rooting apps, there are thousands of results available, but not many of them can help you root Android without PC. In fact, comparing with using rooting software on PC to root Android, rooting Android without PC is faster and more convenient, especially for users using Mac computers (A considerable amount of rooting software are not applicable to Mac). Therefore, here we recommend three one-click apps for you to easily root Android phone without PC. You can use the rooting apps to root Android 7.0, Android 6.0, Android 5.0 and earlier version.
Precautions Before Rooting Your Android Devices:
Backup your Android

(opens new window)

, in case you fail rooting your Android and need to recover your lost data.
Device powered on at least 50% battery level.
Internet connection necessary (Wi-Fi network suggested).
Allow installation of apps from unknown sources: On your phone, go to "Settings" > "Security" > "Unknown Sources", check "Unknown Sources".
Note:
If you are intended to root your Android phone and then use our software - FonePaw Android Data Recovery for Mac (opens new window), you can directly root on the Android phone with the below solutions.
Root Android Without PC: KingoRoot
Step 1 Free download KingoRoot.apk on your Android phone. If there is a message warning you about KingoRoot.apk, click "OK" to continue.
If you are viewing this tutorial on PC, you can:
Visit https://root-apk.kingoapp.com/ on your phone to download KingoRoot.apk for Android.
Download KingoRoot.apk on your PC, transfer it to your Android phone and install it on the phone.
Step 2 After the installation, open KingoRoot. You'll find that it has detected the device model and Android version of your phone. Click "One Click Root" button, the app will start to root your device.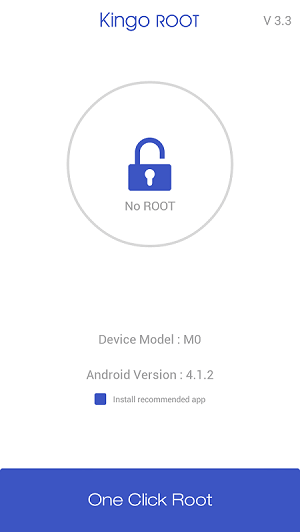 Step 3 Wait till the rooting process to complete. The rooting progress will show on the screen. If it has rooted the device successfully, you'll see "Root Succeed" page. If not, try again since the apk has several rooting methods. When one method fails, if you try another time, the apk will apply other method to root your phone.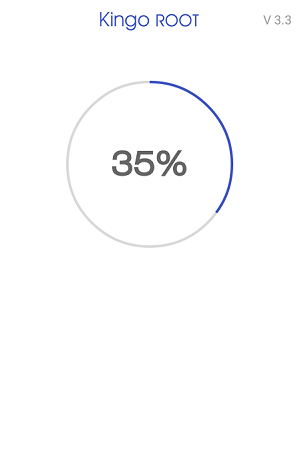 Root Android Without PC: KingRoot
Step 1 Open your phone's browser and enter www.kingroot.net. Download KingRoot and install the app on your phone. Launch KingRoot on your phone, you'll see that the app have estimated the possible success rate and time to root your phone.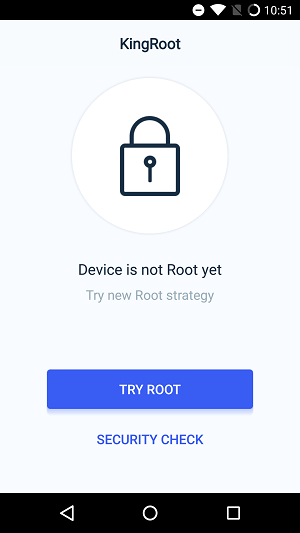 Step 2 Click "Start Root" to start rooting process. When you see the page saying "Root Sucessfully", your phone have been rooted. After that, you can remove apps, purify system, etc. with this app.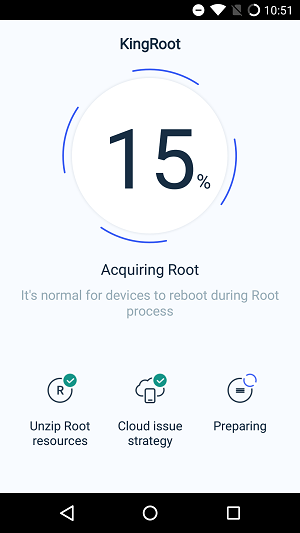 Root Android Without PC: iRoot
Step 1 On your Android phone, go to https://www.iroot.com/ and download the iRoot for Android. Open the apk file of iRoot and install it.
Step 2 Click the icon of iRoot on your phone, if your phone haven't been rooted, you'll see "No Root Permission". Tab "Get Root Access", iRoot will begin to root your Android. Just wait patiently when iRoot is doing its job.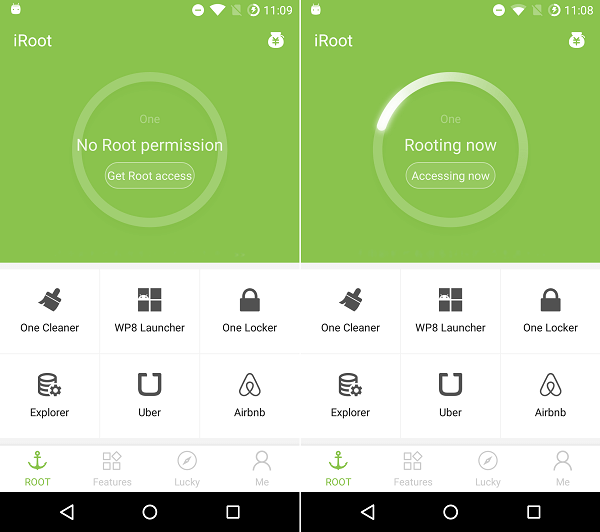 All these three apps support rooting service for mainstream models, including Samsung, Google, Sony, HTC, and others, but differ slightly on the Android versions that they support:
KingoRoot: Android 1.5 - 7.0
KingRoot: Android 2.0 - 7.0.
iRoot: Android 2.3 - 7.0
Note:
Since it is more tricky to root devices on newer Android version, the three apps might fail to root some models on Android 7.0, Android 6.0.
Verizon and AT&T have locked the Bootloader in Android, increasing the difficulty of rooting Android phones manufactured by Verizon or AT&T without computer. To guanrantee a higher success rate, it is better to root your Verizon or AT&T phone with rooting software downloaded on PC

(opens new window)

.