# What's HTML File?
HTML is the standard markup language for creating web pages that web browsers use to interpret and compose text, images, and other material into visual or audible web pages. HTML files imply a structure of nested HTML elements. These are indicated in the document by HTML tags, enclosed in angle brackets. HTML documents can be delivered by the same means as any other computer file. The most common filename extension for files containing HTML is .html. A common abbreviation of this is .htm, which can be seen on some early operating systems and file systems.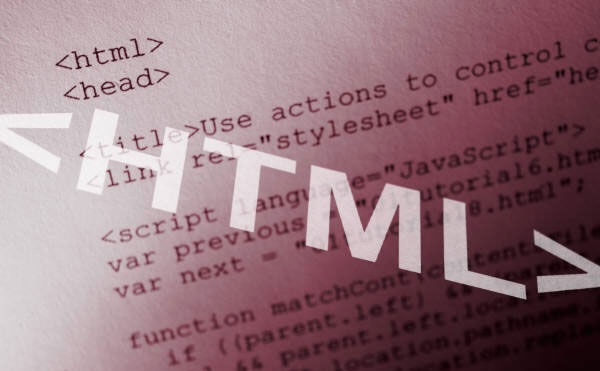 # How to Recover HTML/HTM Files from PC?
However, users may delete such important HTML/HTM files by mistake or due to some technical faults. Deleting unwanted files from hard drive is common practice to avail memory space for storing new data, it is possible to accidentally delete the necessary HTML/HTM files. You can quickly restore the deleted HTML/HTM files from recycle bin if you find your mistake in time.
If unfortunately you have emptied the Recycle Bin, or you lost your essential HTML/HTM files due to a virus infection or other system failure, this tutorial will give you a simple and efficient method to recover your missing HTML/HTM files with a best HTML/HTM files recovery program namedFonePaw Data Recovery (opens new window).
The program can recover deleted HTML files from PC;
It can also recover corrupted HTML files from PC, external hard drive.
Support data recovery for a computer on Windows 10, 8, 7, XP, Vista.
To recover deleted or lost HTML/HMT files, follow these steps.
Free Download Buy with 20% off Free Download Buy with 20% off
Step 1. Download FonePaw Data Recovery (opens new window) to your laptop or desktop and install it. Do not install the app in the same location of your deleted HTML/HTM files to avoid overwriting the deleted HTML files with new data.
Step 2. Now, launch the software and select the disk storage location with the deleted HTML/HTM files and tick the box of Document. Then click "Scan".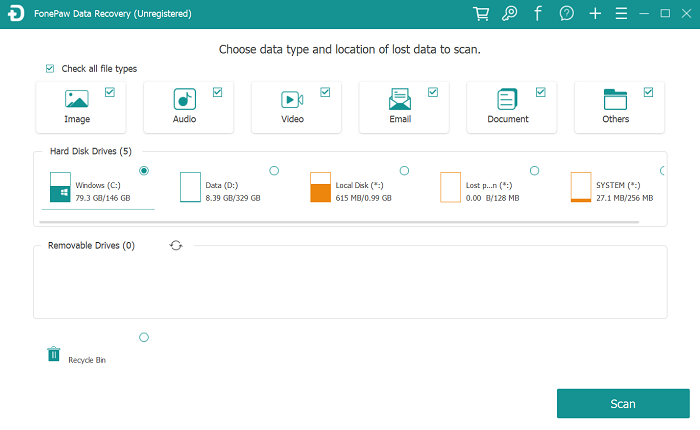 Step 3. The Qucik Scan will be automatically activated and completed in a short time. Then you can check the scanned results. If you are not satisfied with the results you can try the Deep Scan.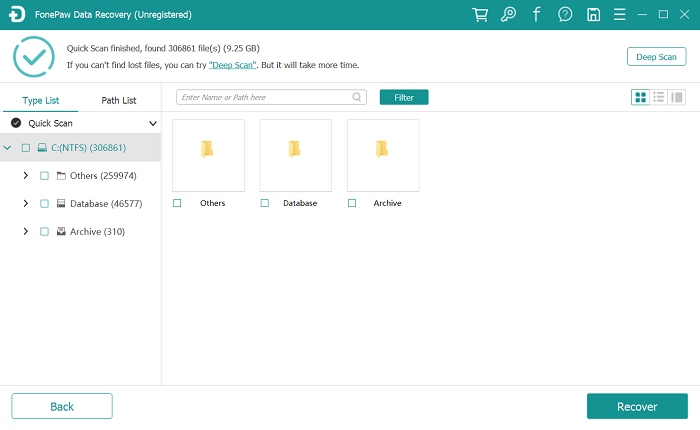 Step 4. Select the deleted/lost HTML/HTM files what you like, and click on "Recover" button to retrieve them back to the computer. In this step, there is a search box for you to filter by name or path. Besides, if you don't like the mode to preview the data, you can change it with clicking the icons under Deep Scan.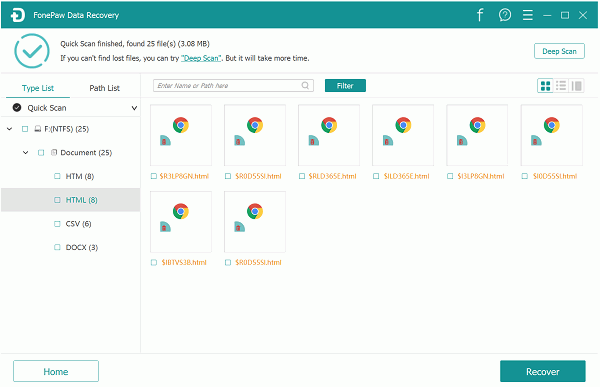 HTML is the Web's core language for creating content for everyone to use anywhere. Here are some useful tips for you to avoid losing your important HTML/HTM files:
Tips:
Back up your important HTML files, which is really significant for data management.
Use Antivirus software to protect your HTML files from viruses
Avoid storing new data to a drive or partition after losing data from it