Avast Antivirus is an efficient and comprehensive computer security program. It attracts plenty of users with its simple UI, comprehensive protection, strong security and its compatibility with Windows, Mac, and Android.
When detecting a virus or virus-infected files on your computer, Avast Antivirus will quarantine or delete those viruses or files. However, sometimes the app may mistake your safe files for virus or malware and thus remove them. If those files are important to you, you must want to restore them. So this article will show you how to recover your files deleted by Avast Antivirus.
Where does Avast put infected files?
Avast usually put the infected files in Virus Chest, which is a quarantined zone where Avast Antivirus stores those potentially dangerous files and malware. Files and apps quarantined in Virus Chest cannot be opened or executed thus they will do no harm to computers.
When you can't find a file on your computer, maybe it is quarantined by Avast in the Virus Chest. Therefore, to recover deleted files from Avast, the first thing you should do is to check the Virus Chest on Avast.
Restore deleted files from Avast Virus Chest
If your files are quarantined by Avast Antivirus in this place, they are not actually deleted, so luckily you still can recover files you need from there. Here is how to do it.
Step 1: Open Avast Antivirus and click Protection on the left sidebar.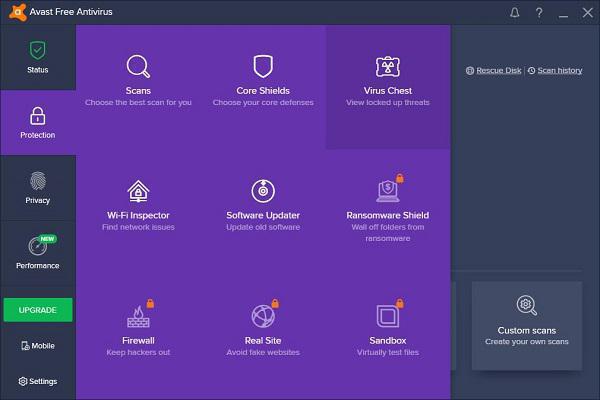 Step 2: Click the Virus Chest in the purple rectangle.
Step 3: In Virus Chest, click the deleted files that you want to recover and select Restore.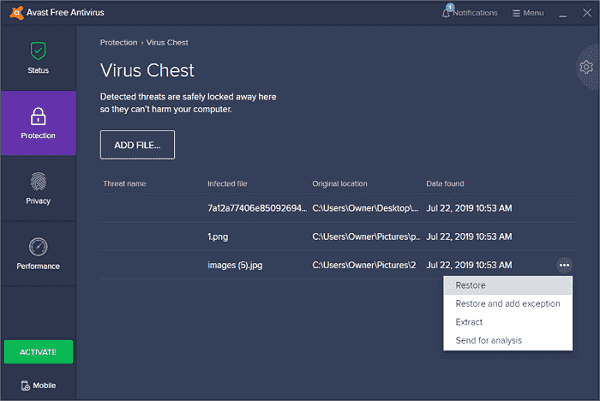 Tip: In Virus Chest, besides the Restore command, which copies the selected file to its original location and keeps the restored file in the Virus Chest, there are other commands including:
Delete -- remove the selected file from the Virus Chest but won't delete the file from the hard disk;
Restore and add to exclusions -- restore the selected file to the original location, keep the restored file in the Virus Chest and Avast Antivirus will ignore this file in the future;
Extract -- copy the selected file to an assigned location and keep the extracted file in the Virus Chest.
How to recover files deleted by Avast Antivirus(Not from Virus Chest)
If you cannot recover your deleted files from Virus Chest, maybe Avast has already deleted them. Then you'll need a third-party solution to recover your files deleted by Avast Antivirus.
Here FonePaw Data Recovery (opens new window) is recommended. As a professional data recovery program, FonePaw Data Recovery helps millions of users retrieve their deleted photos, music, videos, documents and many other types of files from computers and external hard drive. Storage devices with file systems such as NTFS, FAT16, FAT32, exFAT, or EXT are supported.
It can scan your computer hard drive and find the files deleted by Avast Antivirus. Here is how FonePaw Data Recovery works.
Step 1: Click the button below to download FonePaw Data Recovery on your Windows PC or Mac.
Free Download Buy with 20% off Free Download Buy with 20% off
Step 2: Launch FonePaw Data Recovery, select the data type of your deleted files and the hard disk where the files were in before being deleted by Avast Antivirus and then click Scan.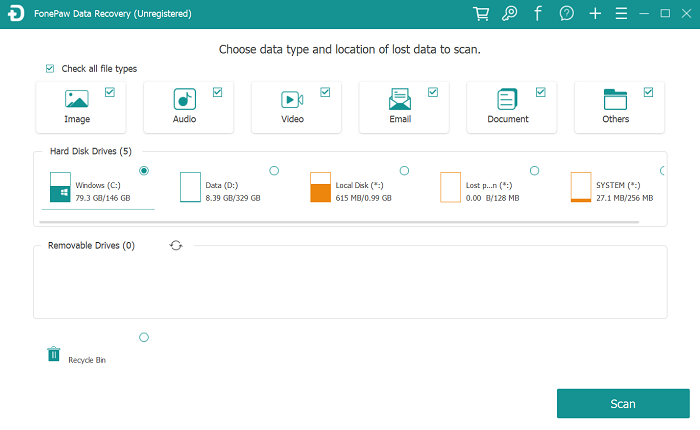 Step 3: Select the files that are mistakenly deleted by Avast Antivirus in the returned scanning result, and click Recover at the bottom.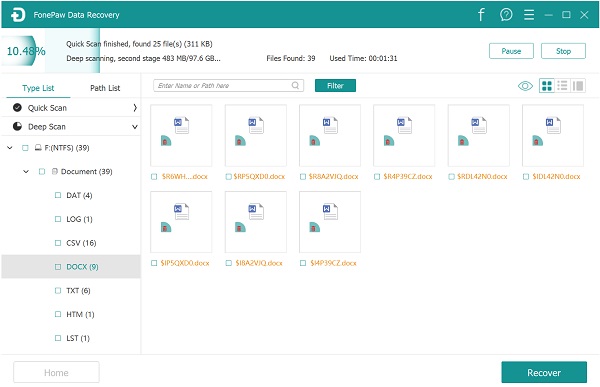 Tip: FonePaw Data Recovery can also recover files that are deleted by Avast Cleanup. The sooner you use this program to recover your deleted files, the more likely you are to get them back. Besides, do not install FonePaw Data Recovery to the hard disk where the data you want to recover was in before being deleted.
How to stop Avast Antivirus from deleting a file
Like many other antivirus programs, Avast Antivirus will mistake some safe files or apps for virus or malware and delete them. Generally, you can solve the problem by making Avast exclude your safe files when scanning, but sometimes it does not work and the app keeps blocking and deleting your files every time you open them. In this case, you can try the below steps to fix it.
Step 1: Open Avast Antivirus and go to Settings > General > Exclusion.
Step 2: Click File paths tab.
Step 3: Click Add button and enter the path of the file you want to keep.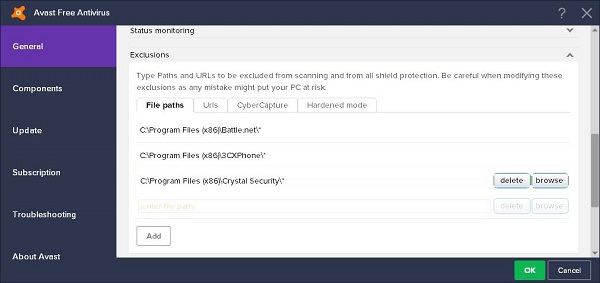 Tip: If this method still doesn't work, go to Settings > Active Protection, select the shield and click Exclusion to add your files in Antivirus Shield.