What is the most convenient approach to deepen your insight into the world? Video. And thanks to the advent of smartphones, you can find it more convenient for people to watch videos for the storage feature on mobile phones.
However, videos can't be kept on your android phone for good. What actions you can take if you desire to get back deleted videos from android? To help you out, 3 efficient ways have been compiled in this article. Read more, and you can find how to recover deleted videos from android.
Where Are Videos Stored on Android Phones?
Before learning how to recover deleted videos from an Android phone's internal memory, you need to figure out where the videos are stored.
Generally speaking, downloaded videos can be stored in the Download folder. So if you always access videos from some webs, you can first check the path of the Download folder: /internal storage/download.
If you fail to find videos in the Downloader folder, you can look into your camera settings for the storage location. The videos taken by your phone camera are stored in the folder: /storage/emulated/DCIM/Camera.
Some Android phones support storing data via SD cards. If your phone is equipped with an SD card, you can also follow the path to find videos: /storage/sdcard0/DCIM/Camera.
Where to Find Deleted Videos After They Are Deleted?
When you accidentally deleted videos on your Android phone, you don't need to panic. Android phone designers have taken your concerns into account, and they design a Trash or Recently Deleted feature on Android. Meanwhile, your videos will be tentatively stored in the Trash or Recently Deleted folder for a few days. For instance, Samsung users can retrieve their videos within 15 days. And some manufacturers have extended the period up to 30 days.
What if you want to prolong the deadline further, you can install the Google Photos app on your phone to manage your image materials. With this application, you can recover deleted videos within 60 days.
But if your videos are overdue on Android, you don't have to lose heart. For a powerful data recovery tool, it can help you fetch data of videos from deleted tracks. As long as your videos won't be overwritten, the recovery tool is capable of bringing videos back. FonePaw Android Data Recovery is such a powerful and user-friendly recovery tool.
How to Restore Deleted Videos on Android from Recently Deleted Folder
As we mentioned, your videos will be preserved in the Recently Deleted folder instead of being lost when you delete them. That is to say, you have a buffer period of at least 30 days in which you can retrieve your videos at any time.
You can follow the next steps to retrieve deleted videos on Android phones from the Recently Deleted folder:
Step 1. Start the Gallery app and tap "Albums".
Step 2. Scroll down the screen with your finger and find the "Recently Deleted" option and tap it.
Step 3. You can find and select the videos you want to recover in the "Recently Deleted" folder.
Step 4. Finally, you can tap the "Restore" option at the bottom to retrieve your videos.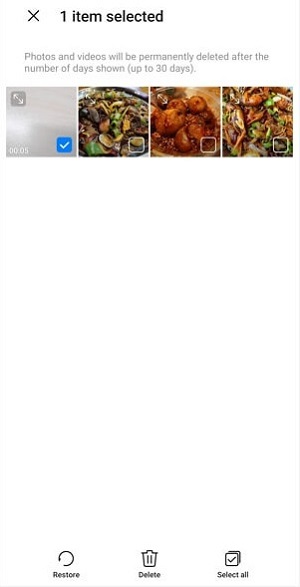 How to Recover Deleted Videos on Android with Google Services
To help Android users to cope with delete and recovery issues, Google has launched two cloud services. Whether you are using Google Photos or Google Drive, you can back up your videos and pictures in case they are missing. The 15 GB space and some practical functions can help you save your video safely and persistently.
But you should be aware that your videos can't be restored if you don't back up them properly.
Recover from Google Photos
Google Photos is an app that is particularly designed for photo and video storage. With 15 GB of free storage, you can upload your image materials in three different qualities – high quality, original quality, and express quality. When you want to retrieve your videos, you can manipulate the app on your smartphone or the corresponding Google web.
To recover deleted videos from Google Photos:
Step 1. Launch Google Photos on your Android phone.
Step 2. Click on the "Menu" option at the top left of the app.
Step 3. Find "Trash" and tap it.
Step 4. Select the videos you want and tap on the "Restore" option to get deleted videos back.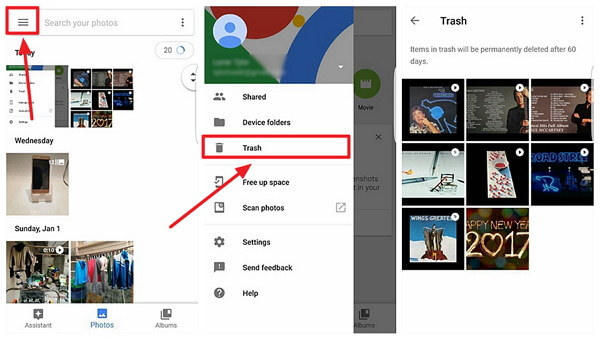 Recover from Google Drive
Unlike Google Photos, Google Drive is designed for multiple file backups. Google Drive allows users to store files in the cloud, synchronize files across devices, and share files. That is, you can use this app as a fail-safe to prevent your videos on Android from being deleted accidentally. Similarly, the service is available on both mobile and web.
To restore deleted videos from Google Drive:
Step 1. To start with, open Google Drive web or the app on your phone and log into your account.
Step 2. Uploaded videos will be displayed on the interface.
Step 3. Select the videos you want to recover and download them to your devices.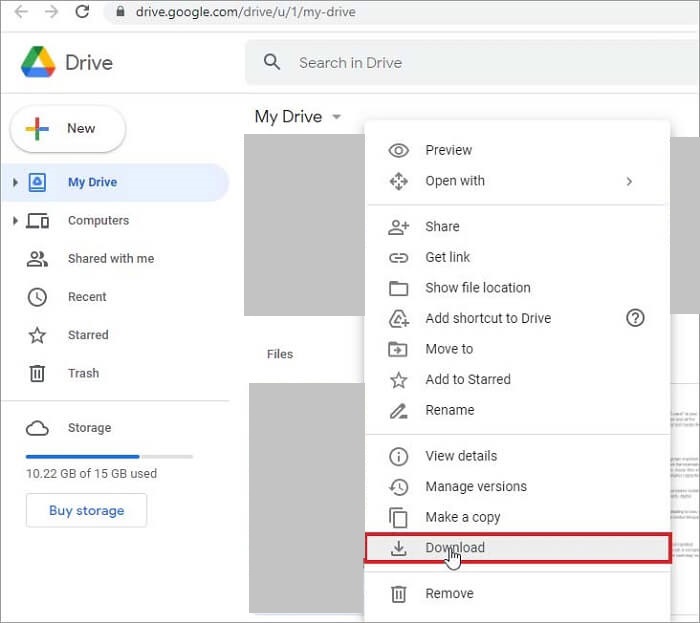 How to Recover Deleted Videos on Android with FonePaw Android Data Recovery
If you delete a video from Android and don't back it up in time, it can be difficult to restore the permanently deleted video. But as the old saying goes, nothing is difficult to a willing heart.
FonePaw Android Data Recovery can be a shot in the arm for you. This software is a computer application. Connected with a computer and your Android phone, the powerful software can fetch data from Android's internal memory or SD cards to recover multiple files, not to mention videos.
Free Download Buy with 20% off Free Download Buy with 20% off
Meanwhile, the software supports a deep scan mode that can disinter the hidden and deleted files. With this mode, you can recover most of the files you want, such as videos. Most importantly, you can preview files you wish to recover first when you are using FonePaw Android Data Recovery.
The list below is displayed some features of FonePaw Android Data Recovery you may be interested in.
The interface of the application is simple, and you can use it with no difficulty.
The application runs fast that it can scan 1000+ files in seconds.
It provides quick and deep scan modes for users that ensure the software can retrieve as many files as possible.
It owns highlighted functions: preview and partial recovery.
The software boasts a high recovery success rate.
If you want to recover permanently deleted videos from android as soon as possible, you can install FonePaw Android Data Recovery and follow the next steps.

Note:
After a video has been permanently deleted from your phone, you'd better not manipulate the phone repeatedly in case the deleted video is overwritten with new data.
Step 1. Download and launch FonePaw Android Data Recovery
You can click the download button below and follow the introduction to activate FonePaw Android Data Recovery.
Free Download Buy with 20% off Free Download Buy with 20% off
Step 2. Connect your android phone to a computer
Connect your phone to a computer with a USB cable. The recovery tool will immediately detect your Android phone and prompt you to enable USB debugging on the phone.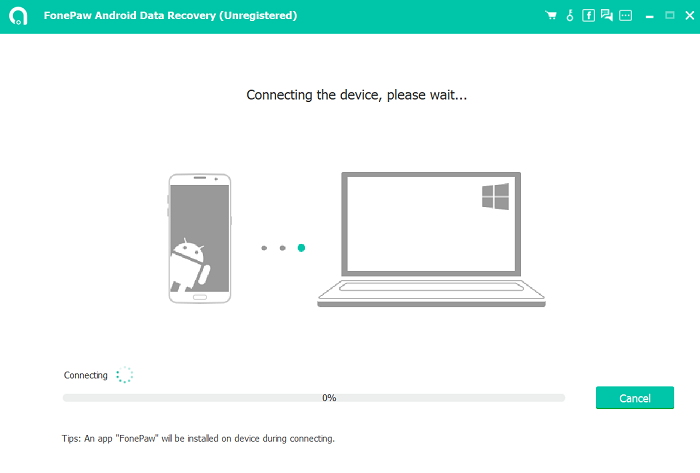 Step 3. Choose media
The program will show the screen below after it finishes detecting your phone. To scan out as much of the video stored on your phone as possible, it's best to choose the "Media" option.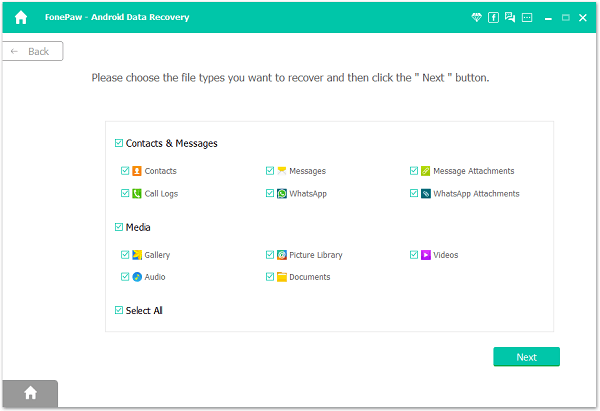 Step 4. Install FonePaw App
To get permission to access your phone data, the FonePaw app needs to be installed on your phone. You can follow the introduction to install FonePaw via USB. Remember to check your phone and consent to install the app.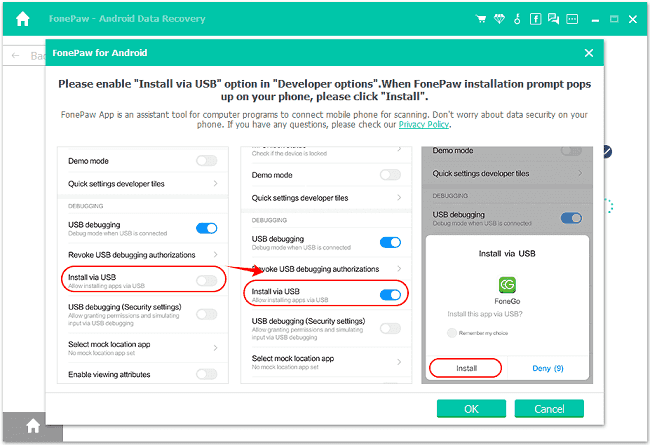 Step 5. Give Permission to Scan your phone
After the FonePaw app is installed on your phone, you need to read the permission message and tab "Allow". When you have given permissions, click "Scan Authorized Files" on FonePaw's interface to scan out the deleted videos.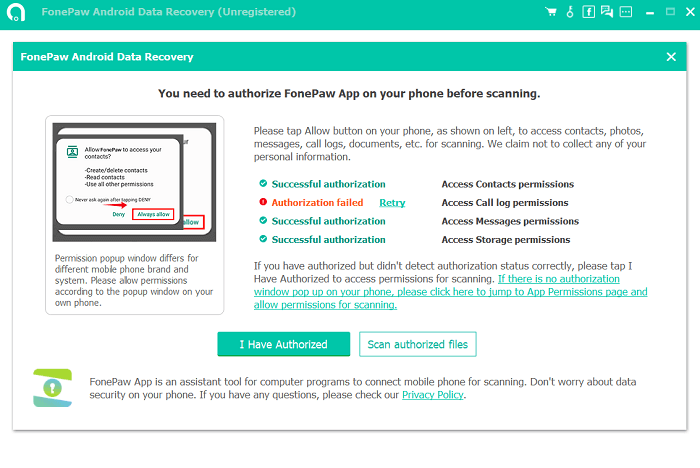 Step 6. Preview and recover deleted files
When the quick scan is finished, you can preview those deleted videos. If you don't find what you want, you can click Deep Scan to find more. Click those you want to recover, and they will be restored on your PC or Mac.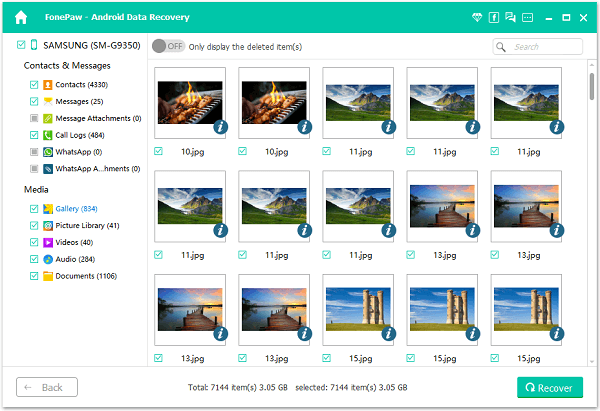 Conclusion
In fact, if you regularly back up videos on your phone, it's easy to restore deleted videos from Android. However, if you permanently delete videos due to negligence or other reasons, you are better off with professional software - FonePaw Android Data Recovery - to solve the problem. The powerful and efficient tool can protect your phone from losing files or data. And you can save lots of costs on repairing data once you use FonePaw Android Data Recovery. So why not download it and have a try?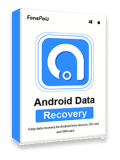 Android Data Recovery
Retrieve your lost data from your Android phone within seconds!