"Yesterday I lost all my photos saved on SD card. I am using the Android phone. Is there a way to help me recover these photos again? They mean a lot to me! Thanks!"
Have you ever encountered such a problem when you lost the photos saved on Android SD card and want to recover them again? Sometimes you may delete some photos in order to free up your device storage but only find that you have operated the deletion mistakenly, or the SD card runs improperly, thus deleting some media files without notifying you.
Now, you are able to get out of the trouble and bring them back again! In this blog, the details on how to recover photos from SD card on Android phones would be introduced to you. Follow the guide and you are able to retrieve the deleted photos with a high success rate easily. Just check them now!
Photos on Android SD Card Get Lost. Why?
Before heading down to the guidance, you are available to know about the common reasons that would cause the photo loss happened on your Android SD card. Here are the most frequent ones:
Manually delete the photos while cleaning up the devices by accident;
Unexpected SD card formatting but forget to back up photos ahead of all;
The SD card gets corrupted or damaged while running some programs on your Android phones;
Your Android device is under virus or malware attack;
Incomplete transfer while connecting to the desktop for photos back up;
Power failure of the Android device causes the photo loss;
More unknown reasons that would cause the photos deletion on Android.
No matter how you lose the photos, don't be panic! Actually, there are still efficient ways to help you recover photos on Android SD card again before they are erased permanently, if you could process the recovery instantly. Now, you will be introduced the best way to recover photos from SD card on Android phones with high success rate, which is to use FonePaw Data Recovery.
How to Recover Deleted Photos from SD Card with Data Recovery Software [High Success Rate]
FonePaw Data Recovery empowers the powerful functionality to help users retrieve data and files of 1,000+ format types on Android phones and other storage devices without hassle. It is compatible with data recovery of different types, including deleted data recovery, hard drive or memory/SD card recovery, partition recovery, and so on. Also with an intuitive design, users are only required to process the photo recovery within several easy clicks, and FonePaw Data Recovery will process the device scanning and access the deleted photos to bring them back to you once again.
Buy Now Buy with 20% off Buy Now Buy with 20% off
Highlighted Features of FonePaw Data Recovery:
Compatible with all mainstream storage devices and computers;
Available to recovery data and files of more than 1,000 formats;
Recover lost data from hard drives, memory cards, recycle bins, formatted devices, raw files, and more data loss situations;
Flexibly select quick or deep scan based on personal requirements;
Previewing mode is available to double-check the list before processing the data recovery.
Now, let's grasp this brief guide to see how to recover photos from SD card via FonePaw Data Recovery within just 3 easy steps:
STEP 1. When you have inserted your SD card to the computer with a card reader, launch FonePaw Data Recovery. After the software detects your Android, you are able to select the detected SD card in "Removable Devices" and hit the "Scan" icon to begin the scanning process.

Note:
You are available to select more than 1 file type to process the device scanning at once.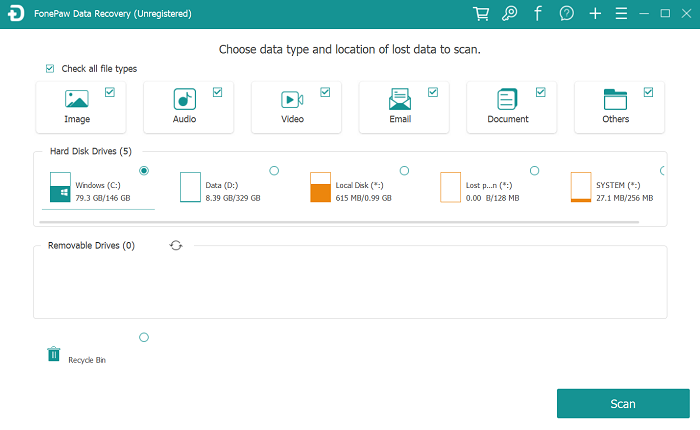 STEP 2. Select a mode from "Quick Scan" and "Deep Scan" based on your requirement to process the device scanning ("Quick Scan" will save your time while "Deep Scan" may detect more files for you in-depth). When FonePaw Data Recovery completes the process, you are able to preview the photos and choose the items to recover from SD card on Android again.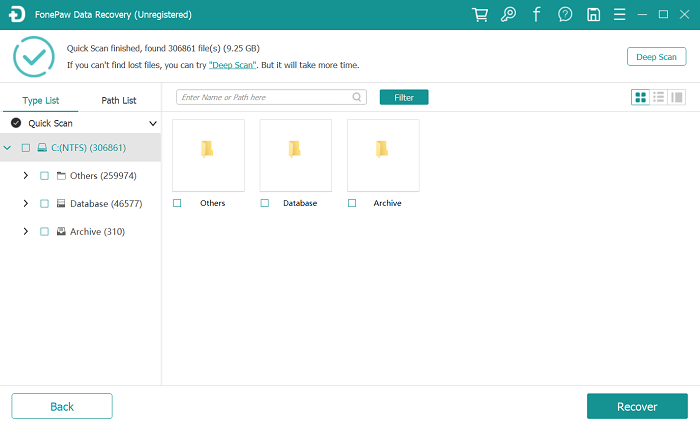 STEP 3. When you have select the photos to recover, hit the "Recover" icon and FonePaw Data Recovery will complete the photo recovery for you within a short period right away.

Note:
Remember to choose another drive to export the deleted Android photos on your SD card, otherwise it's possible that the deleted data is overwritten during recovery and lead to failure.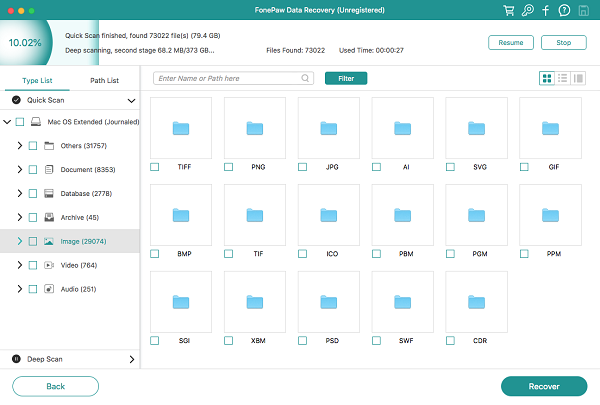 How to Recover Lost Photos from SD Card on Android Phone [No Card Reader]
Don't have a card reader? You are also available to turn to FonePaw Android Data Recovery to help! This software is able to connect with your Android device and directly process the photo recovery on it conveniently.
Like FonePaw Data Recovery, FonePaw Android Data Recovery has high compatibility to support recovering data of over 100 formats from all mainstream Android models powerfully. The software enables users to select more than 1,000 items to process the recovery at once. Hence, if you get a batch of photos desiring to recover from SD card on Android, the software will boost efficiency and process it for you at quick speed.
Free Download Buy with 20% off Free Download Buy with 20% off
Highlighted Features of FonePaw Android Data Recovery:
Popular Android models such as Samsung, Sony, LG, HTC, Motorola, HUAWEI, etc. supported;
Compatible with data recovery of more than 100 format types;
Available to extract data for retrieving again under various life scenarios;
Flexible modes to recover data from internal memory, SD card, and SIM card to boost higher success rate;
Both quick and deep scan patterns are available to select.
Likewise, you will go through the details on recovering photos from Android SD card via FonePaw Android Data Recovery on Windows or Mac desktop. Check how it works to help now:
STEP 1. Use the USB cable to connect your Android phone to the computer. Then, launch FonePaw Android Data Recovery and authorize the software to read the data on your phone by enabling USB debugging.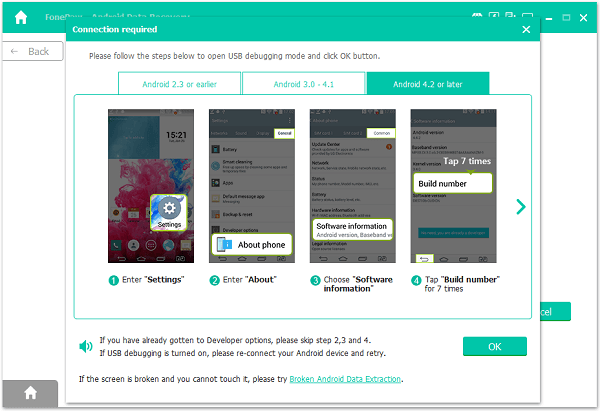 STEP 2. When FonePaw Android Data Recovery detects your Android phone, select "Gallery" and "Picture Library" and hit the "Next" icon to scan the device to recover photos.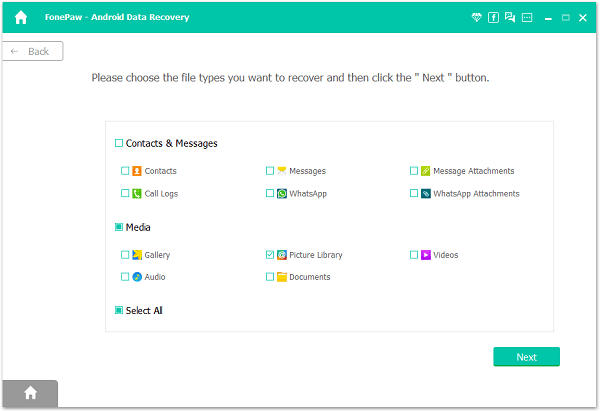 STEP 3. Before scanning, the software will check if your Android phone is rooted. If yes, you can grant the privilege to FonePaw to use Deep Scan on your device, which will find out more deleted files than the normal Standard Scan.
In order to scan the deleted data on your Android, you will also be prompted to install a FonePaw app on your phone and authorize it to scan the data. This app will be removed automatically after you finish recovery and unplug your phone.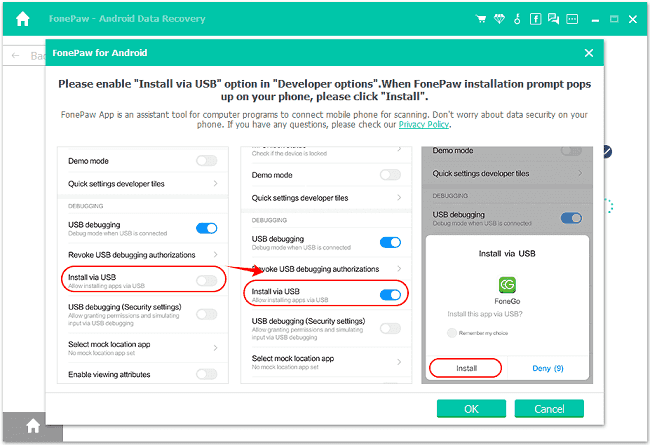 STEP 4. Once FonePaw Android Data Recovery completes the scanning and offers the detected photos on Android SD card, select the items and give a go on the "Recover" icon to recover photos from Android SD card immediately.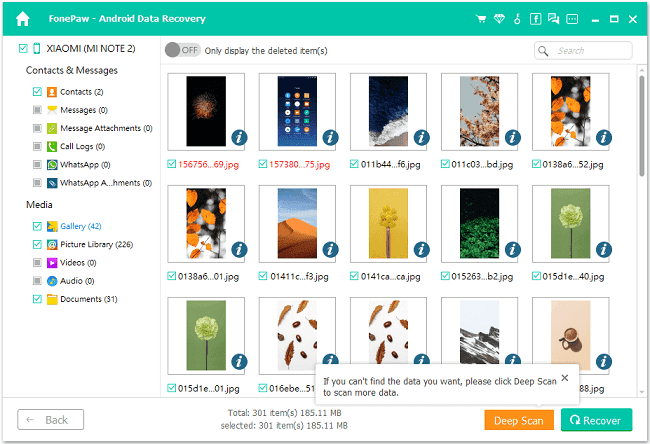 Useful Tips for Using Android SD Card
Finally, let's also grasp some small tips on using Android SD card to prevent another photo loss accident from happening again in the future.
How to Save Photos to SD Card on Android Phone
To save photos to Android SD card in order to free up space on your Android device, you are able to follow the steps below to process it:
STEP 1. Insert the SD card to the port of your Android device, and then open the Camera app on the phone.
STEP 2. Once the SD card is inserted, you would get a notification notifying you that the default storage location is now changed to the SD card. Submit "OK" to approve the change.
NOTE: If you fail to see the pop-up notification, you are able to manually set the SD card as the default storage location by navigating to Camera app > "Settings" > "Storage Location" > "Memory Card".
STEP 3. Now, transfer the photos from your Android memory to the SD card based on your requirements.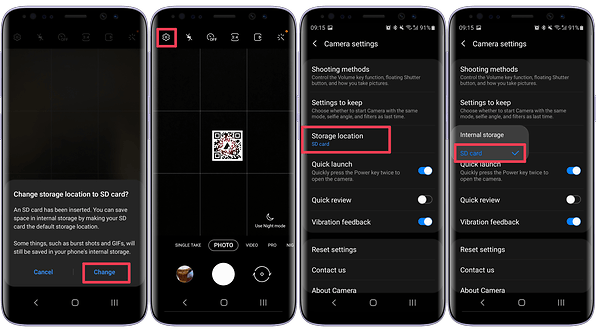 How to Avoid Losing Photos on Android SD Card Again
To prevent losing photos from Android SD card again, you are probably able to use some of these methods:
Try not to install some unknown apps on Android phones to cause SD card damage or corruption;
Back up your photos regularly using some backup services such as Google Drive, OneDrive, and other cloud services;
Do not eject the SD card while you are processing the data transfer;
Exit the camera app before you are going to remove the SD card;
Double-check before processing the data deletion on Android phone.
Fortunately, with FonePaw Data Recovery and FonePaw Android Data Recovery now, we are able to easily recover photos from SD cards on Android within only very simple clicks when we lose the important photos by accident. They are both able to process the photo recovery with a high success rate and great efficiency. Are you also feel panic and desire to find a reliable way to recover photos from an Android SD card? Don't miss this two brilliant software and try them now!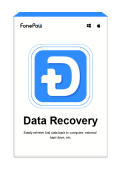 Data Recovery
Recover deleted data from PC/Mac, USB, and other removable drives!