Before using FonePaw Android Data Recovery to recover your lost data, you probably have concerns about the safety of your Android phone and its data. Is this Android Data Recovery tool safe to use? Is the software legit? Will it change data on my phone or even worse, will it secretly steal my data or give my phone virus?
Passing the security tests of website security checkers such as McAfee SiteAdvisor, Norton Safe Web, FonePaw and its software has been proved trustworthy by many users.

If you still have doubts, please read this post and learn how FonePaw Android Data Recovery works on your phone and how the software protects your data and device security during the data recovery process.
# How Do Android Data Recovery Access Your Phone Data?
To recover your deleted data, Android Data Recovery needs to access your phone data. Here is how it access your phone.
Step 1. Connect to Your Phone
The program will communicate with your phone via USB connection. That's why you need to plug the phone into a computer with a USB cable and enable USB debugging on the phone.
Step 2. Grant Access Permission
After connecting with your phone, the software is still unable to access your phone data until you give it the access permission. A request from the software will pop up on your phone asking for permission to access the phone and you should tap Allow. That's when the software is able to access your phone data.
Step 3. Scan Data Storage Space
Once it is allowed to access your phone data, the software will scan the data storage space on your phone. It can scan out both your existing phone data and the delete data that have been overwritten yet. That's how it can present you the existing and deleted data on your phone.
# Is the Data Recovery Process Safe to My Phone & Data?
The data recovery process mentioned above does no harm to your device or your data since FonePaw Android Data Recovery is working according to its Safety Database which includes a series of elaborate analytic algorithms and rules to instruct the software on data scanning. By referring to the Safety Database, the software can perform data scanning and recovery effectively while doing no change to any phone system or the data on the system.
With four-year expertise in data recovery of Android devices, our developing team keeps updating the Safety Database based on various compatibility tests and users feedback. Through continuous and constant upgrade, the software has been improved in compatibility and security to make sure that it is absolutely safe to your device.
Device compatibility: our testing team has conducted compatibility tests on most Android phones in the market, including Android phones of different brands, models, and devices on different Android versions.
Regular updates: Android Data Recovery has been receiving regular updates to fix bugs reported by users and keep compatible with newest smartphone software and hardware, such as the latest Android version, WhatsApp version.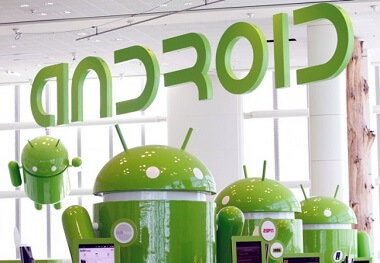 As for data and privacy protection, every user registers the software via a registration code (a unique ID to only a single computer) so that all your phone data will be stored on your computer only. No one can access your data from somewhere else. And as it is mentioned above, the software has no access to your phone until you have given the permission. So the software's access to your phone data is totally under your control.

(opens new window)
# What Can Android Data Recovery Do?
FonePaw Android Data Recovery contains three tools for data recovery and management on Android devices under different circumstances.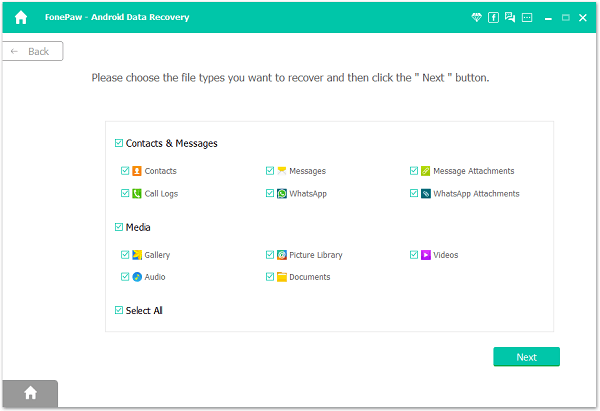 Broken Android Data Extraction

(opens new window)

: recover data from broken Android devices, such as Android devices with a broken screen, black screen, frozen or bricked Android phone. It can also fix Android system problems, such as bricked Android phone.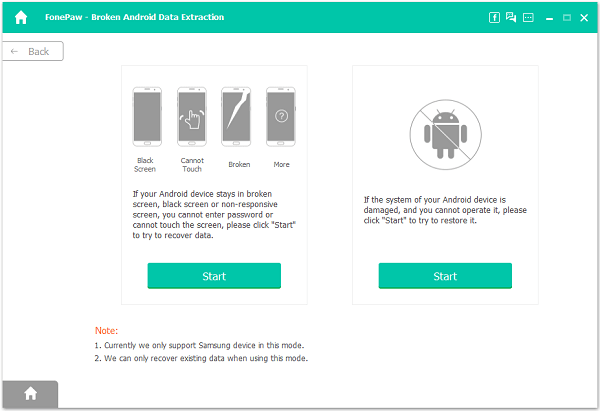 Android Data Backup & Restore: back up Android photos, contacts, media files, call logs, messages to PC and selectively restore data from the backups. It also offers encrypted backup to protect your data.
Note: If you have tried to find out **cracked download or the keygen of FonePaw Android Data Recovery**, it may be **not safe** since it is not official and we will not provide after-sale technical service. Thus, please get the secure version from the official website.