FonePaw is a legit software development team focusing on data recovery and management of mobile devices. Our flagship product, iPhone Data Recovery has won numerous users around the world with its excellence in recovering lost/deleted data from iOS devices.
We are making every effort help more iPhone/iPad users to get back their important data while a fewer users hold back, worrying that their devices may get virus from the data recovery tool. Therefore, we would like to make an official statement here that FonePaw iPhone Data Recovery is 100% safe and virus free, so long as you have downloaded the software from its official website: https://www.fonepaw.com/iphone-data-recovery/. (opens new window)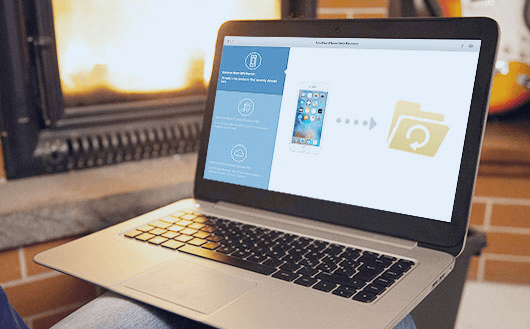 # Is FonePaw iPhone Data Recovery Malware?
FonePaw.com has been identified by as safe to visit by many reliable website security checkers, such as McAfee SiteAdvisor, Norton Safe Web. The website and its software have been trusted by many users.

Some users doubt whether iPhone Data Recovery is malware because they get notification from Windows Security when trying to install the software on their computer. In fact, the alert is very common to see when you install a program on your computer for the first time. As long as you have downloaded iPhone Data Recovery from our official website, the program is 100 % safe to your computer. Therefore, when you get the alert, please choose 'install this software anyway' and wait for the installation to complete.
# Tips on Avoiding Malware on Your Computer
To keep your computer from the danger of malware, please follow these two tips:
Please download programs from reliable sources. Always double-check the files or programs that you are downloading, including the credentials of the website.
Keep your Windows/Mac system up-to-date. The latest update is often launched to fix bugs or security holes that have been found.
# How Does iPhone Data Recovery Keep Your Devices Safe?
We take data security of our users seriously and have developed a rigorous data recovery/management process to ensure the safety of both your device and data. The iPhone Data Recovery program contains three functions and each of them is designed with data security taken into consideration.
Feature 1. iPhone Data Recovery
The main function allows you to recover lost data from your iPhone/iPad, iTunes backups, and iCloud backups.
Recover data from iOS device: after connecting iPhone/iPad to computer via lightning cable, the program needs your permission before it is able to scan data storage space on your device so that everything is under your control.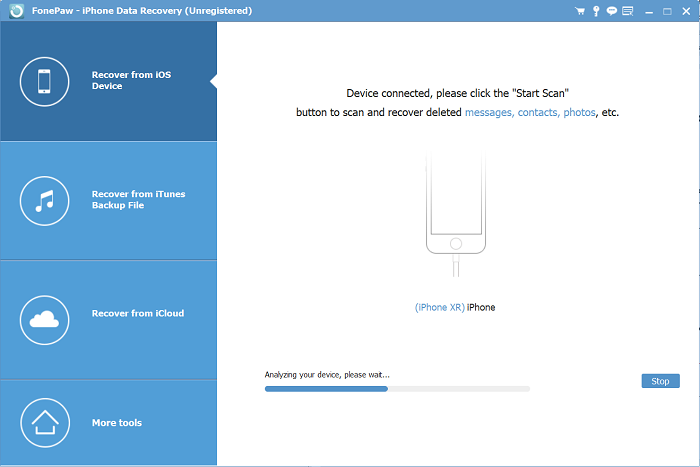 Recover data from iTunes backup: the program can also extract data from your iTunes backups. But all your data in the backups will be stored on your computer only and no one can access the data from elsewhere. If your notes or iTunes backup is encrypted on iOS device, you'll be asked to enter password to access the data but the program won't remember your password.
Recover data from iCloud backup: the program can also download iCloud backups from your iCloud account so that you can view and extract data from the backups. You'll be asked to enter your Apple ID and password but again, the program won't remember the account and all your downloaded iCloud backups are stored on your PC only.
Feature 2. iOS System Recovery
The program can also fix the system problems on your iOS devices with its iOS System Recovery feature. It can get iPhone/iPad/iPod Touch out of recovery mode, DFU mode, boot loop, Apple logo, frozen screen, black/blue screen and more. It fixes your devices with two modes:
Standard mode - fixing your device using recovery mode without any data loss.
Advanced mode - tackling more tricky problems by fixing the device with DFU mode.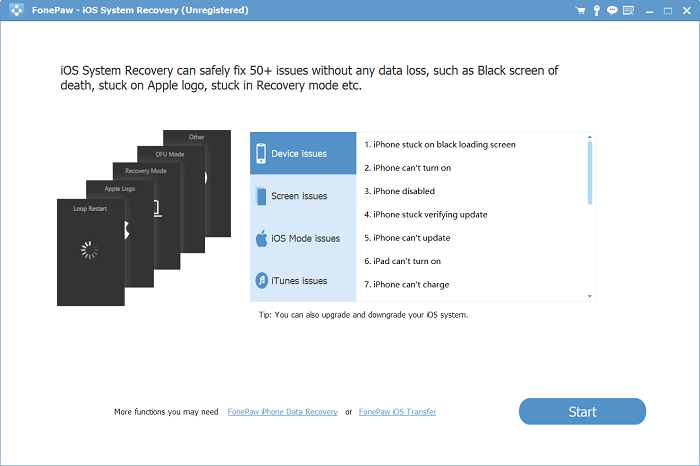 Feature 3. iOS Data Backup and Restore
The program can also help you to backup iPhone/iPad to PC and selectively restore the backup data to PC or iOS device. To protect your data, the program offers encrypted backup, which allows you to encrypt your iPhone/iPad backups so that no one can access the data without password.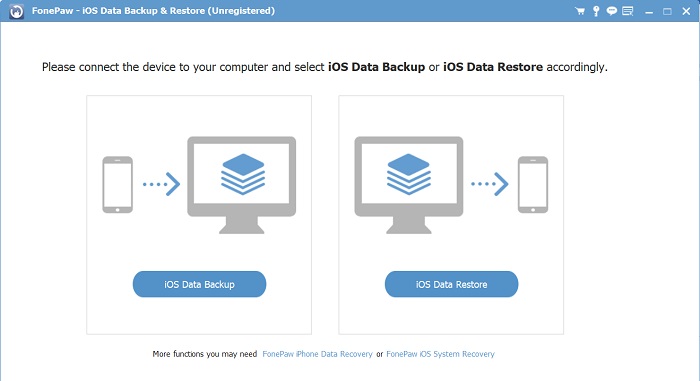 To learn more and download FonePaw iPhone Data Recovery, please visit FonePaw.com (opens new window).