Storage devices such as USB flash drive, memory card, external hard drive, and computers need to be formatted with a proper file system so that the operating system can read and write data on it.
However, no matter what storage devices and file systems you are using, losing data is inevitable if you formatted or deleted files on the hard drive by accident.
In this post, we will introduce the exFAT file system as well as a professional exFAT data recovery program to you.
Introduction of exFAT Data Recovery
exFAT (Extensible File Allocation Table) is a kind of file system that used for optimizing flash memory such as USB flash drives and SD cards. It can be used on several operating systems such as Windows OS and Mac OS. Comparing with NTFS and FAT32, it is more flexible. But no matter what kind of file systems, it's inevitable to lose data if you've formatted exFAT files by accident.
Many users ask "What should I do if I formatted exFAT files on my SD card? Is there any way to get my data back?" or "Can I fix my WD external hard drive? It's not working".
Don't worry, the answer is: yes, there is a method to recover exFAT hard disk.
Just read on to see how to do it.
exFAT Data Recovery Software
FonePaw Data Recovery is the data recovery software that helps you easily detect and recover lost files from different situations, including hard drive, external hard drive, USB, SD card of the exFAT file system. And most importantly, it's easy to use.
Even computer novices can get the data back within several steps. If you want to skip those complicated instructions online and save your time and efforts, just download and try it for free.
Free Download Buy with 20% off Free Download Buy with 20% off
Recover Files from the exFAT drive
Recover items from the exFAT drive are not as complicated as you think especially with the help of FonePaw Data Recovery, user-friendly software with concise interface.
Follow the tutorials below:
Step 1. Scan the exFAT drive
After you installed and launched FonePaw Data Recovery, check the file types and hard disk drive. To recover formatted files from exFAT external hard drive, connect your external hard disk to the computer first.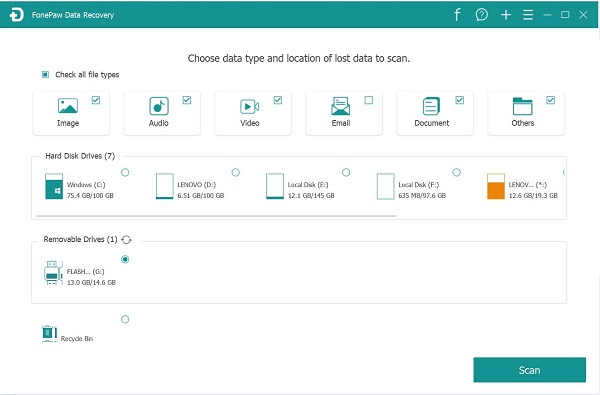 Step 2. Quick scan and deep scan
Select the exFAT external hard disk and click "Scan". You can view the files from "Type List" or "Path List" and preview the picture to see if it is the one you need (other types of files cannot be previewed). If you cannot find the items you need, try the deep scan but it will take more time.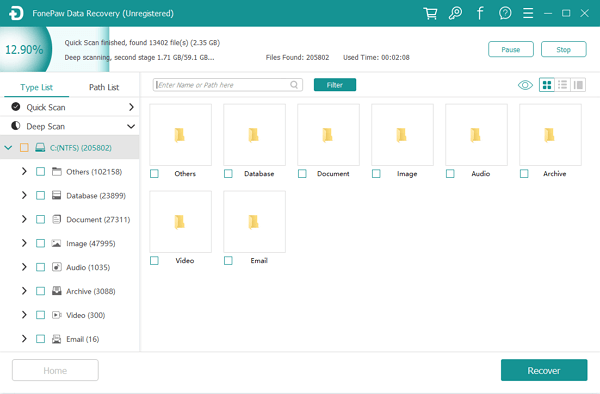 Step 3. Recover files from exFAT external hard disk
Choose the files you want and click Recover. Browse for the folder to save the files. DO NOT save the recovered files to the exFAT external hard disk.
Then click "OK" and the files will be recovered within minutes.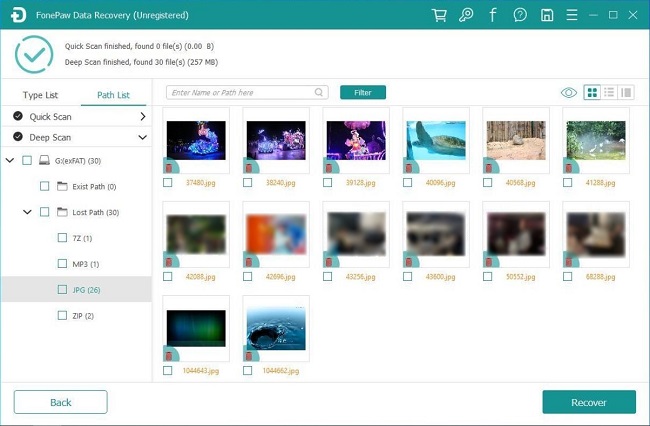 That's it. Isn't it easy to retrieve your exFAT files?
In conclusion, losing data can happen to everyone regardless of the file systems and storage device you use. Expect for accidentally formatting or deleting data, system error, virus attack or drive corruption can also be the cause of losing data on the exFAT drive.
But as long as you didn't store new files to your exFAT hard drive, it is possible to get your data back on PC by using professional software like FonePaw Data Recovery.