It's true that more and more people listen to music using on-demand music stream services. However, internet radio stations still get a considerate number of audiences. There are lots of great internet radio stations, such as XRAY.FM, NTS, DUBLAB, BBC Radio 6, KUTX 98.9, WFMU Radio Music, WQXR. You can also listen to online radio stream via software media players such as iTunes, Windows Media Player, Apple Music, Spotify.
While you are enjoying radio streams, have you ever wondered how to record Internet radio so that you can listen later at your leisure or share it with others? Many Internet radio players allow you to listen to different stations but are unable to download or record radio stream. So here we will introduce you an Internet radio recorder - FonePaw Screen Recorder (opens new window), which records online radios from any stations (XRAY.FM, NTS, DUBLAB, KUTX, WFMU, WQXR, etc.) with lossless quality. The recorder features scheduled recording, that is to record radio automatically by presetting the recording length.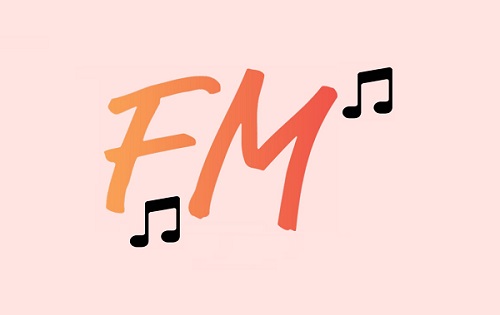 Record Internet Radio
Step 1 Download FonePaw Screen Recorder
FonePaw Screen Recorder is now free to download. Get this desktop radio recorder on Windows PC or Mac.
Free Download Buy with 20% off Free Download Buy with 20% off
Step 2 Run FonePaw Audio Recorder
There are three tools in the homepage: Audio Recorder, Video Recorder, Snapshot. To record internet radio, click Audio Recorder.

Step 3 Configure Radio Recording Settings.
You can control the audio volume by dragging the slider to the left or right. Click Output Settings and go to Audio sections, where you can choose to record Internet radio as MP3, M4A, AAC, WMA and decide the quality of the streaming radio recording.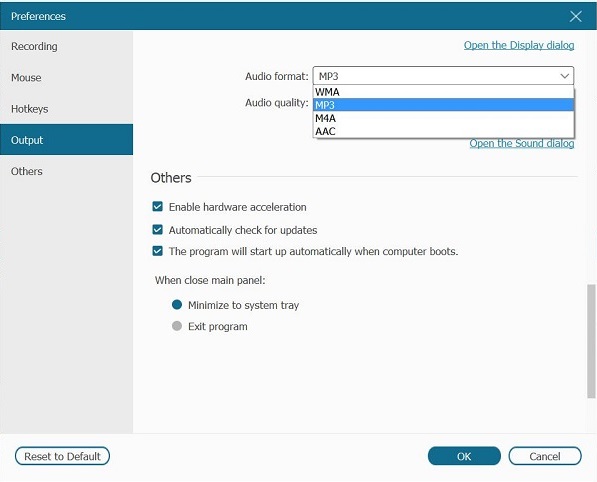 Step 4 Record Radio Stream
Open and run the radio you want to record. If you are ready, click REC button to start recording. After that, a window will appear, allowing you to pause or stop the recording, or adjust the volume. If you hope to end the radio recording automatically, click the clock icon and enter the expected duration of the radio stream. When the time is up, the recorder will stop and save the recording automatically.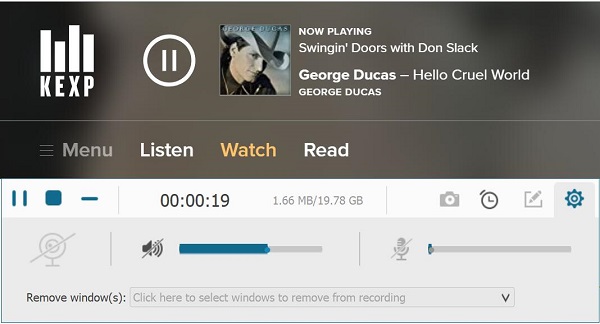 Step 5 Save the Recorded Radio Stream
When the recording ends, you can listen to the recorded radio stream and save the recorded radio in MP3, AAC or others.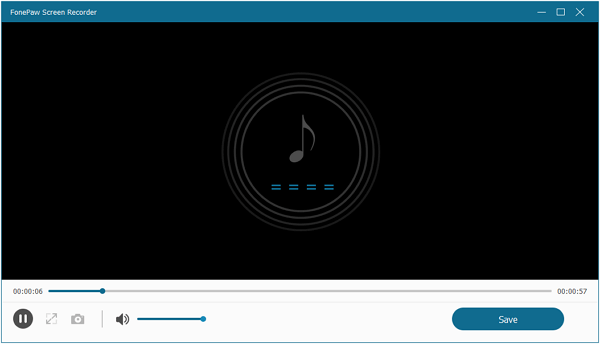 Scheduled Record Online Radio
FonePaw Audio Recorder (opens new window) supports schedule recording which can start and stop a recording automatically so that you don't have to be around the computer all the time during the Internet Radio recording. Suppose that you have known the show schedule of a station, while you don't have time for the show when it is streaming, you can use FonePaw Audio Recorder to schedule a recording for the radio show. To preset a radio recording, follow the steps below.
Step 1 Run FonePaw recorder. Click Audio Recorder.
Step 2 Select Task Schedule. Click Add new task.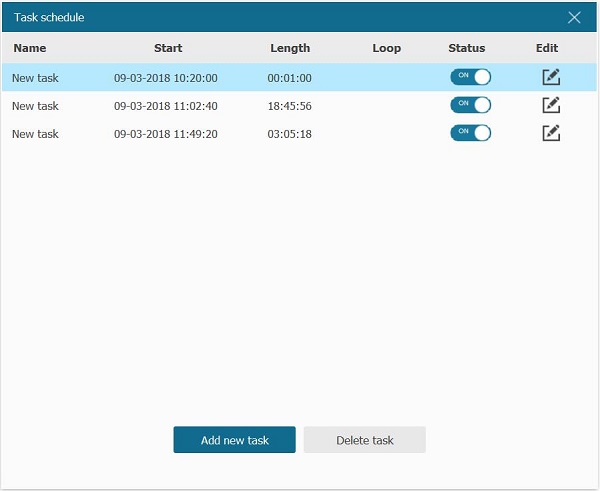 Step 3 You can enter a name for the task, for example, you can name it with the name of the radio show. Then according to the show schedule, enter the starting time of the recording and the time when you want the recording to end. After that, click OK.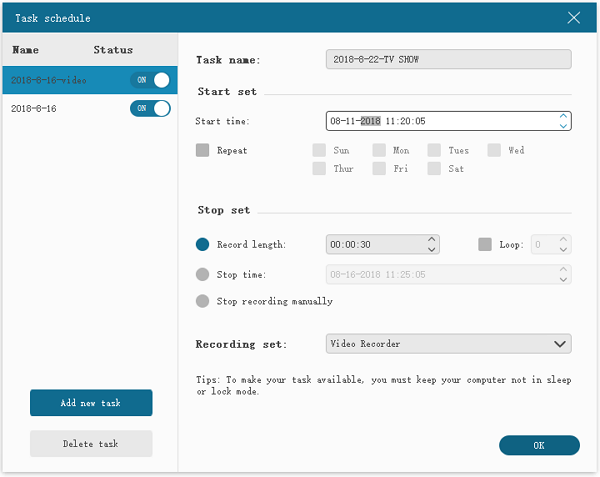 Step 4 A recording task is added for the Internet radio show you like. Make sure you keep the computer and FonePaw recorder running for the recording to activate when the it is due. Also, let the radio station you want to record play beforehand.
Thank you for reading. If you have any question about recording Internet radio, leave your question below.