With the increasingly higher popularity, TikTok, merged with Musical.ly, has become one of the most trending short video sharing platforms around the world. There are hundreds of thousands of hilarious or meaningful videos on this app, and sometimes you feel like sharing them with your families or friends. It's easy to share with those who have got TikTok on their smartphone but when it comes to those who haven't, you need to figure out how to download videos on TikTok/Musical. ly.
However, you'll find that some TikTok videos are prevented from downloading and you can't save them to your phone directly, or maybe you are using your browser watching TikTok videos on your PC. How do you save a TikTok video like that, then?
FYI: TikTok will not send notifications to video creators if you download their videos.
Download TikTok (Musical.ly) Videos on PC & Mac (Also Applicable for Blocked Videos)
There are two quick ways to download TikTok videos on PC as well as on Mac – using software like FonePaw Screen Recorder (opens new window) and online tools. They both can get the videos downloaded on your laptop no matter if the owners have got them blocked from saving.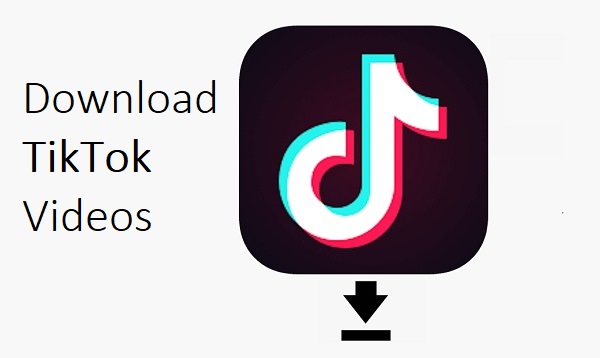 How to Save TikTok Videos with Software (Stable and Multi-Functional)
With FonePaw Screen Recorder, not only can you download the full video save videos with high quality up to 60fps from TikTok, but also you can choose to record just a clip of it. What's more, this professional software also allows you to download TikTok videos that can't be saved or save them as GIF files. The following guidelines will show you how to achieve them.
Step 1. Get the Screen Recorder and the Video Ready
Download, install and launch FonePaw Screen Recorder on the computer. Then open the video you want to save on the TikTok webpage.
Free Download Buy with 20% off Free Download Buy with 20% off

Step 2. Select the Recording Region and Sound
Click Video Recorder > Custom > Select region/window to drag the area of the TikTok video.
Then turn on the switch of the System Sound unless you don't want to save the video with any sounds.

Tips:
1. If you need a video, this recorder will save it as default format MP4. If you want to save the TikTok video as a GIF, change the output format by clicking the button next to the gear icon.
2. Also, FonePaw Screen Recorder allows you to record the video with your voice or annotation at the same time, through which you will get a TikTok video with your comments. In this way, when the person with who you are sharing this video is watching it, he/she will feel you around.

Step 3. Start Recording and Trim Before Saving
Tap REC on the right to get the recording started. Then play the video on Tik Tok.
After the video you want is recorded, hit the Stop icon on the floating bar or the shortcut Ctrl+Alt+R if you haven't changed it.
Lastly, trim the recorded Tik Tok video with the clip you want and save it onto your computer.
How to Download Musical. ly Videos Online (Easy and Quick)
Of course, you may just want to download a Musical. ly video in the easiest way with no extra actions on PC. Then SnapTik is recommended to you. This online downloader can help you download Musical. ly videos without watermark in a full version on your computer with the video links.
Step 1. Open the online Musical. ly video downloader.
Step 2. Click the share button on the bottom right of the video you want to save and copy the link of it.
Step 3. Paste the link into the input box and hit Download.
Step 4. After the analysis is done, Click Download to save the Musical. ly video onto your computer.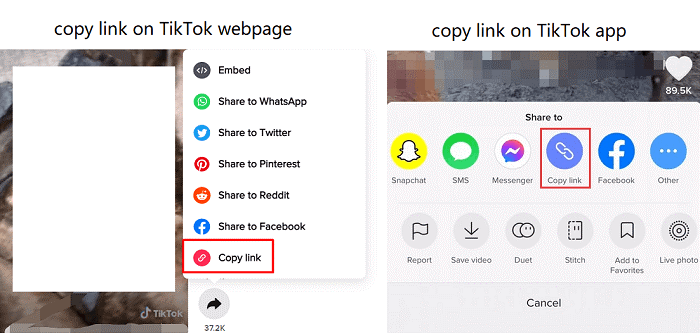 Tip:
The links that you copy from Android, iPhone and laptop are different, and some online Musical. Ly/Tik Tok downloaders are not able to analyze the video link from iPhone or webpage. In this case, FonePaw Screen Recorder is a good alternative.
Download TikTok (Musical. ly) Videos on Smartphone (Android/iPhone)
Having learned how to save Musical. ly videos on a computer, you may ask, "Can you save TikTok private videos to camera roll" or "Do you know how to save a draft on TikTok app". And my answer is yes. There's a built-in button for both Android and iOS phones, with which you can save others' videos with saving permission, your public, private or draft videos to your phone directly.
How to Download Videos on TikTok App
Launch TikTok on your iPhone or Android phone, try the following steps and you will be able to download TikTok videos that have been granted permission to save by the owner.
Step 1. Open the video that you wish to download and click the share button which looks like an arrow above the CD icon at the bottom right corner.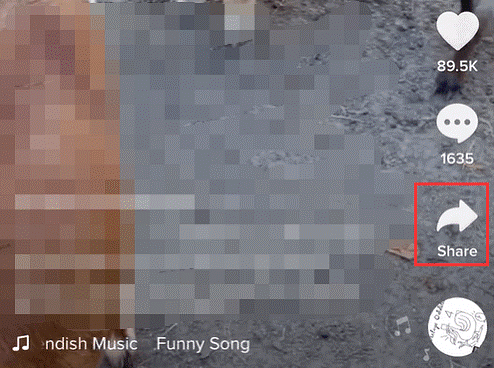 Step 2. Click Save video to download the video you picked.
The interface of Android differs from iPhone but you can still find the download button if the video is allowed downloading. After the saving finishes, you can find it in your phone Gallery/Camera Roll.
On a video page, you find that there's no button named Save video on iPhone or the text on the download icon is grey and nothing happens after your click on Android, it means that the Tiktoker doesn't want the viewers to download the video. In this case, you will need third-party software like FonePaw Screen Recorder or an online downloader to get the TikTok video downloaded.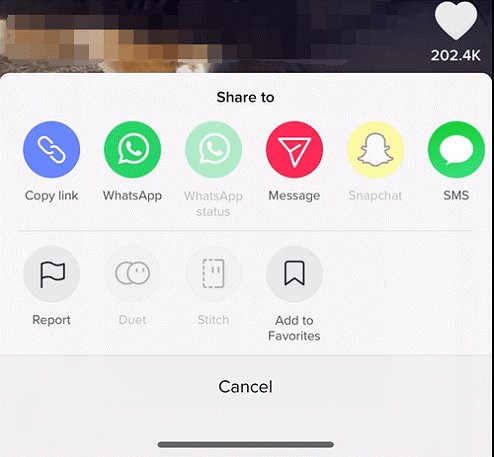 How to Save a Draft on TikTok to Your Phone
If you have recorded a video and saved it as a draft on TikTok, but now you want to post this video onto Facebook without posting it to TikTok first, we will walk you through the steps:
Step 1. Launch TikTok and head to your Profile. Tap Drafts and find the draft you want to save to your phone.
Step 2. Open the video and hit Who can watch this video. Then choose Only me, turn on the switch of Save to device and Post.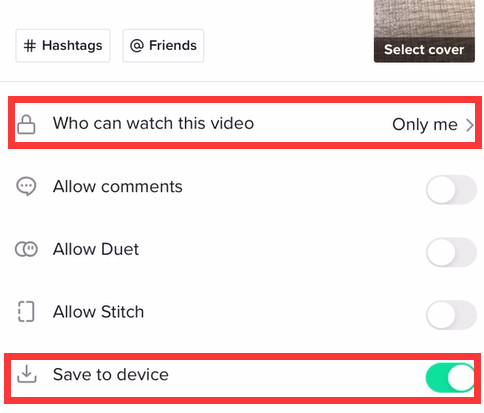 Now you can see your draft video on your phone gallery. And the one you posted on TikTok is a private one. If you deleted the one on your phone accidentally, you can still download the private video from TikTok via Profile > the lock icon > enter the video page > click share button > Save to device.
Verdict
You can download Tik Tok (Musical. ly) videos easily in several ways. Obviously, the most convenient one is to use the built-in save button on Tik Tok. But when it comes to some videos that are not allowed to be downloaded, you'll need to do that on your computer. Recording the video with FonePaw Screen Recorder allows you to save the video with high quality and even trim the video or even transfer the video to a GIF. In terms of speed, an online TikTok downloader is the best choice.
Free Download Buy with 20% off Free Download Buy with 20% off