We live in a highly digital era when visual communication is getting popular and ubiquitous. A good screen capture recorder will enable you to communicate clearly with images and videos. As the oldest screen capture software, Snagit boasts powerful functionality. But after being released three decades, it is hard for it to satisfy diverse needs of users. Therefore, this article will have a review of Snagit and introduce a best alternative.
Snagit: Pros & Cons
Pros:
1. Special Screen Capture Functions
Snagit can not only capture the desktop or a certain region, but also the scrolling screen. With a single hotkey or a click, you can grab vertical or horizontal webpages or long chat messages. Snagit also allows extracting the text from a screenshot so that users can copy information directly without retyping it.
2. Useful Screen Recording
Users can record screen video along with audio from system sound or microphone. Toggling between webcam and screen recording is also supported. While recording, users can choose to restart the process if necessary. After recording, users are allowed to trim the video clips, removing unwanted sections.
3.Powerful Image Editing
Snagit has advanced image editing tools which enable users to personalize the captured images without the help of a designer or a standalone tool. "Smart move"can automatically make objects in your screenshot movable, so that you can rearrange or delete unwanted parts. Use "magic wand tool" then you can quickly remove a background or replace the color in objects.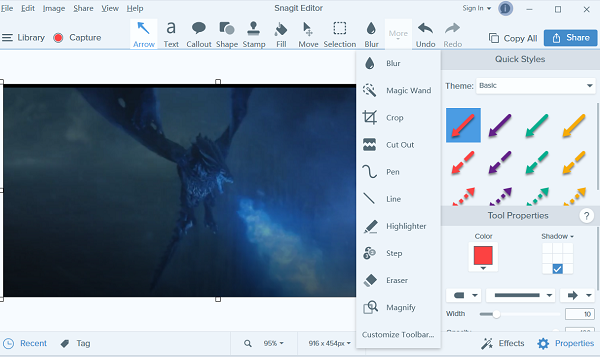 4.Quick Saving and Easy Sharing
All your screen captures or videos are automatically saved to the established library so that you can find your past files quickly and keep things sorted. You can also upload videos or images to various destinations or get a short URL to share it with anyone.
Cons:
1. Tedious Download Process
It is time-consuming to download the product, and users have to sign in with their email accounts even for a trial version. Some users also find some of the automated help popups to be annoying.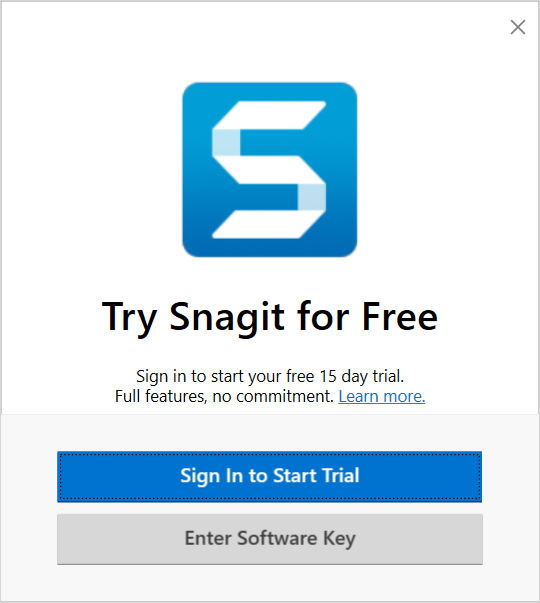 2.No Real-time Editing either for Images or Videos
Snagit provides no real-time editing for users, which is quite inconveniently when users need to explain a process or trains others by annotating or highlighting important parts.
3.Recording Webcam Video is Not Supported
Though Snagit has strong screen capture functions, its video recording capacities lag far behind other software. Snagit users cannot use webcam alone to record a webcam video. Besides, its webcam doesn't work out very well. Users complain that the recording process comes to a stop from time to time because of the glitchy webcam system.
4.Recording Audio Alone is Not Supported
For users who sometimes need to record audio alone, Snagit is not a good choice, for it doesn't provide audio recording function. Users thus have to download another tool to record audio, which is troublesome.
5.Limited Screen Capture Modes
Snagit provides limited screen capture modes for users to choose. They can either choose to record a certain window or region. While recording, users are unable to do other work on computer.
6.Limited Saving Formats
Recorded videos can only be saved in MP4 or GIF, which fails to meet different needs of users.
7.High Price
Starting at $49.95, Snagit is quite a pricey purchase. To get updates for a new version, users are even required to pay another $12.49. This is not cost-effective for common users.
Best Alternative to TechSmith Snagit: FonePaw Screen Recorder
If you want to annotate your capturing screen while recording; if you care more about video recording functions rather than image captures; if you need to record webcam video or record audio alone; if you dream of a product which allows you to work on computer while recording a window at the same time, then FonePaw Screen Recorder (opens new window) is by no means the best alternative to TechSmith Snagit!
Free Download Buy with 20% off Free Download Buy with 20% off
Without sign-in requirement, FonePaw allows users to download the product quickly and experience the free version as long as you like.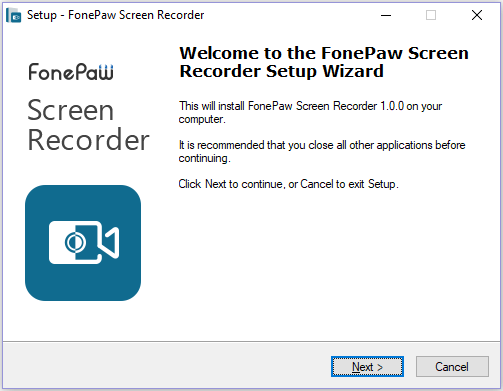 FonePaw Screen Recorder also provides strong editing tools for you to annotate your captured screen on the fly. Click the pen-like "Edit"button from the toolbar when recording, then you can add lines, text, arrows, rectangle, ellipse, numbers, etc. to your captured screen. Font size and color can be chosen; eraser and the undo button can be used to correct your editing at any time.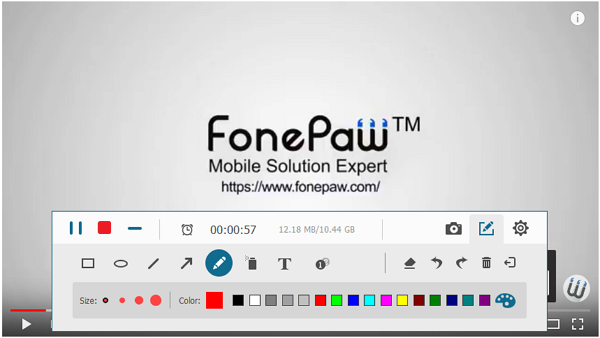 With FonePaw Screen Recorder, users can not only record screen video with webcam, but can also record webcam video alone. This function is quite useful especially when you want to record a personal performance for sharing. FonePaw Screen Recorder can promise you a high-quality video output. If you would like to take a snapshot when encounter something important during the recording process , just click the snapshot icon then a photo will be taken and saved immediately.
To schedule a recording, you can click the timer and choose when for the recording to end automatically. You are also allowed to adjust the system sound and microphone volume at any time with a single click at the setting button.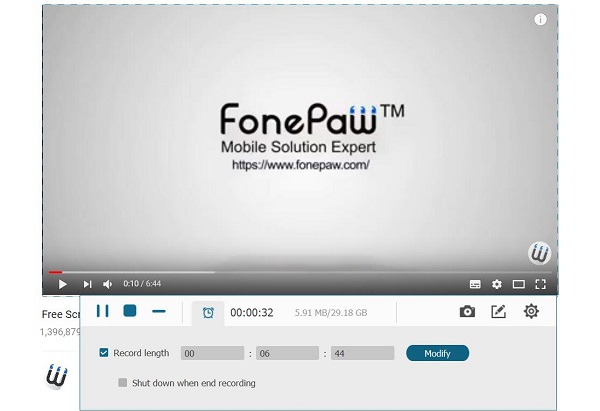 Recording audio alone with FonePaw Screen Recorder is also feasible. This can save you trouble of downloading another tool for audio recording.

FonePaw provides you various screen capture modes to choose. You can set the full screen recording mode, or custom a recording area; you can also choose a fixed size for recording. One special feature of FonePaw Screen Recorder is that it allows recording a certain application window without capturing the actions of other applications even when the application is opened over the recording window. If you want to record a Skype conversation while working on the computer, for example, just set the "lock window"capturing mode and select to record the Skype window, then you can busy yourself with other operations while recording.

After recording, users can output the recorded video in their needed formats such as MP4, MOV, AVI, WMV, F4V, TS, GIF, and captured snapshots in formats like PNG, JPG, BMP, GIF, TIFF. There are also various destinations like YouTube YouTube, Facebook, Twitter, etc. for users to upload their work and share with others.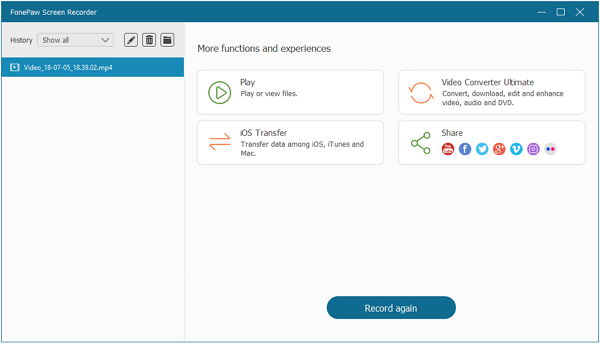 It is worth noting that the price of FonePaw Screen Recorder (opens new window) is quite reasonable and much cheaper than Snagit, too. So why not download one to have a try? A free version is now available.
Free Download Buy with 20% off Free Download Buy with 20% off