After you have set up Family Sharing with your families, you can now share things with your loved ones. With Family Sharing, you can share:
Purchases from iTunes Store, App Store, iBooks Store;
Apple Music Family membership;
Calendars and reminders;
iCloud photos;
Locations.
See how to share things with Family Sharing.
You May Like: How to Set Up Family Sharing? (opens new window)
Share Purchased Apps, Music, Videos, Books with Family Sharing
After you have set up Family Sharing, all purchased apps, music, videos, books of your family members will appear on Purchased section in your App Store/iTunes Store/iBook. To access the resources on iPhone/iPad/iPod Touch:
Open App Store/iBooks/ iTunes Store app on your iOS device;
Tap Purchased;
Under Family Purchases, you'll see the names of all members of Family Sharing;
Select one of the members, and download the items you need from his/her collection.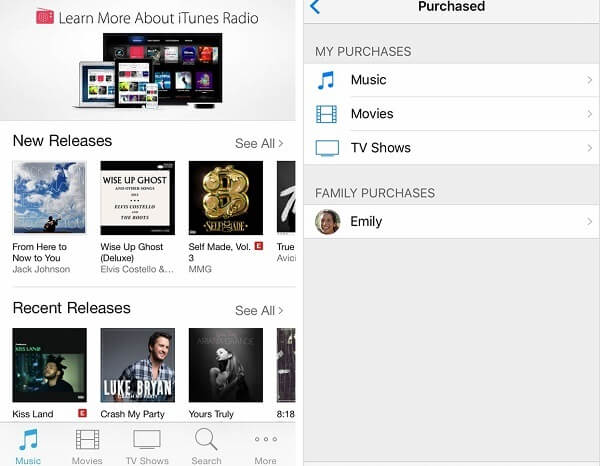 If you don't see any content or can't tap your family member, please check:
If you have signed in the Store with the correct Apple ID that you use for Family Sharing;
If all family members have the same country or region for Apple ID;
If your family members have hidden those items and keep them private;
If the app supports Family Sharing. Some apps are not available for Family Sharing. You can find the information on an app's product page in the App Store.
Share Photos with Family Sharing
You can not only share purchases with Family Sharing, but also create family photos album and sync photos to all members' devices.
(***People Also Read: How to Enable iCloud Photo Sharing on iOS Devices? (opens new window)***)
Enable iCloud Photo Sharing on all members' iOS devices;
Open Photos > Shared > Family album on your device;
Tap + icon to add photo, select the photo and tap Done;
Add description if you need and tap Post;
The photo will be seen in all the members' Photos app.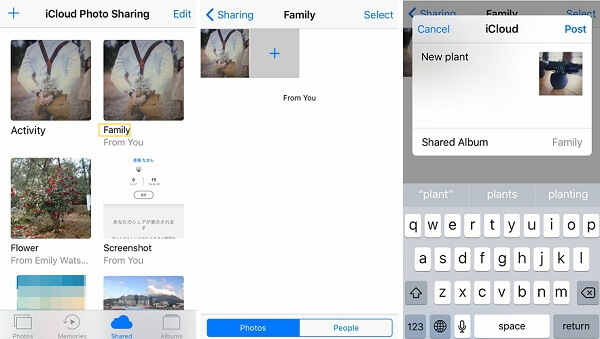 Share Calendars/Reminders with Family Sharing
You can also use Calendar, Reminders apps to share events/reminders with family members to make sure that no important events or items will be forgotten.
To share calendars with Family Sharing:
On your device that have enabled Family Sharing, open Calendar;
Tap on an event or create a new one to share with families;
Tap Calendar > Family.
The event will be on all family members' calendars.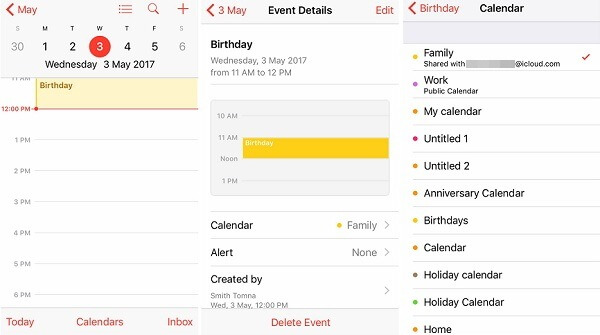 To share reminders with Family Sharing:
Open Reminders on your device;
Choose Family list;
Create a reminder on the list;
The reminder will be updated to the Reminders app of all members.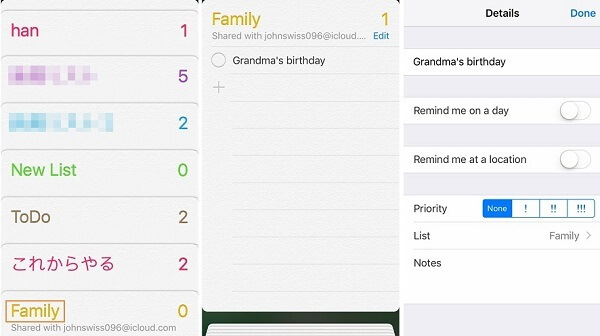 Share Locations with Family Sharing
Family Sharing also enables you to share location with families. This can not only help you to locate where your families currently are but also be useful when your phone is missing. To share location with Family Sharing:
Go to Settings > your Apple ID > iCloud > Share My Location;
Toggle on Share My Location;
Under Family list, choose the members that you want to share location with;
Then the family members can use Find My Friends to locate your device.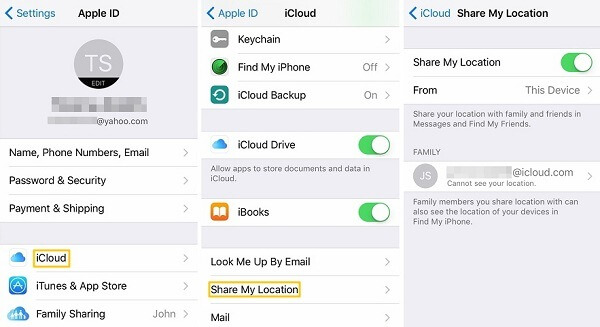 Tip: If unfortunately your device get lost, you can locate your device and put it in lost mode from your family members' devices with Find My iPhone even though you didn't enable "Share My Location". But you should have Find My iPhone enabled on the lost device.
That's pretty much all the things that you can share with family members by Family Sharing. Enjoy!
If you have any question, leave your comment below.