Every iCloud account has 5GB free storage space. When you are running out of the 5GB free space, you'll constantly get alerts such as "Not Enough Storage", "iCloud Storage Full" on your iPhone, iPad or Mac.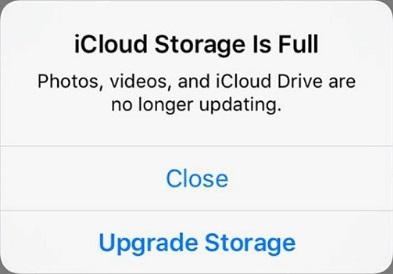 With iCloud storage full, you are unable to back up your iPhone to iCloud, photos, messages, can't be synced across Apple devices, documents can't be saved to iCloud Drive. This post will show you how to manage iCloud storage and free up more space on iCloud so that you can continue to enjoy iCloud for free.
Or if you just wanted to stop getting the iCloud Storage Full alert, this post also gets you covered.
What's in Your iCloud Storage?
Before you can clear your iCloud storage, you should first figure out what's in your iCloud storage. Here is how to check what's taking up space in your iCloud account.
On iOS 10.3 to iOS 13, go to Settings > Your Name > iCloud > iCloud Storage > Manage Storage.
On iOS 10.2 or earlier, go to Settings > iCloud > Storage.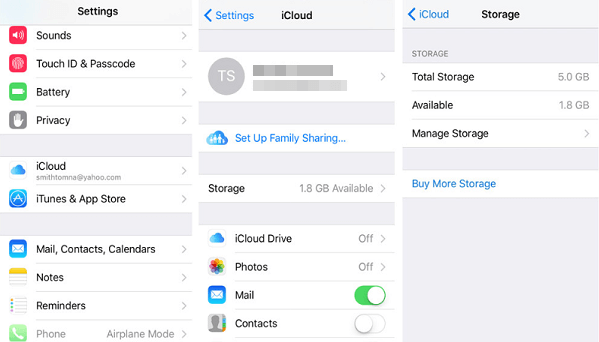 Here you can check how much free space left in iCloud, what's taking up your iCloud space, and how much space each item used. Generally, your iCloud storage is used up by the following services:
To clear iCloud storage, you can just find the apps or services that are using most of your iCloud storage space and delete the iCloud data accordingly.
Manage iCloud Photos
If you have enabled iCloud Photo Library, your iPhone or Mac photos and videos will be uploaded to iCloud and sync across Apple devices that have signed into the same iCloud account. These photos and videos probably have used up most of your iCloud storage, thus deleting these photos and videos is one of the most effective ways to reduce iCloud storage usage.
Here is what you should do.
1. Delete Unneeded Items in Photos App
Open Photos app on your iPhone, iPad or Mac, go through your albums, find those photos or videos you need no more, and delete them. Don't forget to delete them from the Recently Deleted album as well.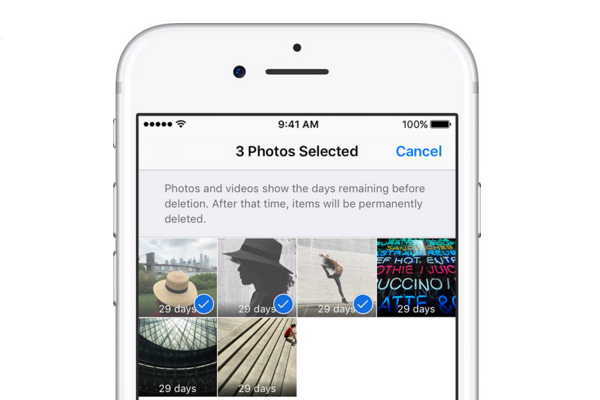 Once the photos and videos are removed from your Photos app, they are deleted from your iCloud, too, which will give you more free storage space in iCloud for backups or other important items.
2. Save iCloud Photos to PC/Mac
Turning off iCloud Photos Library and move the photos to computer or external hard drive for backup help you save tons of iCloud storage as well as iPhone internal storage.
On your iPhone, iPad, go to Settings > Your Name > iCloud > Photos and make sure you have selected Download and Keep Originals to download a copy of your photos and videos at full resolution from iCloud to your device.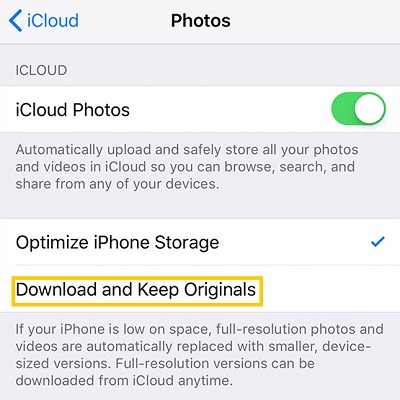 Then tap iCloud > Manage Storage > Photos > Disable and Delete. This will turn off iCloud Photos on all your devices and delete all the photos and videos in your iCloud storage.
After that, Apple should stop sending you the "iCloud Storage Full" alert as you just regain several gigabytes of free iCloud storage. Now you have enough iCloud storage for your backups, mail, messages or other important data.
You probably don't need years of photos on your iPhone taking your iPhone storage. It is a good idea to store your iPhone photos and videos to a computer or external hard drive. DoTrans (opens new window), a desktop iPhone management tool, can help you easily move all photos and videos on your iPhone/iPad to PC or another iPhone/iPad for storing.
Click the Download button to get DoTrans on your PC;

Connect your iPhone to the PC with a USB lightning cable;

Click Photos and tick all photos and videos, then click Export to PC to save them on a folder.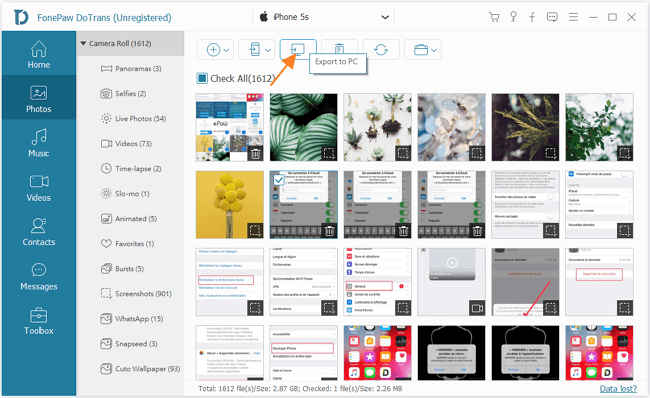 Manage iCloud Backup
If you have iCloud backup enabled all the time, a backup of your device will be automatically created to iCloud once your iPhone is plugged-in, locked and connected to Wi-Fi. A full backup of your iPhone can use lots of your iCloud storage. To clear iCloud storage, you can delete old iCloud backup and reduce the backup size of your iPhone.
On your iPhone, go to Settings > Your Name > iCloud > Manage Storage > Backup and tap Delete Backup > Turn Off & Delete.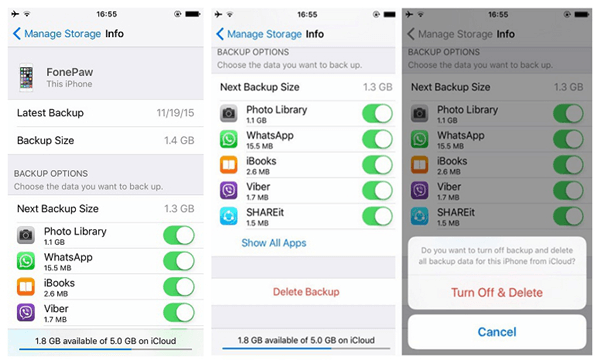 This will remove old backup data of your iPhone from your iCloud storage and turn off iCloud automatic backup. You can manually make an iCloud backup later. Or you can back up your iPhone/iPad to computer (opens new window).
Reduce iCloud backup size
You only want important data in your iCloud backup to save the precious iCloud space. However, many apps automatically add its data to your iCloud backup after you install them. You can exclude data of less important apps from your iCloud backup to make the backup file smaller in size.
Go to Settings > [your name] > iCloud > Manage Storage > Backups. Tap the name of your iPhone. Under Choose Data to Back Up, turn off apps that you don't want to back up and tap Turn Off & Delete.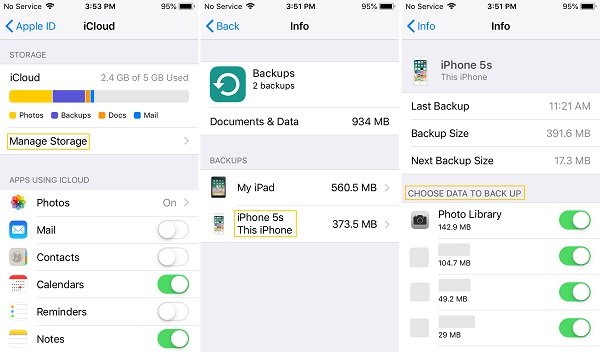 Manage iCloud Drive
If it is iCloud Drive that is using up most of your iCloud storage, to get enough free space in iCloud, you can delete unneeded files from iCloud Drive.
On iPhone/iPad, open the Files app. Tap the Browse tab. Tap iCloud Drive, then select all unneeded files and delete them. Go to Locations > Recently Deleted and permanently delete the files from iCloud storage.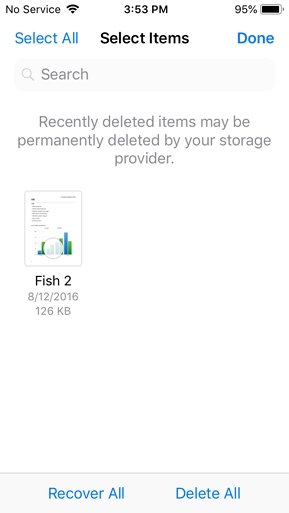 Delete Messages from iCloud
Since iOS 12.4, Apple allows you to use iCloud to sync messages across all your devices. It is convenient but old messages could eat up your iCloud storage if you never delete them.
Open Messages app on your iPhone, iPad or Mac, scroll down and delete conversations that you don't need.
Manage iCloud Mail
If you use iCloud email account, the email messages and attachments can also occupy your iCloud storage. What you need to do is open Mail app on your iPhone/iPad or Mac and clear unnecessary emails.
You can also go to Settings > Your Name > iCloud and turn off Mail under Apps Using iCloud. This can stop Mail from using your iCloud storage for backup.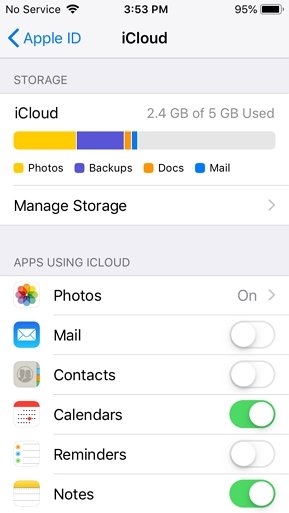 Reduce Apps Using iCloud Storage
Apps such as WhatsApp, Contacts, Notes, Calendars, Reminders, Safari also use iCloud storage space to store data. If your iCloud storage is full, you can stop these apps from using iCloud storage.
On iPhone, iPad, go to Settings > Your Name > iCloud, under Apps using iCloud, toggle off the buttons beside apps that should not use iCloud storage.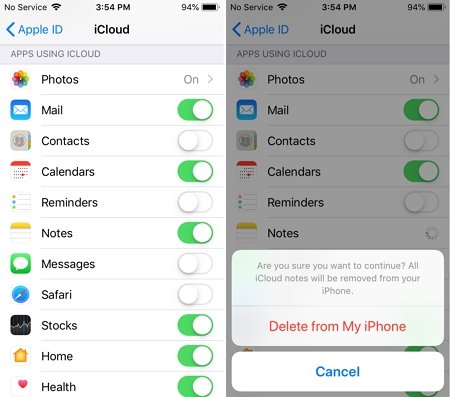 On Mac, Go to Apple menu > System Preferences > iCloud, tap Manage to manage apps that can use iCloud.
You should have enough iCloud space for backups, photos, etc. by now. If you have more question about using iCloud, let us know in the comments.