Apple has offered iCloud service since 2011. But five years later, as iCloud has been improved with dozen of new features, we still have many confusions about the service (remember how we were just aware that Apple has been "secretly" backing up and syncing our iPhone call history to iCloud). The release of iCloud Drive just deepened the confusion. What's the difference between iCloud and iCloud Drive? How does iCloud Drive work? What else do I have to know about iCloud? Here are something you have to know about iCloud and iCloud Drive.
iCloud & iCloud Drive: What Are They & How Are They Different?
iCloud: What is it?
iCloud, as you have been very familiar with it, is a online storage service offered by Apple. You can mainly use iCloud to:
Sync your photos, contacts, notes, reminders, calendar among different iOS devices, Mac and PC;
Backup iPhone, iPad, iPod touch data;
Track the location of the lost or stolen iPhone with Find my iPhone feature;
Share purchased apps, music, books, etc. to other family member with Family sharing;
Other feature including iCloud Location Sharing, replying Email and more.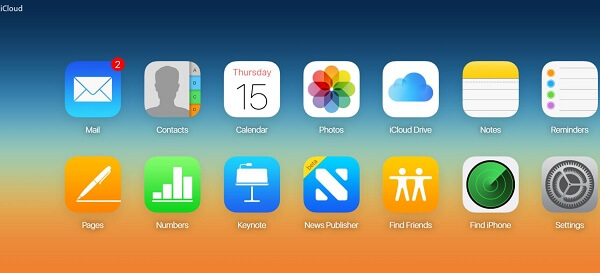 When you sign up for iCloud, you get 5GB of free storage. To get more space, you can purchase one of Apple's iCloud storage plans. Your iCloud storage is used for iCloud Backup, iCloud Drive, iCloud Photo Library, iCloud Mail, and others.
iCloud Drive: What is it?
iCloud Drive is part of iCloud. It allows users to store all your photos, video, music, documents(presentations, spreadsheets, PDFs, keynote presentations) to iCloud and access them from your iPhone, iPad, iPod touch, Mac, or PC. It is sort of like Apple's version of Dropbox.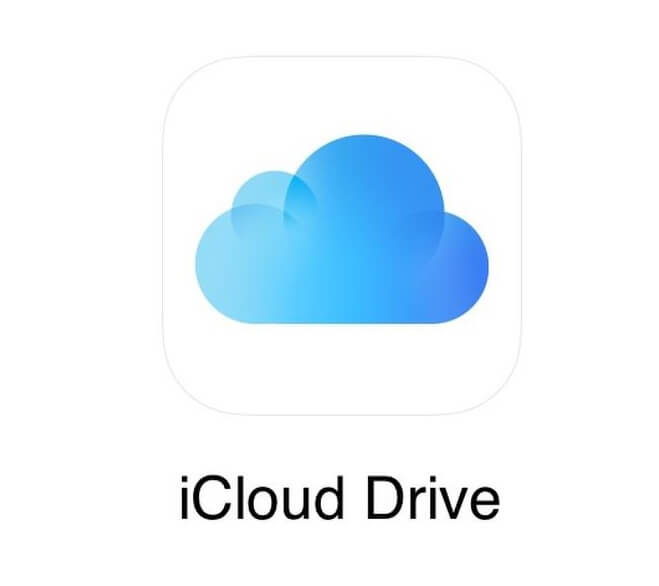 You may access from iCloud Drive app(available in iOS, Mac version), iCloud on Window or from iCloud.com.
How Are They Different?
As it is mentioned above, iCloud Drive is part of iCloud. The files you store on iCloud Drive will take up the storage of iCloud. Before iCloud Drive, iCloud mostly serves to backup your device and sync limited kinds of data to other device, while iCloud Drive more focuses on sharing across devices and co-working seamlessly among devices, which means that content in one device can be shared among other devices without copying, sending or transferring. For example, you start creating a Keynote presentation on your Mac at home. If you put the Keynote file on iCloud Drive, you can then find the file on the iCloud Drive of your iPad and continue to finish it.
Frequently Asked Question About iCloud & iCloud Drive
Question: How to Access iCloud Drive from iOS Device/Mac/PC?
On your iPhone/iPad, if you are using iOS 9 or earlier, iCloud Drive is a hidden built-in app that you can bring out on "Settings". Go to "Settings" > "iCloud" > "iCloud Drive" and toggle on "Show on Home Screen". Then you can find the iCloud Drive app on Home screen. However, iOS 10 has removed the app and therefore you have to download Google Drive from App Store.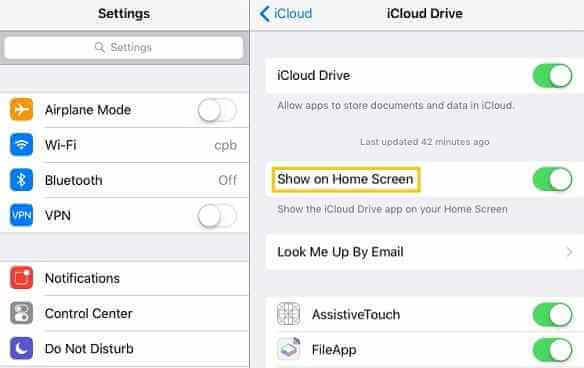 On Mac, click on the Finder icon, then choose iCloud Drive in the Favorites sidebar, and click it to launch the app.
On Window PC, download, install and set up iCloud for Windows. Then enable iCloud Drive on the app for Window. To quickly access the iCloud Drive folder, you can right click on "iCloud Drive" and select "Pin to Quick Access" or "Pin to Start" to add the folder to Quick Access or Start Menu.
Question: I sync all my photos and media to iCloud. However I am concerned about privacy. Is there any way that I can stop syncing some photos to iCloud?
On Mac, only the system photo library is synced to iCloud. So you can create an extra library and save all the private photos to the library. To create a new photo library on Mac,
Close Photos;
Hold down the Option key and double-click the Photos icon in the Applications folder to open Photos.
In the Choose Library dialog, click "Create New".
On iPhone/iPad, you have to totally turn off My Photo Stream, iCloud Photo Library to stop syncing photos to iCloud.
Question: Can I recover a file that was accidentally deleted on my iCloud drive?
Yes. If the files are deleted within the last 30 days, you can recover it from iCloud.com.
Sign in to iCloud.com;
Click "Settings" > "Advanced";
Choose "Restore Files";
Browse the list of files in the Restore Files window.
If you can't find the files on iCloud Drive, you can try to recover the files with FonePaw iPhone Data Recovery (opens new window).
Question: I lost an important messages on my iPhone. How can I restore only the specific item from iCloud instead of the entire backup?
Restoring iPhone from the whole iCloud backup costs too much time and more importantly, you will lose the iPhone content that are not included in the backup. FonePaw iPhone Data Recovery is also a iCloud backup extractor (opens new window). You may sign in your iCloud account on the program, select the message, contacts or other items and choose "Recover" to get it back from the backup.
Free Download Buy with 20% off Free Download Buy with 20% off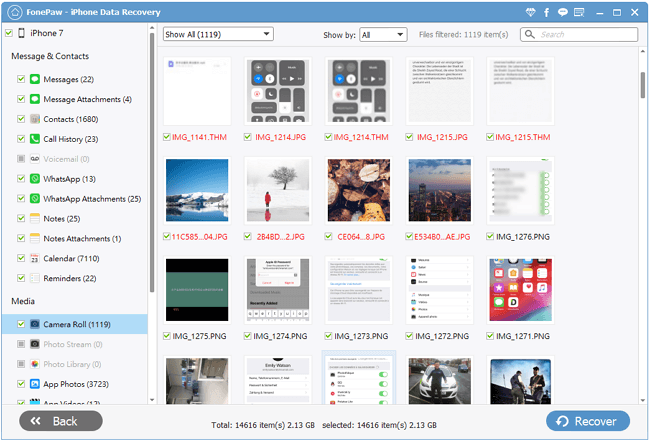 Question: I forgot to sign out out of my iCloud.com account on a computer. Can I log out without access the computer?
You can sign in iCloud.com on other computer or iOS device. Then click on "Settings" > "Advanced" section and then choose "Sign out off All Browsers".