As a music lover, Google Play Music might be one of your favorite players. It streams and plays over 35 million songs online. Also, it is so powerful that you can upload or sync the music instantly to the device. However, no matter how strong it is, it can go wrong sometimes.
For example, some users face the problem of Google Play Music upload stuck problem and have no idea why it won't sync to phone or tablet. In this post, we will focus on the two main Google Play Music problems and fix them together.
Google Play Music Not Uploading
Sometimes, when songs from your collection won't upload to Google Play Music through Music Manager or Google Play Music, it is mainly caused by the following reasons:
Music Library can upload up to 50,000 songs. If it is full, you can delete some of them and upload them later.
The songs file format is not supported
Google Play Music usually supports audio formats like MP3, WMA, FLAC, OCG, AAC, etc. But other files like WAV, AIFF, and RA are not supported and can't be uploaded.
The song was bought with a different account
If the song was skipped, that means you bought it on Google Play with a different account. You need to log in to the account that you used to buy the songs.
If songs on your computer still won't upload and the above reasons are excluded, you can try uploading the music through a transfer tool like FonePaw DoTrans (opens new window).
Within several steps, you can listen to music on your phone with Google Play Music.
Step 1 Download FonePaw DoTrans.
Free Download Buy with 20% off
Step 2 Connect your phone to the computer. Both iPhone and Android are supported.
Step 3 When your phone is detected, select Music in the left-sidebar. Click Allow to authorize access to your phone. Then click the Add button to add music from the Google Play Music file.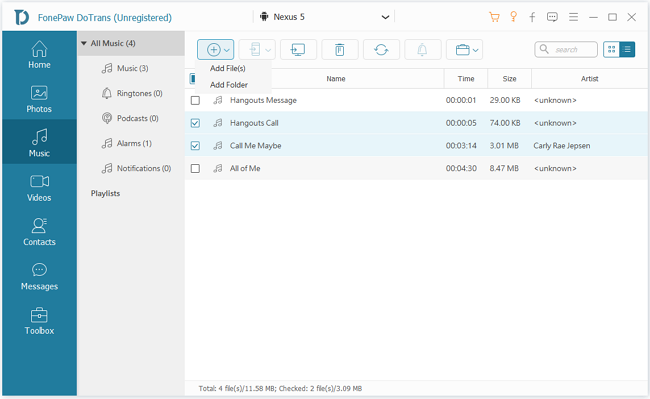 Note: If you are using the software for the first time and the computer won't detect the phone, try restarting your computer.
Google Play Music Not Syncing
Strangely, you can upload the music normally but it just doesn't show in the Google Play Music Library on your phone. Here are the reasons and solutions.
Poor Internet Connection
You may not notice that when you are uploading the music, your internet is halted, which makes it fails to upload music.
Fix:
To check and fix the problem, follow the steps:
Open the Google Play Music app on your phone > Play Music > tap Menu.

Switch off the Downloaded only on WiFi.

Tap Settings > Refresh.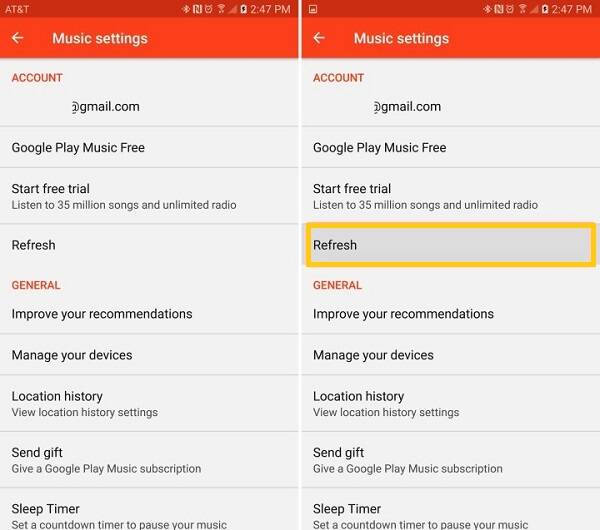 Wrong Google Account
Do you have more than one Google account? You may buy a song from one account but listen to it from another one. Make sure you log in to the right account or the Music Library Playlist won't sync.
Fix:
Open the app > Menu > Settings. Check if you sign in the same account that you used to buy the music.
Sync Settings Problem
Android users may turn off the automatic update settings, which makes Google Play Music not showing up the updates.
Fix:
Go to Settings app > Accounts> Google. Make sure you turn on Google Play Music. iPhone and iPad users can skip this step.
App Cache
Clear the app cache may make the playlist and the paly synchronize with each other again. But you should keep in mind that songs that have downloaded on your device will be erased.
Fix:
On Android:Go to Settings > Apps/Application manager > Google Play Music > Storage > Clear data.
Sign in your Google Play Music app again and it will take a few minutes to update.
On iPhone: Open the Google Play Music app > Menu > Settings > Reset application data > OK. Wait till the update finishes.
Blocked by Software
If you have set all the parameters correctly but the Google Play Music just stuck on processing, it can be blocked by other programs.
Fix:
Find out your newly downloaded apps or extensions that make you unable to sync the music. Some of them may block your player and spread viruses.
Outdated Version
The newest version of Google Play Music will run the Google Play Music better. If you try all the methods above but nothing works, the app on your phone may be outdated.
Fix:
Update the app to the latest version.
In all, the most direct way to solve Google Play Music not uploading is via a transfer program like FonePaw DoTrans (opens new window). You can add the music on Google Play Music to your iPhone or Android in one click. If the app on your phone won't sync or play the song you've added to it, try refreshing, clearing the data cache, and check the internet and sync settings. I hope you can fix the problem with the solutions.