Facebook blank page? Even can't see the upper bar? Don't panic! You are not the only one that experiences the problem. How to fix Facebook blank pages error? This article will give you some easy and practical ways to fix it.
Part 1: Facebook Not Loading on Chrome/Safari/Firefox
No matter you are using Chrome, Safari, Firefox or IE, blank pages error could happen from time to time. This problem was reported by users of Windows 10/8/7/XP or even Windows Vista. Try the following to get it fixed.
1. Re-login to your account
Try to relog into your Facebook account to force the browser to refresh the web page.
2. Clear your Web browser cache
Clearing your Web browser cache mainly aims to force the browser to load new data for the websites that you visit. "Clear browsing data" can be found under Settings or Options and it actually depends on which browser you are using.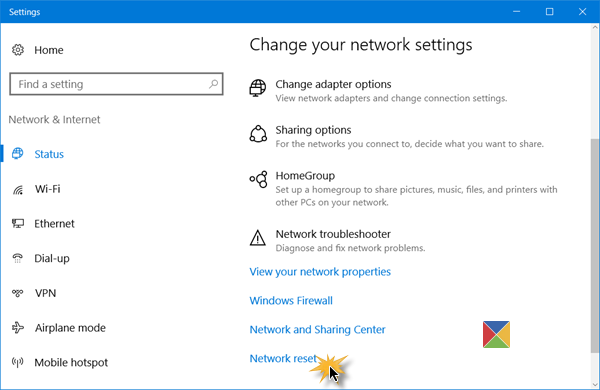 3. Uninstall incompatible plug-ins
Sometimes incompatible plug-ins can cause conflicts between the browser and the web pages, but how can we know it? Use your browser in Incognito mode. If the Facebook page works, try to uninstall plug-ins that have been changed or installed before the problem occurs.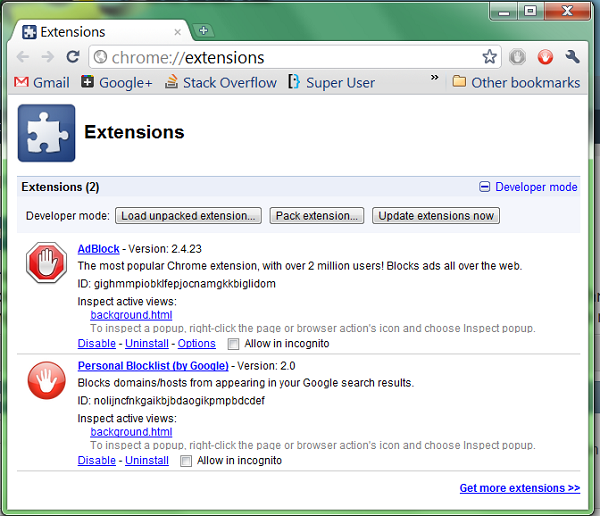 4. Log in to Facebook on your phone or other browsers
When you are urged to use Facebook but your browser is on striking, try to log in to Facebook on your phone or use another browser as a matter of expediency.
5. Access Facebook from other pages
Facebook blank pages error is hard to deal with because it's not the problem of your computer but of Facebook's database. The key is to find a way to force it to update your page, for example, enter Facebook from other pages.
Go to https://business.facebook.com/ and set up a business account.
Then log into your business account and click on your email address on the top, then click on "go to personal profile". You should see your page now.
Access your Facebook page from https://www.facebook.com/help/community/ .
When you see the blank page, change the address from https://www.facebook.com/login.php?login_attempt=1 to https://beta.facebook.com/login.php?login_attempt=1 to log in.
Tips: Download a personal profile to update your page
In case that you may encounter the Facebook blank page in the future, you are recommended to download a copy of your Facebook information to your computer. You can enter your page via the profile if Facebook shows white blank page again. Follow the steps:
STEP 1: Download a copy of your info under Settings - General - Download a copy;
STEP 2: Open index.htm in your copy;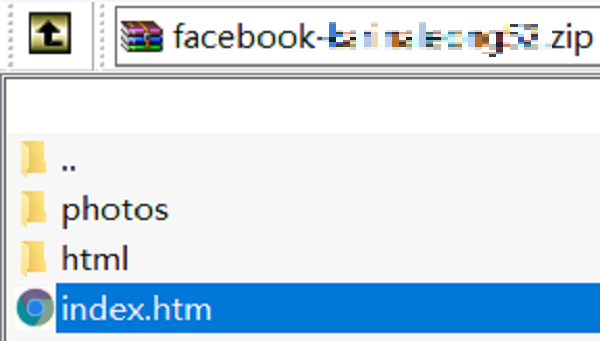 STEP 3: Click the profile, then you access Facebook.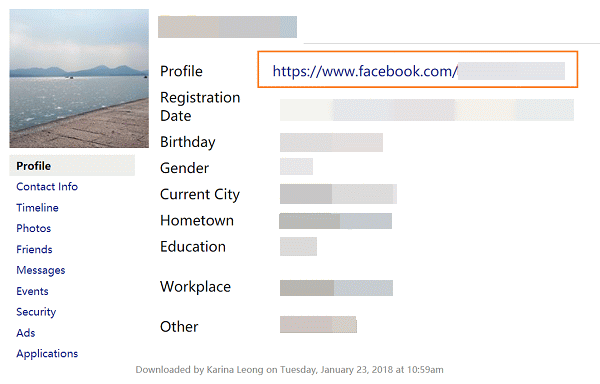 Part 2: Facebook Turns White Screen on Android/iPhone
No matter you're using iPhone X, iPhone 8/8 Plus, iPhone 7/7 Plus or Samsung, LG, Facebook white screen error can be very annoying. However, this problem on phone is a bit easier than it does on PC. Try the following steps to have it fixed!
1. Restart your device
Have you turned it off and on again? Though this joke is a bit old-fashioned, restart your device can be very helpful to solve the unknown problem.
2. Update or reinstall Facebook Messenger
What with too low a version and program error, sometimes the Facebook Messenger app is unable to receive data. You can update or reinstall the app to try to fix the problem.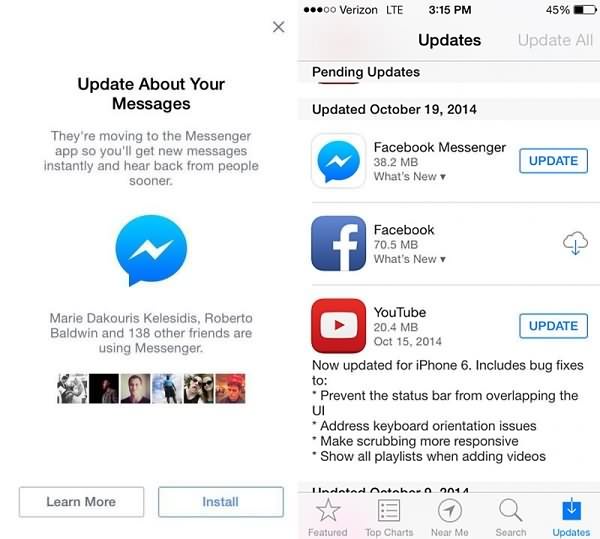 3. Check the network connection and reset network settings
When using WIFI, make sure that you are within the range of the router. If the signal is missing, try restarting your router or modem, unplug it, then plug it back in. If your device couldn't connect to the Internet while other devices can, reset network settings.
On an Android, tap "Network Settings Reset" under Settings – Locate – Backup & Reset.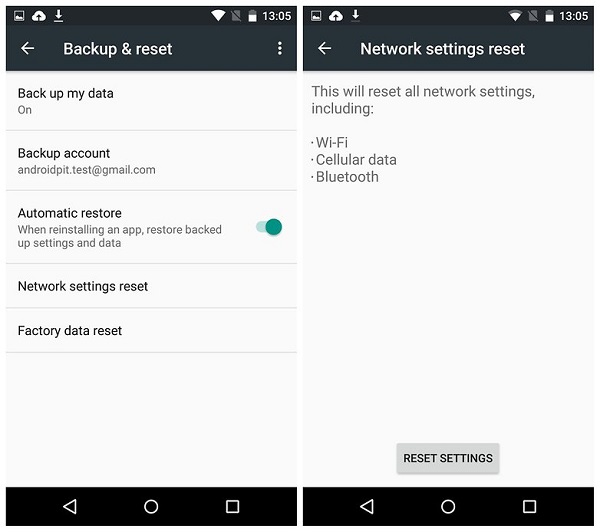 On an iPhone, tap "Reset Network Settings" under Settings – Generals – Reset.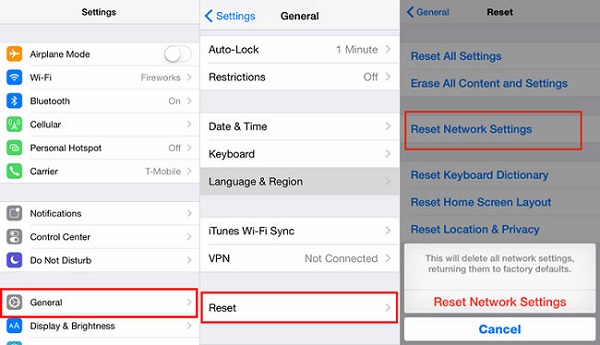 4. Clear cache (for Android)
Android starts storing data since you have started using it and usually doesn't clear all the cache after using, which leads to sluggish app performance or even misbehaving. Therefore, clearing cache is very useful to regain userspace or to fix an app that doesn't work properly. You can use some apps to clear cache or you can go to Settings > Application, tap into Facebook, and then tap the "Clear cache" button, but make sure that you understand what it means to set the app to default.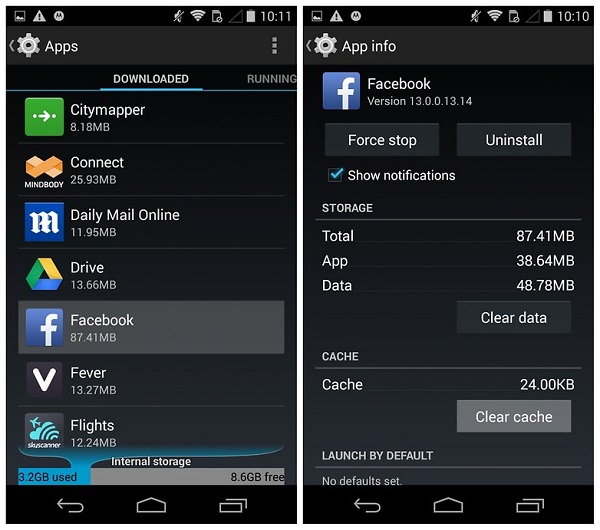 5. Use Facebook on your PC
When you are urged to use Facebook but it doesn't work well on your phone, you have no choice but to use it on your PC as a matter of expediency.
All the above are feasible ways to troubleshoot Facebook blank pages. Does this article help? Welcome to share your comments below!