Android has four lock options for users to lock their phone screen so that their phones can't be accessed easily by others. But as users have higher requirements for privacy protection, Android's built-in screen locks obviously are far from enough. App lockers, applications that can lock individual apps in more intelligent ways, are there to fill the needs. The app lockers can:
Better protect your private and sensitive data on Android phone;
Limit children's accessing to certain apps so that they won't be exposed to inappriate contents, nor will they delete your important data due to misoperation (if your data is mistakenly deleted, you may turn to FonePaw Android Data Recovery

(opens new window)

);
Make it okay to not using screen lock on your phone, which is great news for those who just want to protect specific apps and hate to unlock their phone frequently;
Help you keep data safe when the phone are used by multiple users.
Still wondering how these app lockers work? Go on reading to learn about five awesome app lockers to protect information on your Android apps.
# Protect Apps Data with AppLock
As the name itself suggests, AppLock (opens new window) can lock apps in your Android phone, including third-party apps such as Facebook, Whatsapp, Gmail, Messenger, as well as built-in apps like Gallery, SMS, Contacts, Settings, incoming calls. Moreover, it can hide pictures and videos in the app with something called "photo and video vault" so that others can't view the pictures or videos in the Gallery. Also, you may enable "Advanced Protection", which requires password when someone try to uninstall the AppLock.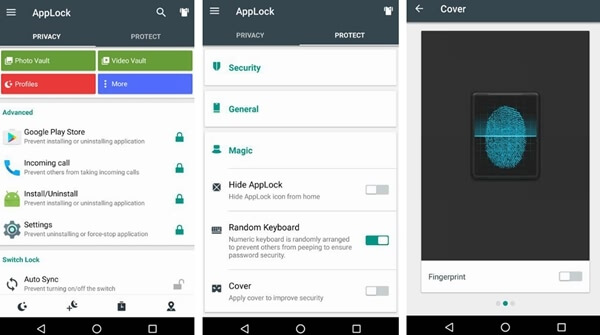 Now there are three types of account in AppLock:
Premium: paid, premium features, no ad.
AD: free , premium features, ad.
Basic: free, no ad, no premium features.
Since many users have chosen the AD version, there are quite a lot complaining about too many ads.
Supported device: Varies with device, and fingerprint lock only works in Android 6.0+.
Googel Play store rating: 4.3
# Protect Apps Data with Smart AppLock
Smart AppLock is similar to the AppLock mentioned above, only with several distinctive features. For example, the app can detect and capture an image of the intruder, then send the image to you via Email. Also, the app can enable "Remote Lock", which allowing you to lock(unlock) your phone by sending (or Unlock) Keyword using SMS to your phone from other phone. These features are especially useful when your phone get stolen.
And the app can even hide the fact that your phone is lock protected by removing its icon from app draw and when others try to open locked app on your phone, they will get the pop-up: Unfortunately, XX (the app name) has stopped.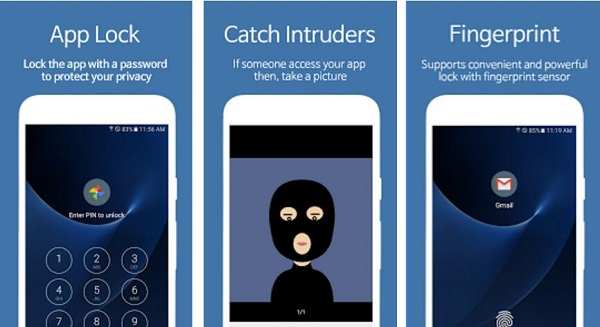 Supported device: Running on Android 2.3 and above
Googel Play store rating: 4.4
# Protect Apps Data with LEO Privacy
LEO Privacy is a very powerful app locker. It can not only lock installed apps and hide private photos and videos like other app lockers, but also can block spam callers and provide private browsing. By private browsing, it means that the app can clean your search history immediately so you can surf any website privately.
Besides, its "Anti-theft" feature is quite powerful. When enabled Anti-theft, it can not just take a photos of the thive, but also locate the phone, remotely control the phone to give an alarm.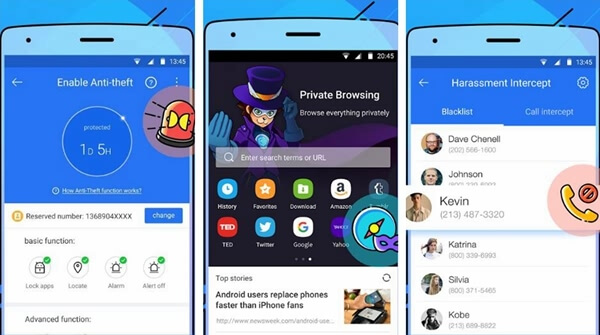 Supported device: Android 4.0+
Googel Play store rating: 4.3
# Protect Apps Data with Applock
Applock provides privacy protection for more than apps, photos, videos, but important documents and notes. If you have sensitive documents edited or stored on your phone, this app locker can be very helpful for keeping the documents falling in wrong hand. The app also has built-in offline password recovery, which is rare in the apps of its kind. And UI is also an important factor when it comes to choosing an app. Its beautiful and various themes are extra bonus.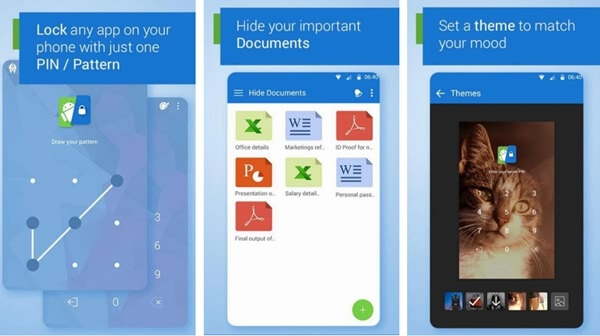 Supported device: Android 2.3.3+
Googel Play store rating: 4.0
# Protect Apps Data with Apps Lock & Gallery Hider
Apps Lock & Gallery Hider (opens new window) can offer a complete protection for your Android phone. Apart from system apps and regular downloaded apps, it can lock advanced apps such as Settings, Task manager, etc. Besides, for those users who don't like unlock apps frequently, the app has "Easy Transfer" feature allowing users to easily jump from one protected app to the other, and "Sleep Timer" feature, which you can set a short time to disable password so that it can be more convenient if you don't need app lock, for example, when you are in your own room.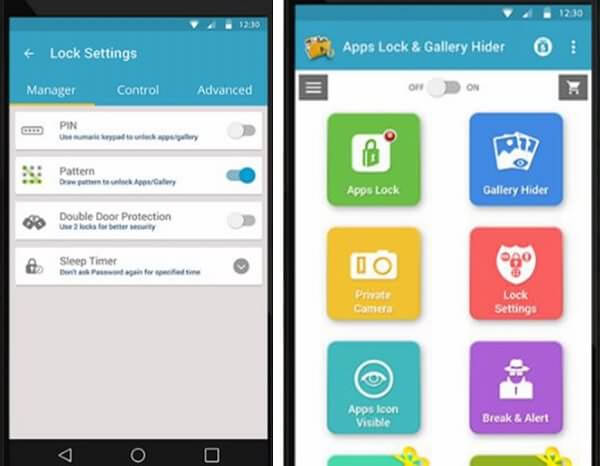 Supported device: Android 2.3+
Googel Play store rating: 4.0
That's the five awesome app lockers. I am sure you can find the one that fits you need. If you find other great app lockers, feel free to share with us on the comment section below.