Instagram Stories is meant to share the moments of your day instantly. It is not very obvious how to upload Gallery/Camera Roll photos or videos to Instagram Stories, especially the old photos/videos you took 24 hours ago. After getting familiar with the Stories feature, some Instagramers discovered the tricks to put story on Instagram from Gallery or Camera Roll. Let's see how these Instagramers manage to do that.
1. How to Add Photo/Video to Instagram Stories from Gallery
Add Photos You Took in Last 24 Hours
Since Stories are all about sharing your day, Instagram only allows you to add photos or videos that you took within the last 24 hours. To add photos/videos from Gallery to Instagram Stories:
Step 1. Open Instagram on your Android or iPhone. Tap the Camera icon on the top left corner of the app.
Step 2. You'll enter the video recording screen. Instead of recording a video, swipe upwards on the screen to bring out your Gallery photos and videos. Only the photos and videos that you took in the past 24 hours will show up.
Step 3. Select the photo or video and tap "Your Story" on the bottom to add the Gallery photo or video to your Story.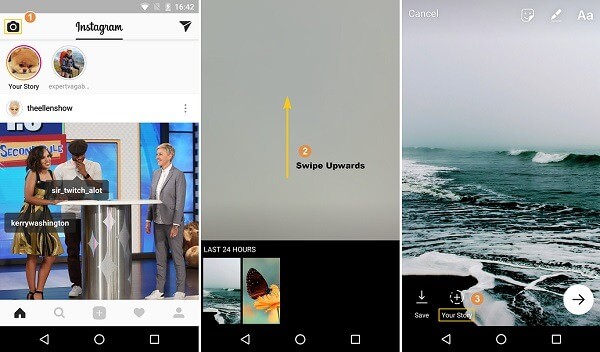 Tip:
If this is the first story of your day, you can directly tap Your Story icon to begin uploading photos from Gallery.
To put Gallery/ Camera Roll videos to Stories, the videos should be no longer than 60 seconds.
Add Old Photos/Videos from Gallery/Camera Roll
You may be thinking: what if I want to upload photos older than 24 hours to my Instagram Stories? It happened when we took some stunning photos but didn't have time to post it to Instagram until the next day. Some Instagramers have these tips:
Take a screenshot of the photo that you want to upload. The screenshot will appear when you are selecting Gallery photos to your Stories in Instagram.
Use photo editing apps to edit the photo a little bit. You can make a very slight change to the photo (something like trimming the photos a little bit). Then the photo will be available in your Instagram as photos taken in the last 24 hours.
Also there are third-party apps that can change image information, including capture date/time of a photos. You can install one of these app from Play Store/App Store, change the capture date and upload the original Gallery photos to Instagram Stories. But if you only need to upload one or two older photos and a screenshot can do the job, why bother installing an app?
2. How to Upload Multiple Photos to Instagram Story
One of Instagram's new update is allowing users to post multiple photos. Therefore, some users wonder if we can upload multiple photos to Instagram Story, too. Actually, you can, but not in the way that you create a post with multiple photos.
Instagram Stories enables you to upload as much photos or videos as you want. After you have added a photo to your Story, you just need to keep tapping the Camera icon to add more photos and videos. The photos and videos will appear together as a slideshow and disappear after 24 hours.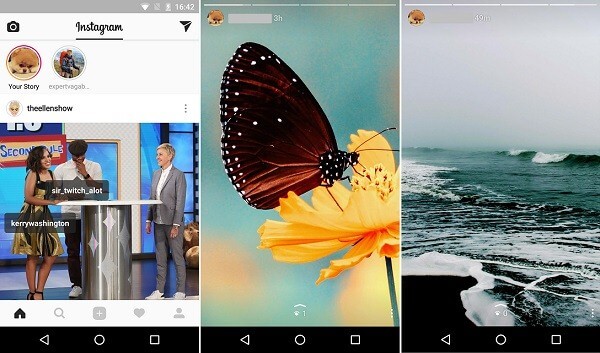 3. Why Can't I Upload Video to Instagram Story
Sometimes we can't upload a Gallery video to Instagram Story. Why does that happen? And how to deal with the problem? Here are some tips from experienced Instagramers.
Check your network connection. Always upload videos over strong network.
Make sure the video is no longer than 60 seconds.
Wait patiently if you are uploading a large-sized video. Or you can reduce the video size with video compressor or by changing the video format, although you may have to sacrifice the quality.
Do not upload any thing that is against Instagram's term, such as posting something violent.
Now you have known how to add photos/videos to Instagram Stories from Gallery or Camera Roll. If you find these tips useful, share it to your friends.